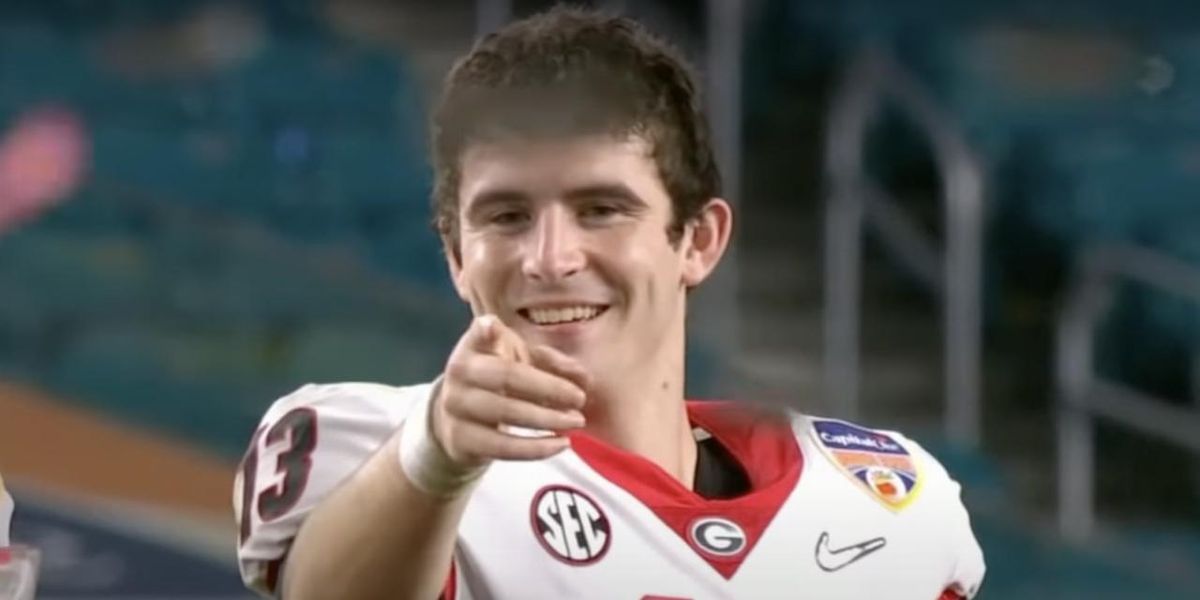 As confetti rained down upon the field after the University of Georgia Bulldogs' 33-18 national championship victory over powerhouse University of Alabama Crimson Tide on Monday night, a reporter asked Stetson Bennett IV — the "underdog" quarterback who worked his way into Georgia's starting lineup after beginning his stint there as a walk-on — if he had any words of wisdom for others facing difficult obstacles.
"What does your story and your stick-around, your fight, your attitude say to all of the underdogs, all of the walk-ons out there?" the reporter asked.
At first Stetson was a little unsure — and then he replied with advice that may seem foreign to the entitled, triggered, safe space-obsessed mindset of many his age.
"Just keep fightin'. Keep your mouth shut. Work hard," Stetson said. "You know, life's tough — you've just gotta fight through it."
[embedded content] Kirby Smart & Stetson Bennett postgame interview: Georgia def. Alabama in CFP National Championships youtu.be
'Countless crossroads'
Bennett — all 5-feet-11, 190 pounds of him — wanted to quarterback for Georgia and lead the squad to a national title since he was a toddler.
ESPN said he brushed away scholarship offers from smaller schools and decided to walk on for his beloved Bulldogs.
Things only got harder from there.
Bennett "reached countless crossroads and endured untold obstacles. At every stage, every time there was a decision to be made, he made the choice that kept the dream alive, even when it looked like the opposite would happen," Fox Sports' Martin Rogers wrote.
The kid from Blackshear — which Rogers said is the "heart of Bulldogs country" — ran the scout team his freshman year and was way low on the depth chart.
Bennett figured a stint playing for Jones County Junior College in Mississippi might help Bulldogs coach Kirby Smart take a more serious look at him, as the school has been a funnel for numerous Georgia players.
When Bennett returned to Georgia a year later, Fox Sports said the team "kept recruiting over him." While he got the starting nod in 2020, he soon lost it to JT Daniels — and Bennett began the 2021 season as a backup.
But when Daniels suffered an injury, Bennett was calling signals again and never looked back — all the way to the national championship game against Alabama, Fox Sports said.
Things weren't a cake walk against the Crimson Tide, either, as Bennett fumbled late in the game — an error that could have been the nail in the Bulldogs' coffin, as Alabama quickly took the lead.
But the quarterback Georgia never seemed to want, who had faced and overcome many obstacles before that moment, simply dug his heels in and persevered.
All he did was toss a long touchdown pass late in the game, giving Georgia a lead it would never relinquish.
After the game he said he had no choice but to get his mind off his turnover and look toward winning the game. "I had to, otherwise we were gonna lose," Bennett said, adding that his attitude was, "I gotta fix this."
When asked why he kept fighting for spot on the Bulldogs, he said, "I love this place. I love this team. I believe in myself. I think I'm the best quarterback. And I just love everything about this place, and I wanted to win a national championship here."
Here's a video profile of Bennett that ran prior to the championship game:
[embedded content] Stetson Bennett IV's journey to becoming Georgia's QB | College GameDay youtu.be
Source: TheBlaze