Share this @internewscast.com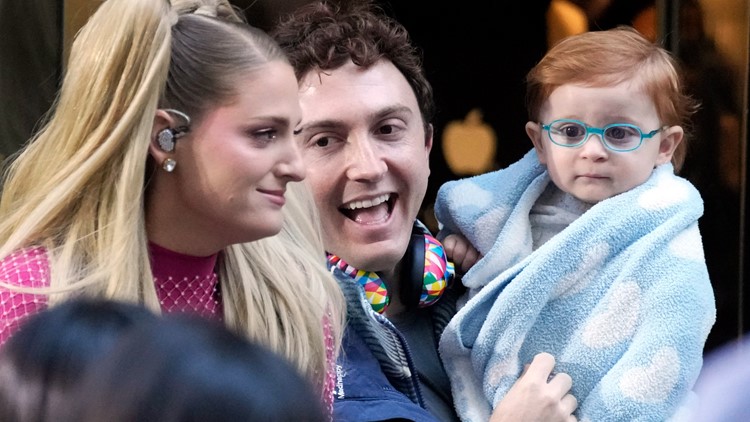 Trainor was on 'TODAY' to promote her upcoming book, but found a unique way to reveal that she's having a second child.
Meghan Trainor came on NBC's "TODAY" show to give a first look at her new book for expecting mothers Monday morning — but that wasn't her only announcement. 
The "All About That Bass" singer found a unique way to reveal that she and husband Daryl Sabara are expecting their second child. Hosts were given a copy of her new book, "Dear Future Mama"… with a surprise inside. Inside the cover were two sonograms and a handwritten label: "Baby #2, coming Summer 2023"
"It comes with a baby!" Trainor exclaimed after the reveal. "We're pregnant!"
Trainor and Sabara, who is best known for playing Juni Cortez in the "Spy Kids" film series, already welcomed their first son Riley in February 2021. She said her feelings of isolation during the pandemic pregnancy inspired her to write for other moms. 
"When I was pregnant, I felt very alone," she said. "It was also COVID times so I didn't have any friends that were pregnant with me, and I just remember being like "I don't want anyone else to feel like that,' so now I can be your future bestie and I can tell you all my TMI details of my pregnancy and how crazy it was."
She said she had already begun writing her book when she found out about her second pregnancy. According to "TODAY," "Dear Future Mama" will hit the shelves on April 25.
In the meantime, Trainor said Riley hasn't quite understood that he's going to be a big brother: "We try to say 'Baby in Mama's belly,' but he just points to his belly now and is like, 'Baby.' And we're like, 'OK…'"
Share this @internewscast.com