Share this @internewscast.com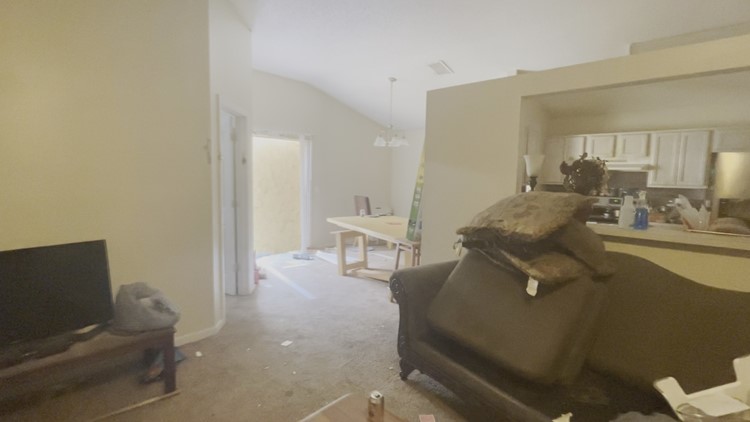 Tyliko Maduro's mother said she understands what her son did was wrong and is praying for the officer
JACKSONVILLE, Fla. — First Coast News heard from the mother of the man who shot Jacksonville officer, Malik Daricaud, before dying by suicide. Jacqueline Blyden is the woman seen on Daricaud's bodycam, standing in the doorway of her son's home. She was inches away from getting hit by a bullet herself. Blyden allowed First Coast News to enter the home after SWAT breached it. 
One could still smell the tear gas as soon as they step inside. The furniture is scattered, there is broken glass on the floor and bullet holes on the walls. The house on 6800 Ridgeview is currently boarded up. Bylden said she understands what her son did was wrong and she's praying for the officer. 
32-year-old Tyliko Maduro barricaded himself in the house after shooting officer Malik Daricaud. Law enforcement sources said he the two-year officer has a long road ahead in recovery. Blyden said Jacksonville Sheriff's Officers called her around 4 AM, asking her to open the door to the house Maduro was staying. Officers did not have a warrant for Maduro's arrest, but the sheriff said officers wanted to speak to Maduro about a traffic stop he fled from a week prior. Blyden said police were going to get a warrant if she didn't show up. She recalled getting a similar phone call from police the day after Maduro fled from police during the 11:15 PM traffic stop, Sunday. 
The Jacksonville mother believes her son feared for his life. She said that is why he fled the traffic stop. Although her son was armed when she opened the door, Blyden does not believe he planned to shoot anyone. She said her son reacted to an unexpected entry. On Monday, First Coast News reached out to Maduro's fiance. Rebecca Burns was home when shots were fired. She said Maduro began apologizing when he realized he shot an officer. 
"It's terrible. It's just terrible and I'm very very sorry," Burns said. 
Bylden also apologized to the Daricuad family for what happened. 
"Good day, as the mother of Mr. Tyliko Maduro our angel now watching over us. And as we are enduring during this time of our personal grieving over the loss of my son, I would like the family of Officer Malik Daricaud to know that we do not condone violence, and that we are deeply sorry about the turn of events that occured.  Our prayers are with you during this time.  We pray for the complete healing of Officer Daricaud and we will continue to pray for God's comfort and peace for the family."
On the day of the shooting, Blyden recalled her son telling her "tell my son I love him." JSO said the Maduro died by a self-inflicted gunshot wound. On Tuesday, during a news conference, Sheriff TK Waters said the officer is in a tough position and he's still struggling. 
"There's still a lot unknown at this point," Waters said. 
The Jacksonville Sheriff's Office's spokesperson told First Coast News Daricuad is still in critical condition, but he's showing "minor signs of improvement." At last check, authorities said the investigation is on-going. 
Share this @internewscast.com