Share this @internewscast.com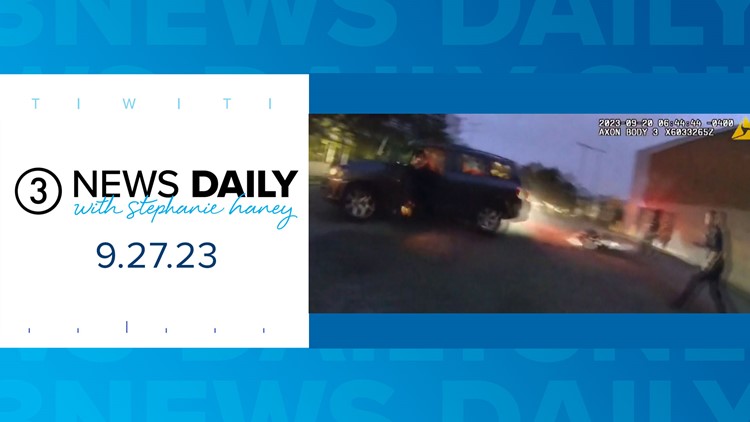 On 3News Daily, Stephanie Haney shares the details from today's most-read stories on WKYC.com and the WKYC app
CLEVELAND —
New on 3, get the latest information on what's happening across Northeast Ohio on Wednesday, September 27, 2023, on 3News Daily with Stephanie Haney.
New video shows Cleveland police dragged by driver of car where 3 men had been reported slumped over inside. 
Plus, the man believed to have crashed into an ambulance while drunk and killed a man inside who was being transported to the hospital is out on bond. Police are also looking for people who committed a drive-by shooting in Cleveland Hough's neighborhood, sending two men to the hospital. 
We'll tell you why the Rocky River principal accused of improper relationships with students won't be charged with any crimes, and give you the numbers from the state's latest violent crime reduction initiative in Cleveland. 
We also share the details of two men who were wrongfully incarcerated for 15 years suing Cuyahoga County and Cleveland Police. 
In other news, we look at how Northeast Ohio is being impacted by the ongoing actors' strike, prepare to say farewell to Cleveland Guardians manager Terry Francona after 11 seasons with the team, and more on 3News Daily.
Get the details on 3News Daily with Stephanie Haney, by watching the video below:
Watch Stephanie Haney's Legally Speaking specials and segments here: 
Catch the highlights from each day's most-read stories on wkyc.com, Monday through Friday, on 3News Daily with Stephanie Haney. 
Watch on TV on 3, NBC News NOW and Peacock each weekday at 3 pm during NBC News Daily, and stream the extended version of 3News Daily every weekday afternoon on the WKYC+ app, which you can download for free on your Roku and FireTV.
Share this @internewscast.com