NSW authorities have doubled their order of rapid antigen tests as the state records another 30,062 new COVID-19 cases.
Sixteen more people have died with the virus, making it the state's deadliest day since the pandemic began.
There are 1927 people in hospital, 151 of whom are in intensive care.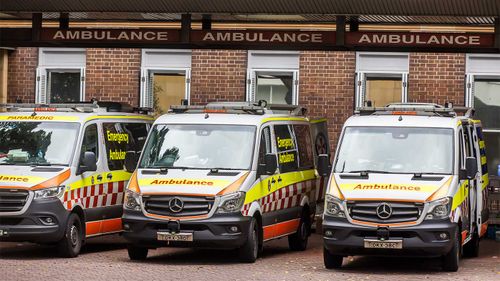 The state recorded 45,098 cases yesterday from just under 117,000 tests.
Infection numbers continue to rise, with Australia expected to reach the one million mark in coming days.
Deputy Chief Medical Officer Professor Michael Kidd said it was "likely" many Australians would test positive for COVID-19 over coming days and weeks if they hadn't already, but most wouldn't become seriously ill if vaccinated.
"We obviously want to continue to do all we can to prevent people from being infected with COVID-19," he said.
"Nobody wants to be infected with a serious infectious disease.
"And although most people will have mild symptoms or no symptoms, some people are still going to become seriously unwell with COVID-19, and we want to prevent that from happening."
Professor Kidd suggested people should be prepared, with paracetamol or ibuprofen and other essential supplies because they would not be able to go to the pharmacy or supermarket if diagnosed.
Premier Dominic Perrottet said the state has doubled the number of rapid antigen tests it has ordered from 50 million to 100 million.
Mr Perrottet said the tests would be rolled out with a focus on areas where there are vulnerable people.
"We're already at the moment, as of today, reaching out to remote Aboriginal communities with those rapid antigen tests," he said, adding they would be used to help make the return to school for students as safe as possible.
"These tests will be crucial to ensure that we get kids back to school day one, term one. We are finalising our back-to-school plans at the moment. This will be a core part of the plans for getting kids back in the classrooms."
The Premier also announced residents will be able to register a positive rapid antigen test result via the Service NSW app from "mid this week".
NSW introduced new restrictions yesterday, with singing or dancing no longer allowed at hospitality venues, except for performers at weddings, and non-urgent elective surgery postponed.
With more people going into isolation across the state, Transport for NSW has announced further timetable changes as it battles worker shortages, with most services now running to modified weekend timetables.
"Like many industries hit by COVID, there are currently hundreds of transport staff impacted and this number is expected to fluctuate going forward," Transport for NSW chief operations officer Howard Collins said.
"We thank the community for working with us during this challenging time and apologise for any inconvenience caused while also asking customers to consider all their travel options."
Source: 9News