3.9k Share this
Prime Minister Scott Morrison said Opposition Leader Anthony Albanese's unemployment rate gaffe shows he has "no idea what has happened with Australia's economic recovery".
Mr Albanese was yesterday unable to say what the the current unemployment rate, or the RBA cash rate was when asked at a press conference.
Mr Albanese later addressed the mistake by saying he would always 'own up' to errors, quoting a Taylor Swift lyric by insisting he would 'Shake It Off'.

However, Mr Morrison seized on the mistake.
"Leaders will not get every single figure right," Mr Morrison said today.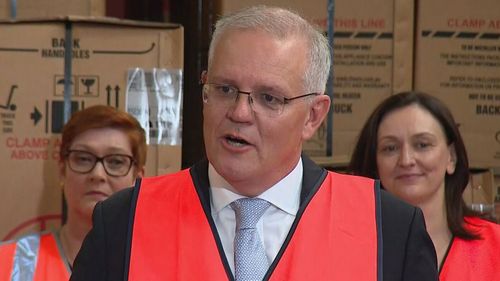 "His fundamental understanding of the economy is wrong. He doesn't know what's happening in the economy," he said.
"The issue is no that there's something Anthony Albanese should be apologising for, it should be that he doesn't have an economic plan."
Mr Morrison later doubled down on his criticism of Mr Albanese after his unemployment numbers gaffe.
"He didn't know the number, but he didn't miss it by that much," he said, using his hands to gesture a small amount.
"He missed it by that much," he said, stretching his arms out.
He added the Labor leader's criticisms of him over his term were, "not a substitute for having an economic plan".
"He raised as one of his great credentials, as being the acting prime minister in this country," Morrison, said.
"I don't think he got through a total of 48 hours in that job.
"If he thinks filling in for 48 hours is preparation for this job, he's got no idea," the prime minister said.
Mr Albanese sparked immediate back-and-forth yesterday, with people from all sides of politics weighing in.
The moment was reminiscent of a time earlier this year where Prime Minister Scott Morrison was unable to name the price of a loaf of bread or a litre of petrol.
But today Mr Albanese brushed off a question about whether forgetting the unemployment and interest rate has hurt his campaign.
Mr Albanese said he was concentrating on something else when he blanked on the numbers.
"There are no consequences for real people as a result for what I said," he said.
"From time to time, if ever I make a mistake, I will own it and I will accept responsibility.
"Here is a Taylor Swift comment for you, my theory is, 'Shake it off'."
He noted he is "usually very good with numbers".
Source: 9News
3.9k Share this