Share this @internewscast.com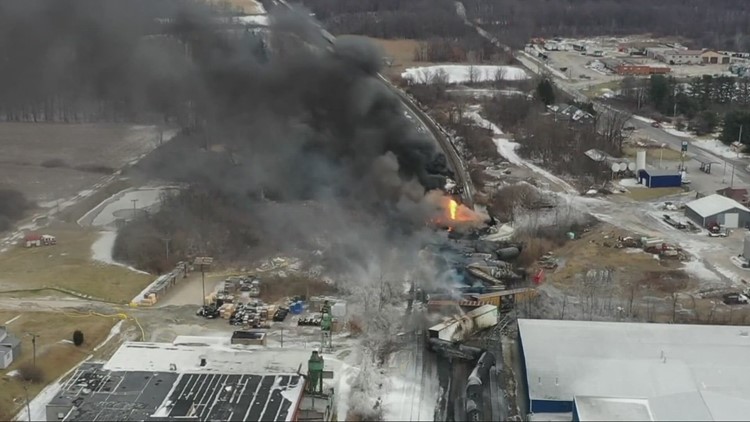 Biden's executive order also directs the EPA, Department of Transportation, and the Department of Health and Human Services to take actions in East Palestine.
WASHINGTON — More than seven months after the toxic train derailment in East Palestine, President Joe Biden has issued an executive order which will direct federal agencies to take several actions as part of the effort to clean up the area, while holding Norfolk Southern accountable. 
Within five days of Wednesday's order, the Federal Emergency Management Agency (FEMA) will designate a "Federal Disaster Recovery Coordinator" to oversee long-term recovery efforts in affected communities. The Biden administration says that coordinator will conduct an assessment to find out any needs that have yet to be met by Norfolk Southern and would qualify for federal assistance. 
Here are other parts of Biden's executive order:
The Environmental Protection Agency (EPA) "will continue to direct removal of contaminated soils and wastewater from the derailment site, in compliance with state and federal law. In addition, EPA will ensure that any remaining contamination in surface stream sediments is addressed, and that air and water monitoring continue."
Within 30 days, the EPA will also provide a report to Biden on the status of air, soil, and water monitoring. They will also verify if Norfolk Southern is complying with federal mandates "to address the imminent and substantial endangerment" caused by the derailment. The EPA will then give the president an updated report every 60 days.  
The Department of Health and Human Services will give Biden a report within 60 days "summarizing key conclusions from the public health testing and assessment that has been conducted to date," plus the resources used by HHS and the CDC to address health conditions related to the derailment.
In coordination with Ohio and other affected states, the HHS will monitor the "public health consequences" of the derailment, including to determine if any acute medical conditions develop. Should medical conditions develop. the Biden administration says the HHS and EPA will each evaluate to see if a public health emergency should be declared. HHS will also provide assistance to Ohio and Pennsylvania if either state submits a proposal for services through Medicaid for those affected by the derailment.
The Department of Transportation will provide a report to Biden within 60 days, detailing its response to the East Palestine train derailment. This report will be updated within 120 days of the final National Transportation Safety Board investigation.
"This is an overdue but welcomed step to support the people of East Palestine," said U.S. Sen. Sherrod Brown (D-OH). "There is still much more work to do to make this community whole and I will continue to push the administration to deliver for East Palestine and hold Norfolk Southern accountable."
Wednesday's executive order by Biden comes amid criticism of his failure to visit East Palestine since the derailment. Earlier this month, White House Press Secretary Karine Jean-Pierre announced that the president still intends to make a trip to the area of the derailment. "The President will go to East Palestine. He promised that he would, and he will," Jean-Pierre told reporters.
Previous Reporting:
Share this @internewscast.com