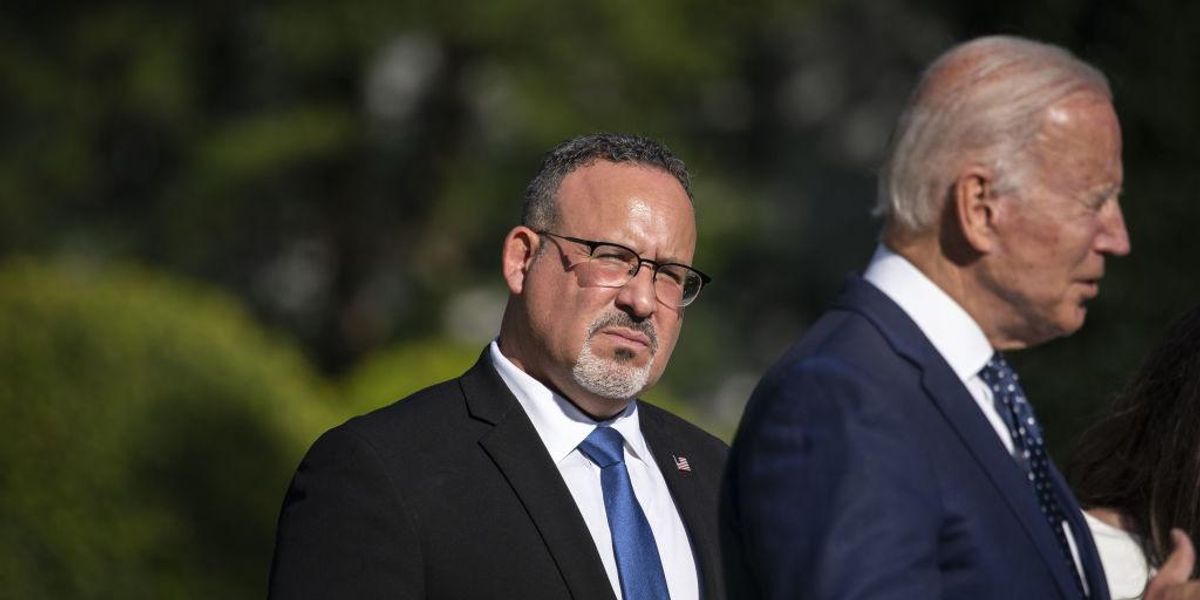 The highly controversial National School Boards Association letter sent to President Joe Biden that compared protesting parents to domestic terrorists and led the FBI to use counterterrorism tactics against parents was drafted at the direction of Biden's education secretary, Miguel Cardona, a newly obtained email indicates.
What are the details?
The potential bombshell — which raises serious concerns that the Biden administration engaged in a preconceived war on concerned American parents — was revealed in an Oct. 5 email exchange between two of the NSBA's board members, Marnie Maldonado and Kristi Swett.
In the exchange, Swett, who serves as the association's secretary-treasurer, responded to concerns from Maldonado about the letter by recounting that interim CEO Chip Slaven had "told the [board] officers he was writing a letter to provide information to the White House, from a request by Secretary Cardona."
The email communication was unearthed by the activist group Parents Defending Education through a Freedom of Information Act request.
Parents Defending Education previously reported that the NSBA had coordinated with the White House and the Department of Justice for weeks prior to the sending of the letter, notifying state directors that "a letter requesting federal assistance would be sent." The association even allegedly altered the letter's text at the White House's request.
What's the background?
What's more, the infamous letter, sent Sept. 29, was directly relied upon by Attorney General Merrick Garland in his issuing of an Oct. 4 memo dispatching the FBI to address a supposed "disturbing spike" of "harassment, intimidation, and threats of violence" against school administrators, board members, and other personnel.
In the letter, NSBA officials claimed that education leaders around the country were under "immediate threat" for "approving policies for masks to protect the health and safety of students and school employees" and "propaganda purporting the false inclusion of critical race theory within classroom instruction and curricula."
They urged the government to act on their behalf, in part, by classifying alleged threats from parents as acts of "domestic terrorism" and "hate crimes."
It was later revealed that the FBI did just that, creating a "threat tag, EDUOFFICIALS," for agents to "track" any "threats of violence or fear" against school personnel.
Why does it matter?
If true that Cardona originally requested the letter, it would mean that the Biden administration was involved in the formulation of a policy to track and monitor parents as domestic terrorists from start to finish.
It seems that the administration only wanted the cover of an urgent request for assistance from the NSBA to bolster its predetermined plans to go after parents protesting COVID-19 policies and critical race theory teaching.
"Should this allegation be true, it would reveal that this administration's pretextual war on parents came from the highest levels," Nicole Neily, president of Parents Defending Education, told Fox News in a statement.
"Attorney General Merrick Garland unequivocally stated that he based his memo on the NSBA's letter — which in turn, mobilized the FBI and US Attorneys," she added. "If Secretary Cardona was truly involved in this ugly episode, it is a significant breach of public trust, and he should be held accountable."
Source: TheBlaze