'Prognosis poor for rehabilitation': Psychologist, law enforcement testify on first day of Fucci sentencing
Share this @internewscast.com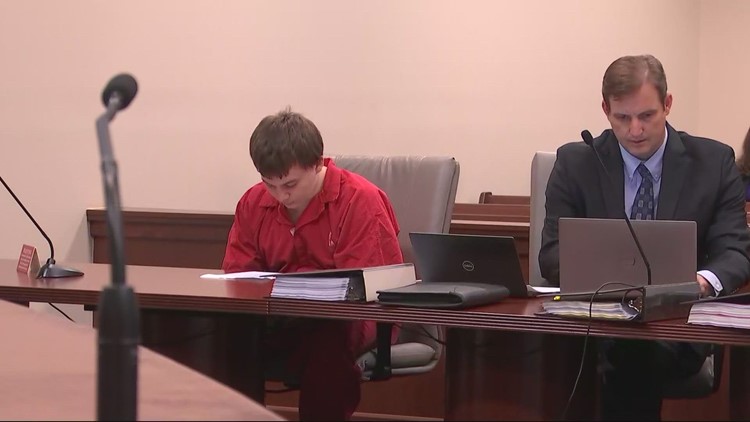 Aiden Fucci, 16, could serve life in prison for the brutal slaying of his classmate Tristyn Bailey. This is what happened in court on day 1 of his sentencing.
ST. JOHNS COUNTY, Fla. — Aiden Fucci's sentencing will be streamed gavel-to-gavel on FirstCoastNews.com, the First Coast News app and on our YouTube page.
To read more about who Tristyn Bailey was, click here.
Despite a last-minute motion by Aiden Fucci's attorneys to bar his testimony, a psychologist took the stand to deliver his report on Fucci's mental wellbeing Tuesday.
Fucci, a 16-year-old who pleaded guilty to stabbing his 13-year-old classmate Tristyn Bailey 114 times, faces a possible sentence of life in prison. 
He was 14 when he killed Tristyn on Mother's Day 2021.
Sheriff's officers, crime analysts and a medical examiner testified, with psychologist Dr. Gregory Pritchard being the final witness.
Pritchard's testimony had been the subject of debate just the day before the sentencing began; Fucci's attorney, public defender Rosemarie Peoples, filed a motion to ask that Pritchard not be allowed to testify.
Pritchard was not allowed to meet with Fucci before the trial, and Peoples expressed concern that all of the evidence he would mention in his report would reflect prior "bad acts" Fucci had committed, which she believed should be omitted. By Judge R. Lee Smith denied the motion, and Pritchard took the stand. 
He compiled a report based on evidence including depositions, police reports, reports from while Fucci has been in jail, videos of interviews with people that knew Fucci, academic records and the infamous Snapchats that Fucci in the back of a police car on his way to questioning.
He was asked to assess Fucci's age, maturity, intellectual capacity and general mental and emotional health. He deemed that Fucci was not noted to be particularly immature during the crime — the only records regarding this question showed that some people reported that he was "mature for his age." 
Pritchard also touched on Fucci's home life. There were conflicting reports regarding Fucci's biological father, with his girlfriend testifying that he had told her his dad abused him, while his brother told authorities their father was "fantastic." He explained that while in many violent crimes cases, the defendant has a background of poverty or abuse, he did not see this in Fucci's case, pointing out his "at least" middle class upbringing.
He denied that Fucci has any kind of intellectual disability, explaining that while he was in ESE (Exceptional Student Education), records show he was in this program because of poor academic performance. Fucci was on track to receive a regular high school diploma, as opposed to a special education diploma.
Psychologist: Fucci unlikely to be rehabilitated 
The main takeaway from Pritchard's report: He said Fucci has a "poor prognosis" for being rehabilitated.
He said that Fucci seemed to genuinely be having a good time in the back of the squad car during his Snapchat videos. At the time these videos were taken, only hours had passed since Fucci brutally murdered Tristyn.
Pritchard also said that during videos of Fucci interacting with his parents before he was questioned by police (which can be seen here), Fucci did not seem nervous. 
"So he's got this emotional makeup that for me would be clinically very concerning… He's not demonstrating what I would like to see clinically, to say, yeah, we have hope for this guy getting better. He's not demonstrating that, so I would say that at this point, his prognosis is poor for rehabilitation."
Fucci's obsession with violence
The most striking parts of Pritchard's testimony detailed Fucci's obsession with killing, which has come up again and again in testimony with his girlfriend.
The girlfriend, who will not be identified here because she is a minor, told police she and Aiden loved "gore" and horror movies. "But it was pretend," Pritchard explained. Aiden wanted to watch violence in real life, and would look up videos of people being beheaded. 
While one might say this was just a fantasy, Pritchard said, "Fantasy is rehearsal." People fantasize about what they want to do.
His girlfriend said Aiden told her he believed it would be "satisfying to slit somebody's throat." He even often talked about killing her. She said she never believed he would do it, but she did not let Fucci sleep over at her house anymore because he often pointed out how "easy it would be to kill her in her sleep."
He asked her what she would do if he did "really kill someone." And she told authorities Fucci told her he would kill someone "this month," and she believed he had said this in May, the month he killed Tristyn.
He spoke about records which have been raised in court before, which say that Fucci has been extorting other inmates and even threatened to one, saying, "I'm going to stab you and I can't wait. I'm going to look you in the eye." 
Pritchard's overall assessment is that Fucci's behavior is extremely unusual and rare compared to his peers. He did not offer a diagnosis of any kind, though he repeated that he could have done so if he was able to meet with Fucci.
Police, medical examiner speak
 Police officers and a medical examiner testified as well.
Though he has already pleaded guilty, evidence linking Fucci to the crime was presented, including blood on clothing and DNA evidence.
The first person to take the stand was a detective who drove Fucci in his patrol car to trace the area Fucci said he and Bailey had walked the night she went missing.
Investigators testified about evidence — including photos of clothes found in Fucci's home with blood on them.
Surveillance videos from the Durbin Crossing Neighborhood where they testify Fucci is seen wearing the same clothes. 
At one point, the court was shown pictures of Bailey's body lying where she was found stabbed 114 times.
The court also saw a new video of Fucci sitting with his parents as he waited to be interrogated by police. They scold him about posting to Snapchat and say he needs to "get his story straight." 
READ MORE: New video shows Aiden Fucci's parents scolding him for Snapchat posts from police car 
Victim impact statements begin
In addition to 130 victim impact letters, written and typed, that were submitted to the court, several people who were close to Tristyn plan to address the court in person.
Victim impact statements began with Tristyn's cheerleading coach and the mother of her close friend. 
Tristyn's coach, Breanna Cherry, spoke about having to tell Tristyn's teammates, aged 8 through 13 years old, that she had died.
"The image of these kids on their knees, screaming and sobbing as no adult could console them, will be etched into my memory forever," she said. 
Cherry spoke about how she loved Tristyn, having often spent more time with her cheer squad than her own children. "Aiden Fucci selfishly took Tristyn away from so many people who loved and needed her. Our team lost its leader, these athletes lost their sister and I lost a piece of my heart that I'll never be able to get back."
She left a message for anyone reviewing these statements at Fucci's case review in 25 years: "I hope and plead that the person reading this 25 years from now will thing about what these kids have been through."
Tristyn's friend's mother talked about how she was her son's only friend when he was struggling in the fourth grade. He grew to thrive as he got older, remaining good friends with Tristyn. His mother said that she believed his growth was largely due to their friendship.
She said her son asked her questions to which she did not know the answers. "Was she cold? Did she know he was trying to murder her?" he asked. She was afraid that he would lose all of his progress after Tristyn's death. But she believes Tristyn's memory has inspired her son to keep going.
Both speakers asked that Judge Smith give Fucci the maximum sentence of life in prison.
Regardless of Smith's sentence, Fucci's case will be up for review in 25 years because he is a juvenile.
Court will reconvene Wednesday at 9 a.m.
Share this @internewscast.com