5.9k Share this
Victorian Premier Daniel Andrews has reunited with a nurse who cared for him last year as he made a major pre-budget announcement this morning.
Mr Andrews announced $698 million to expand the Better at Home scheme for 15,000 patients to access home-based care each year, in addition to telehealth check-ups.
The program allows patients to access nurses, clinicians and allied health professionals at home.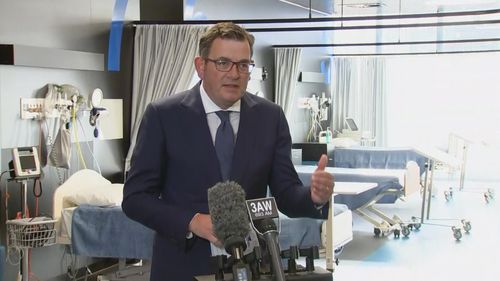 Mr Andrews paid tribute to a Better at Home nurse named Julie, who cared for him as he recovered from a "nasty fall" that left him injured last year.
"Julie is not just a fantastic nurse but someone who is a friend of our family now," he said.
Health Minister Martin Foley said the program will free up the equivalent of 358 hospital beds by the time the program is embedded in 2025.
A further $3.6 million will also be invested to continue the delivery of the Transitional Care Program, which assists patients with disabilities transition from hospital beds to community-based accommodation while their NDIS package is pending.
Mr Foley said about $2.1 million will be invested in a pilot Aboriginal virtual specialist clinic.
Source: 9News
5.9k Share this