3.9k Share this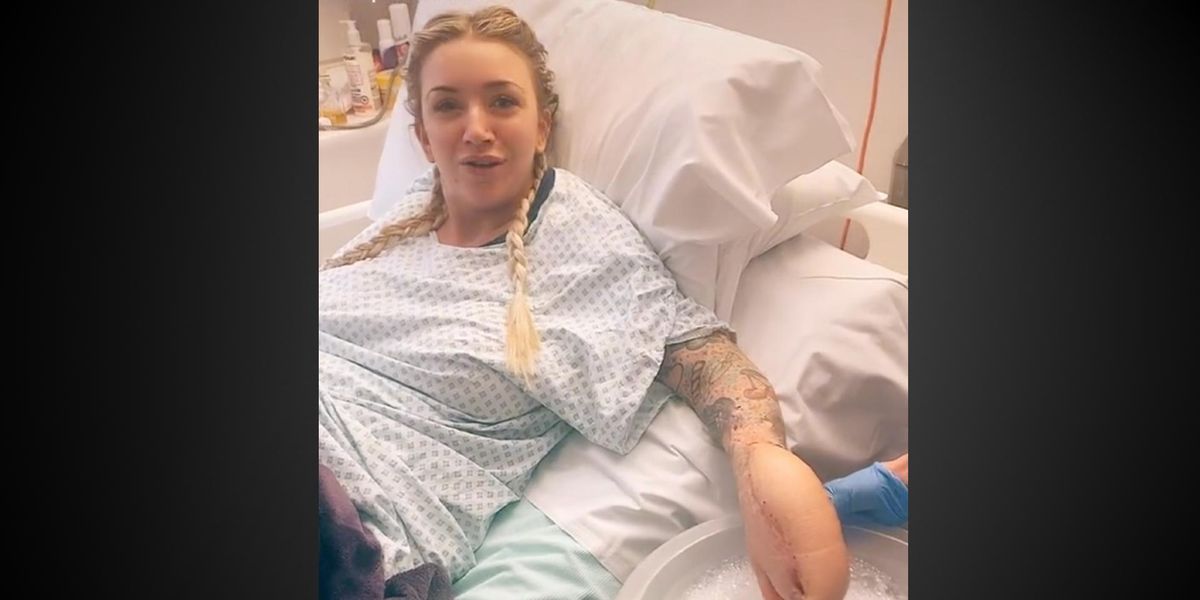 A U.K. woman's hand ended up looking like something out of "Jaws" after doctor's sewed her hand inside her stomach in order to fight a sepsis infection, the New York Post reported on Tuesday.
What are the details?
Thirty-four-year-old Sadie Kemp said that she rushed to the hospital on Christmas day after experiencing intense pain in her kidney.
Doctors immediately admitted Kemp after determining that she was suffering from sepsis in addition to having been diagnosed with kidney stones.
She was rushed into surgery after doctors realized that the sepsis had spread to two of Kemp's limbs and placed her into an 11-day coma.
During that time, doctors were forced to amputate all of the fingers on her left hand, and later sewed her hand inside a pouch in her abdomen in order to maintain blood circulation.
"I wasn't aware my hand was going to look like a shark's head till it had actually been released from my abdomen," Kemp said of the anomaly. "I looked at it for the first time and I moved what was left of my thumb and I was just like 'Wow, it looks like a shark.' I have lost a lot through sepsis, my limbs, a relationship, independence, and I just don't want it happening to as many people as it does happen to."
Kemp has now gone viral on TikTok after having debuted her new claw-like hand as a novelty.
According to the report, one clip saw Kemp using her "shark hand" to pantomime and lip-sync along with kids' music hit "Baby Shark."
While Kemp is apparently taking the affliction in stride, doctors say that they will have to amputate her other hand and both of her legs below the knees due to the infection.
A GoFundMe page to benefit Kemp and her medical struggle has received more than $41,000 in donations. The goal of the page is to raise funds to defray the cost of Kemp's medical bills, nursery fees for her youngest son, and assistance in paying for advanced prosthetics.
Source: TheBlaze
3.9k Share this