Share this @internewscast.com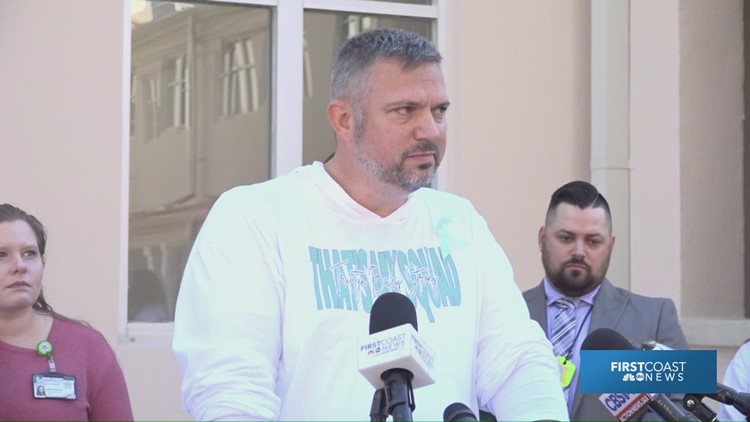 Thanking everyone from Sheriff to bailiff, Forrest Bailey said the family appreciated all "who helped deliver justice for our community."
ST. JOHNS COUNTY, Fla. — Speaking on behalf of a family that calls itself "The Bailey 7," Forrest Bailey spoke Friday after the sentencing of his daughter's killer.
"Today is about focusing on the people who helped deliver justice for our community," he said outside the St. Johns County Courthouse. 
He began by thanking Circuit Judge Lee Smith for giving Aiden Fucci a life sentence. 
"We are very appreciative of this outcome and feel that it is the right verdict, considering how heinous the crime is and Aiden's behaviors around it."
Bailey also wanted to thank people "who are taught typically either overlooked or not thanked," a list that included not just members of law enforcement from sheriff to bailiff, but local Jacksonville media, which he said was responsive to the family's requests for privacy. 
He acknowledged the specifics of his daughter's case, including the age of the victim and perpetrator, and the fact that it happened on Mother's Day, made it an "absolute lighting rod" for media attention. But he said other cases were just as deserving of attention, and that the focus should be on the victim's life and legacy.
"This is important. It shouldn't just be about the details of their death. I would suggest there needs to be more focus put on the victims of other crimes. And not just these lightning [rod] cases. For example, there was a recent murder in Putnam County…. which was similar and brutality and yet not enough highlighted on that family and her loss." 
He was critical of Fucci's defense team as well as the teen's apology, but thanked his grandmother for her tearful testimony and urged the community to be kind to his extended family.
"The defense was insensitive to my family when they called out in writing our participations in these proceedings, which is our right to do so," he said. "They mentioned that in [court] filings. They even went further by sending out a survey to my wife asking her opinion on Aiden murdering Tristyn. At no point, did they have the common decency to give an apology, so I think they should reconsider their high ground before they advise anyone else on apologies."
"With regard to [Fucci's mom] Crystal Smith and her [written] apology," he continued. "There's an open case with her, so it's difficult to comment. The fact that we are continuing to have to go through the legal process makes the apology questionable. You've seen the videos from the home. You've seen the videos from the interrogation room. I would say if she's sorry, she can start by accepting responsibility."
He also addressed the Fucci family. 
"To Aiden's family, I would remind them that he is still here, they can still see him. They can encourage him to change his behavior of bragging about his brutality and threatening the corrections officers and their families that keep him from harm, and setting out on a better road."
And he asked the community to give his extended family some peace. 
"To those around his extended family, please extend them kindness, they should be given grace for the pain they are going through," Bailey said. "They should not be given additional hardship. Tristyn had a good friend amongst his extended family, and treating them poorly based on Aiden's crime does not honor her memory or her spirit."
Bailey said the family hopes soon to shift its focus to securing Tristyn's legacy, but he closed by saying he wanted to "say a few words into the universe."
"Tristyn, I wanted to let you know we are so extremely proud of the person that you were in your time here. We have seen that when you went out into the world, you give it your very best. You should be proud of the friend that you are, the teammate you were, and what you left behind and the people that knew you — that we trust will go forward and continue to make the world a better place. With respect to what you mean to our family: It's in our hearts. There are no words. We love you. We will continue to hold you in our hearts. And we will always be The Bailey 7."
Share this @internewscast.com