3.9k Share this
There are now 2,863 people hospitalised with the virus, with 217 of those in ICU
Today's deaths are a slight drop from yesterday, which was the state's deadliest day of the pandemic.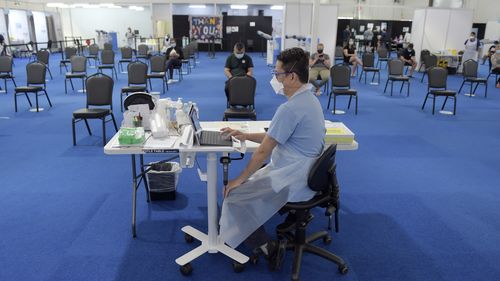 NSW Health has recorded 19,847 infections from PCR tests, while a further 12,450 were identified through rapid antigen tests.
This comes as residents are being urged to step forward for their booster shot, with 70,000 appointments not taken up in the past week alone.
Chief Health Officer Dr Kerry Chant said that while vaccines dramatically lessen the chance of severe disease, they are "not necessarily protective" against acquiring the Omicron variant of COVID-19.
Dr Chant said of the 36 people who died overnight with the virus, 33 were vaccinated.
She urged residents to receive their booster if they are eligible.
"For Omicron, we know that the protection is lower and we need that next boosting to get that higher level of protection," Dr Chant said.
"We know that the boosters take about seven to 14 days to work and so I really want there to be a sense of urgency in going and getting boosted."
But the stabilising case numbers have seen experts considering that the Omicron variant has begun to peak in Australia.
"New South Wales is a bit ahead of the other states and that's not surprising, they started earlier, but they are close to peaking if not already," federal Chief Health Officer Paul Kelly said yesterday.
It would come as a relief to health workers around the country – as will the injection of 100,000 extra staff into the public health system.
They will be redeployed from private hospitals nationwide.
Source: 9News
3.9k Share this