5.9k Share this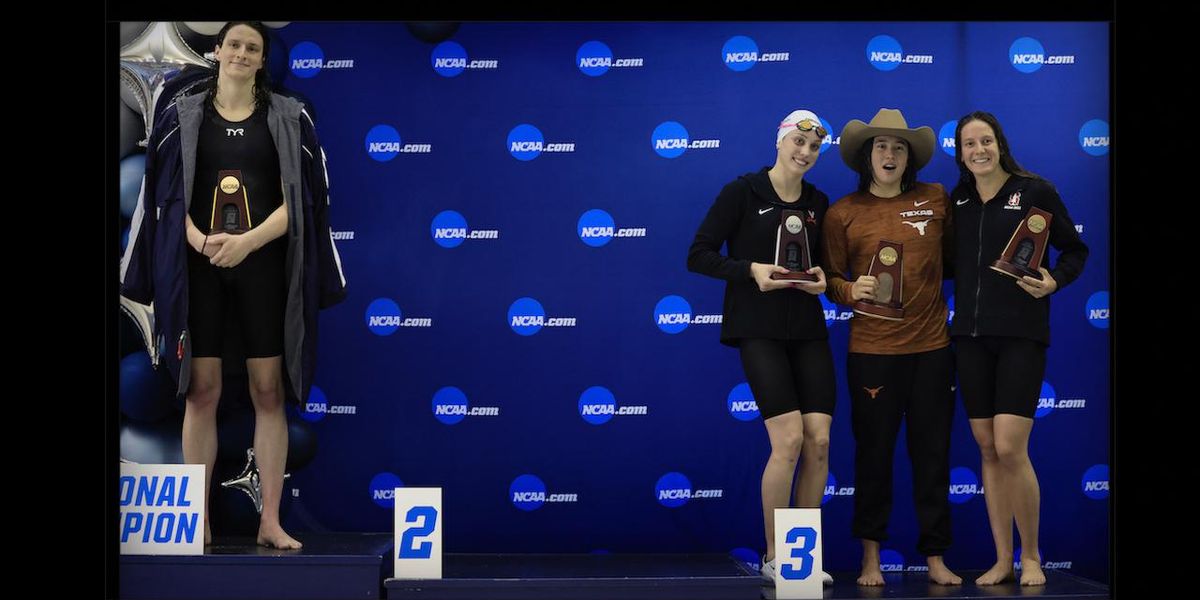 Controversy continued for transgender swimmer Lia Thomas — a biological male who identifies as a female — after winning the women's 500-yard freestyle at the NCAA championships Thursday in Atlanta.
Thomas, who was favored to win the race, finished in 4:33.24 — the fastest time in the NCAA this season, the 11th fastest time in NCAA history, and 16th fastest time ever, SwimSwam said.
What are the details?
But when the swimmers stood on the podium and an announcer named them, the crowd gave second-place finisher Emma Weyant of the University of Virginia decidedly loud cheers and applause.
And then right afterward, when Thomas' name was announced as the NCAA champion, the cheers died down noticeably — and quite a bit of booing was audible:
According to SwimSwam, someone yelled, "Cheater!" while Thomas was on the block prior to the race. During the race, the outlet said Save Women's Sports founder Beth Stelzer entered the arena with a large black flag with text saying "Save Women's Sports." Stelzer tried to hang the flag over a railing, but an event staffer asked her to remove it "because it was blocking the railing," SwimSwam reported.
When Thomas finished the race, the outlet said someone in the crowd shouted, "He's a man!" while some spectators began a "protect girls' sports" chant.
Weyant, only a freshman, clocked a career-best time of 4:34.99 in the 500-yard freestyle — but that wasn't enough to eclipse Thomas, who beat Weyant by almost two seconds and more than a full body length. Not incidentally, Weyant won the silver medal in the 400-meter individual medley at the 2020 Olympic Games — long before Thomas was making national headlines.
In addition, Thomas declined to speak at a press conference after the race, even though NCAA media guidelines state that "champions of each individual event and relay are required to participate in a press conference in the interview room shortly after the conclusion of their event (following awards podium and optional warm-down swim)," SwimSwam said.
The outlet said the chair of the NCAA Swimming and Diving Committee declined to comment on Thomas bowing out of the press conference, adding that it will be discussed at a committee meeting set to take place in a few weeks.
Outcry building
Thomas' win also spurred more outcry from those against the University of Pennsylvania transgender swimmer competing against biological women.
Tennis legend Martina Navratilova — a vocal opponent of transgender women competing against biological women in sports — suggested that trans athletes like Thomas get an asterisk next to their names.
"The solution perhaps for now is [for Thomas] to swim in another lane, or you can compete, but you don't get the medal because the [NCAA] rules are not correct," Navratilova told NewsNationNow. "Right now, the rules are what they are. Maybe put an asterisk there if she starts breaking records left and right, and if Lia goes to the Olympics because she's hitting her prime now physically."
Outkick's headline on the matter reads, "Virginia freshman Emma Weyant cheated out of a national championship by Lia Thomas."
The on-camera interview below drives home the point:
Source: TheBlaze
5.9k Share this