Share this @internewscast.com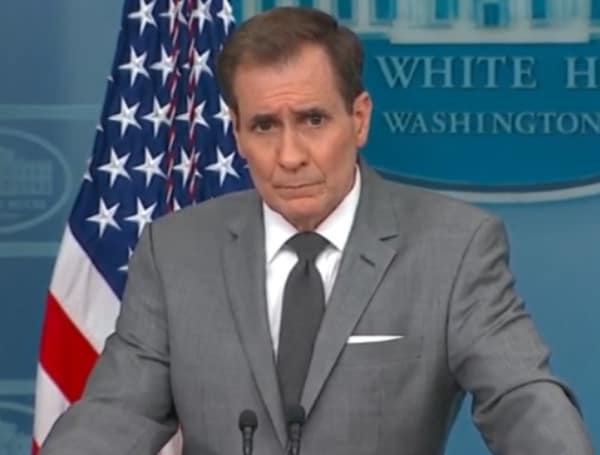 Iran is providing Russia with materials to build a drone manufacturing plant east of Moscow as the Kremlin looks to lock in a steady supply of weaponry for its ongoing invasion of Ukraine, according to a U.S. intelligence report released by the White House on Friday.
According to The Associated Press, National Security Council spokesman John Kirby confirmed that Iran dug in supply lines to transfer the one-way attack drones to Russia through the Caspian Sea, which are then provided to Russian forces to attack Ukrainian cities over long distances.
Iran has also agreed to provide materials for constructing a drone factory, and as repayment, Iran hopes to acquire Russian warplanes and air defense systems, The Washington Post reported.
In the news: First 2024 Predictions Show GOP's Path To Retaking Senate Could Hinge On West Virginia
"This is a full-scale defense partnership that is harmful to Ukraine, to Iran's neighbors, and to the international community," Kirby said, according to the AP.
According to the AP, the White House released satellite imagery of photos taken in April where the factory "will probably be built" in Russia's Alabuga special economic zone, about 100 miles east of Moscow. U.S. intelligence said the plant could be operational next year.
The Biden administration initially revealed Tehran's plans to provide the kamikaze drones to Moscow in July, beginning a pattern of declassified intelligence disclosures of deepening military cooperation between Russia and Iran.
"We are continuing to use all the tools at our disposal to expose and disrupt these activities, including by sharing this with the public — and we are prepared to do more," Kirby said, according to the AP.
Russia had received up to 400 kamikaze drones as of May and is looking to refill its arsenal, the White House said, according to the AP.
In the news: Former Prosecutor Says FBI 'Rolled The Dice' On National Security In Russia-Trump Collusion Probe
Also on Friday, the Biden administration's Department of Justice released an advisory to companies and other governments containing steps on how to comply with U.S. sanctions and avoid inadvertently providing Iran or Russia with drone parts.
Throughout the conflict, the Biden administration has adopted a strategy of intelligence drips exposing Russia's plans ahead of their implementation to keep Russia isolated on a global stage, according to the AP.
White House officials said Tehran mulled selling ballistic missiles to Moscow as well, but so far, they have no evidence a deal ever materialized.
Meanwhile, Iran hopes to receive attack helicopters, radars, YAK-130 combat trainer aircraft, and other equipment totaling "billions of dollars" from Russia, Kirby said, according to the Post.
In the news: Climate Activist Greta Thunberg's Days Of Skipping School Come To An End
In March, Iran said it finalized a deal to purchase Russian SU-35 multirole fighter jets, Reuters reported.
The influx of weapons from Russia could augment Iran's destabilizing activity in the Middle East and give it a new advantage in multiple potential fields of conflict, the Post reported. They could also make it more difficult for the U.S. and Israel to attack Iranian nuclear facilities jointly.
Android Users, Click To Download The Free Press App And Never Miss A Story. Follow Us On Facebook and Twitter. Signup for our free newsletter. 
We can't do this without your help; visit our GiveSendGo page and donate any dollar amount; every penny helps.
Share this @internewscast.com