Share this @internewscast.com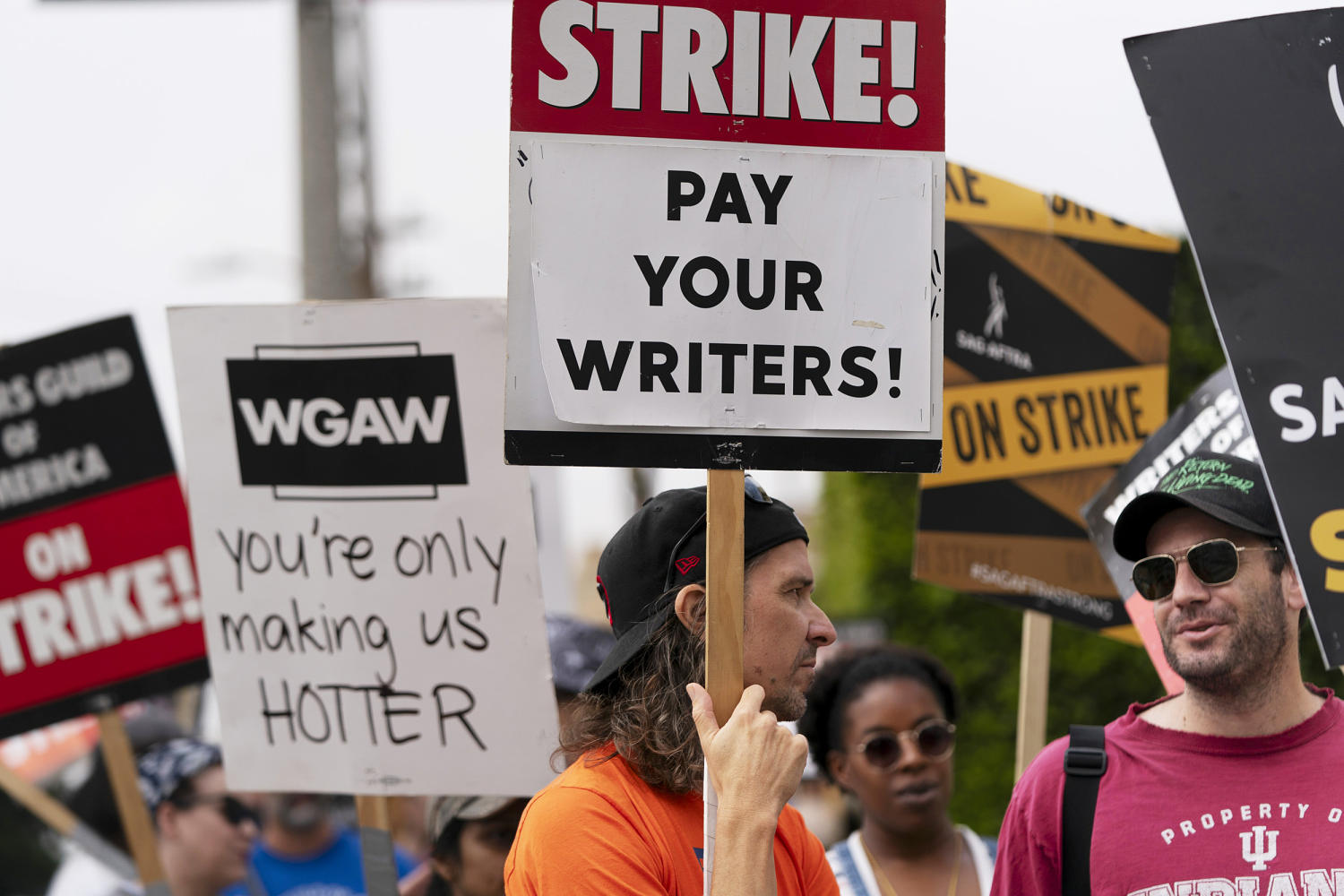 Hollywood is "inching closer" to a deal to end the strike that has largely frozen the entertainment industry after studio heads joined marathon talks that lasted over 10 hours, a source familiar with the negotiations told NBC News.
Disney's Bob Iger, Netflix's Ted Sarandos, Discovery's David Zaslav and Comcast's NBCUniversal Studio group chairman Donna Langley (NBC News is owned by Comcast) were all at the bargaining table for a second day of talks in Los Angeles on Thursday, the source said.
"A deal was not reached," the source said, but they added that the two sides were "inching closer" to an agreement with negotiations entering their third day on Friday.
Progress was made on some of the biggest issues, they said, including writers' demands for greater royalties for their work, known in the industry as residuals, and stricter protections against the use of artificial intelligence. But there are still several sticking points that are yet to be resolved, the source said.
The Writers Guild of America and the Alliance of Motion Picture and Television Producers said in a joint statement that they met for bargaining on Thursday and would meet again Friday.
"Your Negotiating Committee appreciates all the messages of solidarity and support we have received the last few days, and ask as many of you as possible to come out to the picket lines tomorrow," the statement said.
Los Angeles Mayor Karen Bass said in a statement Thursday that she felt "very encouraged" by the continued negotiations.
"The entertainment industry is a fundamental pillar of our economy, directly impacting not just those who work in the industry, but the thousands of small businesses that support the industry every day," she said. "I will continue to be in touch with all parties involved."
"Let's get this deal done," Bass said.
WGA members have been on strike since early May. Actors joined the picket line in July in a separate dispute, bringing production on many Hollywood television shows and films to a halt.
The strike has had a major impact on the industry.
High-profile releases have been pushed back, while production has been stopped on widely anticipated films like "Gladiator 2" and "Mission: Impossible — Dead Reckoning Part Two," along with popular shows like "Stranger Things" and "Yellowstone."
This is a developing story. Please check back for updates.
Share this @internewscast.com