Share this @internewscast.com
Biden to tout progress: 'Covid no longer controls our lives'
Biden will declare in his speech that the pandemic has receded — saying Covid "no longer controls our lives" — and will tout the economic rebound he says the U.S. has seen under his watch.
According to the president's prepared remarks, which the White House released Tuesday night, Biden will point to a "record 12 million new jobs" created in the last two years, after a period of "reeling" during which Covid had "shut down our businesses, closed our schools, and robbed us of so much."
"Today, COVID no longer controls our lives," Biden will say. Last week, his administration said it would end the national and public health emergencies tied to the coronavirus, signaling a new approach to how the federal government views Covid nearly three years after the pandemic started.
Biden, meanwhile, will also describe the Jan. 6 attack on the U.S. Capitol as a moment when "democracy faced its greatest threat since the Civil War."
"Today, though bruised, our democracy remains unbowed and unbroken," he will say.
Biden's State of the Union will preach unity while pitching re-election
President Joe Biden will lay the groundwork for his 2024 re-election campaign Tuesday while urging unity with congressional Republicans in his first State of the Union Address since he declared the end of the coronavirus pandemic emergency.
With Republicans now in control of the House, Biden has little hope of advancing any major legislation.
But the president — who predicted during his campaign that Republicans would have an "epiphany" after former President Donald Trump left office — will tell Republicans in his first address to a joint meeting of the new Congress that the two parties can still find places to work together to get things done, White House officials said. 
Biden will highlight areas where cooperation may be possible, such as countering China — although many Republicans are unhappy with how he handled the suspected Chinese spy balloon — and regulating powerful technology companies.
Read the full story here.
Top White House adviser says Biden to discuss paid leave, expanding child tax credit in speech
Mitch Landrieu, a senior adviser to Biden, said Tuesday that the president will discuss universal paid parental leave and expanding the child tax credit.
"If you talk to women in the workforce and you ask what is the No. 1 issue that keeps you out of it, it's child care or the child tax credit," Landrieu, the former mayor of New Orleans, said in an interview with MSNBC's Katy Tur.
"The president is going to open his hand on that tonight and hope that to find common ground, folks that are representing another part of this country may say, 'You know what, that is really common ground that really is not a partisan issue, because women are the ones that are going to drive the economy going forward,'" he said.
Biden has consistently called for universal paid parental leave since the beginning of his presidency, as well as expanding the child tax credit.
During Biden's first two years in office, when they controlled the House, Democrats passed his Build Back Better agenda through the lower chamber with both components. Senate Democrats, with their narrow majority in the last Congress, were unable to reach a deal largely because of opposition from Sen. Joe Manchin, D-W.Va.
Colorado vet who tackled Club Q shooter to attend SOTU
Rep. Jason Crow, D-Colo., tweeted Tuesday that he would bring Richard M. Fierro, the Army veteran who helped disarm the gunman charged in a shooting at a gay club in Colorado Springs, as a guest to the State of the Union.
Fierro's wife, Jessica Fierro, will also as Crow's guest, Crow said in a video he posted that featured the couple saying they were "excited" to be at the Capitol.
Fierro drew national attention for his role in tackling the gunman accused of killing five people at Club Q in October.
Jill Biden's guest list includes Paul Pelosi, Tyre Nichols' parents, Brandon Tsay, the Ukrainian ambassador and Bono
First lady Jill Biden is set to welcome more than two dozen guests to join her in the viewing box for her husband's address, invited "because they personify issues or themes to be addressed by the president in his speech, or they embody the Biden-Harris administration's policies at work for the American people," the White House said in a release.
The guests, who will be seated with the first lady and second gentleman Doug Emhoff, include:
Oksana Markarova, Ukraine's ambassador to the U.S. The first lady invited Markarova again to join her as a guest in recognition of the continued U.S. support for Ukraine nearly a year after Russia attacked the country.
Paul Pelosi, the husband of Rep. Nancy Pelosi, D-Calif., who was violently attacked by an intruder in their San Francisco home last fall. Pelosi suffered a fractured skull and injuries to his arms and hands.
Brandon Tsay, the man who has been hailed as a hero for disarming the Monterey Park, California, shooter last month. The shooter killed 11 people and injured at least 10 more in a mass shooting at a Lunar New Year celebration in a dance hall. Tsay was awarded a medal of courage by the city of Alhambra last month.
RowVaughn and Rodney Wells, the parents of Tyre Nichols, whose death after a brutal beating by Memphis, Tennessee, police sparked protests and renewed calls for policing and gun control measures. Rep. Steven Horsford, D-Nev., the chair of the Congressional Black Caucus, said Nichols' parents had accepted his invitation.
Bono, the lead singer of U2 and an activist in the fight against HIV/AIDS and poverty. He played a "pivotal role building public and bipartisan political support for the creation of PEPFAR (President's Emergency Plan for AIDS Relief)" during George W. Bush's presidency, a program that is "credited with revolutionizing the provision of life-saving HIV medications in poorer countries," the White House said.
Congressional Black Caucus members to wear buttons to mark history of police brutality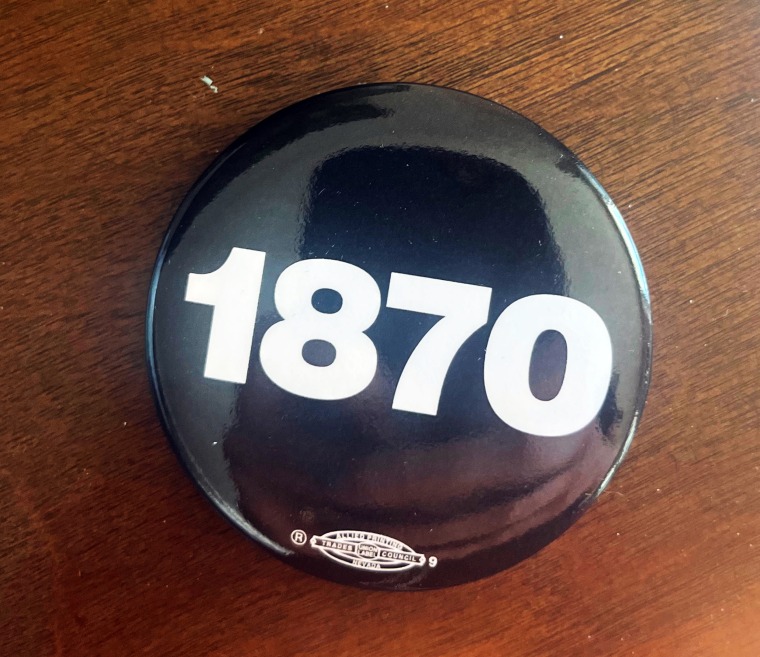 Several members of the Congressional Black Caucus will attend tonight's speech wearing buttons reading "1870" to mark one of the first recorded instances of a police officer's killing an unarmed Black person and to call for progress on the issue of police brutality.
The move comes after Tyre Nichols, a Black man, died last month after police officers in Memphis, Tennessee, brutally beat him. Nichols' parents will attend tonight's State of the Union as guests of Rep. Steven Horsford, D-Nev., the chair of the Congressional Black Caucus.
Nichols' death has renewed calls for police reform, although lawmakers acknowledged that they face slim chances of reaching an agreement in the newly divided Congress. Previous talks began after the 2020 murder of George Floyd but fell apart a year later.
A police officer killed Henry Truman of Philadelphia in March 1870. At tonight's address, lawmakers intend to call attention to the lack of progress that has been made in the intervening 153 years and the need for substantive progress, a congressional aide said.
Arkansas Gov. Sanders expected to hit Biden on crime and border in SOTU response
Arkansas Gov. Sarah Huckabee Sanders is expected to hit the president on the border, crime and drugs in the GOP response to the State of the Union, a source familiar with her planned remarks said.
The newly elected Sanders — who was White House press secretary during the Trump administration — will also tout "a new generation" of Republican leadership while arguing the president is unfit for office, the source said.
"Expect a really big contrast with the president's 80" years of age, the person familiar with the remarks said of Sanders, who's 40.
Sanders is also expected to argue that Democrats are for more government control, and she is likely to try to draw a contrast not between right and left but between "normal and crazy," the person said. 
Ahead of the SOTU, Monterey Park hero says he's still reeling from trauma
Following the shooting tragedy in Monterey Park, California, last month, victims' families say they will use their spotlight as guests at the State of the Union to discuss the impact of gun violence on their Asian American community. 
Brandon Tsay, who is attending as President Biden's guest and who disarmed a mass shooter at a packed dance hall, said he's had to contend with subsequent trauma from the incident. Tsay said that seeking mental health help wasn't a part of his upbringing, but the shooting has changed his perspective.
"Growing up, I feel that I was reinforced [with] the idea that I should … be strong, keep your feelings bottled up and try to be the male, dominant person in your house," Tsay said. "I know now that I need to seek professional help because these feelings that came about with this situation are too much of a burden to bear by myself."
Juily Phun, niece of Muoi Dai Ung, who was killed in the Jan. 21 shooting, will be a guest of Rep. Judy Chu, D-Calif., and said her message is to not overlook the Asian American community's needs. 
"This is a beautiful city. But the way that it can be more beautiful, the way that it can be more wonderful and diverse, is that there are resources for the kind of complex community that we have," Phun said.
Read the whole story.
White House making changes to China section of State of the Union speech after balloon is shot down
Some of the lines in President Joe Biden's State of the Union address that refer to China are being edited after the shooting down of the surveillance balloon that had made its way across the U.S. last week, according to three people familiar with the speech.
Parts of the draft remarks for Tuesday night's speech, which has long included a section on China, could be tweaked after the balloon captured the attention of Americans and drew the ire of Republicans, who have criticized both the president and his administration for their handling of the situation, the sources said.
The discussion among Biden and his aides is how much sharper his rhetoric on China should be, the sources said, with some administration officials making the case that dialing it up too much could be counterproductive as the president continues to navigate the battered relationship between Washington and Beijing.
One White House official said, "We've been clear we will defend American values and advance our interests while maintaining open lines of communication with China."
Another White House official, who was asked if there would be a specific mention of the balloon in Biden's speech, said: "It will likely fall more broadly under a larger umbrella of major foreign policy themes reasserting America's leadership on the world stage."
Read the full story here.
Rep. Greene trolls Biden with white balloon
Sen. Mazie Hirono to bring sex trafficking survivor as SOTU guest
Kalei Grant, a human trafficking advocate and former victim herself, will be Sen. Mazie Hirono's guest at the State of the Union address Tuesday night.
Hirono, D-Hawaii, announced that she would be bringing Grant, assistant coordinator of the Hawaii Department of the Attorney General's Missing Child Center, to help raise awareness about the state's crisis of missing and slain Indigenous women and girls.
"After healing from her own trauma, Kalei has been a steadfast advocate and has dedicated her career to combating human trafficking," Hirono said in a statement provided to NBC News. "Kalei's work and her advocacy are inspiring."
Read the whole story
How to watch President Joe Biden's State of the Union address
The president's State of the Union address is scheduled to start at 9 p.m. ET, and will be carried live over several NBCUniversal News Group properties, including Nbcnews.com.
NBC News, MSNBC, CNBC, NBC News NOW and Noticias Telemundo will feature live coverage and real-time analysis of the address, Biden's second formal State of the Union and his first before a divided Congress.
Online, the NBCNews.com live blog will stream the address while featuring real-time news, analysis and fact-checking.
NBC News' special coverage will be led by "Nightly News" anchor Lester Holt and "TODAY" co-anchor and NBC News chief legal correspondent Savannah Guthrie beginning at 9 p.m. ET.
MSNBC is beginning special coverage at 8 p.m. ET, led by Rachel Maddow, Joy Reid and Nicolle Wallace. 
NBC News NOW anchors Tom Llamas and Hallie Jackson will also host special coverage at 8 p.m. ET.
CNBC.com will live stream the State of the Union address and host a live blog, while Julio Vaqueiro will lead Noticias Telemundo's coverage at 9 p.m. ET.
The address is also being streamed live on the White House's website, which will include an American Sign Language translator.
Biden to advocate for 'accountable policing' in address
The president will highlight the need for "effective, accountable policing" in his address, and will again urge Congress to pass the George Floyd Justice in Policing Act, the White House said Tuesday.
In a release, the White House said the police reform bill — which failed to pass the Senate last year — would "advance accountability, transparency, and public trust in law enforcement. Real change at the state and local level requires congressional action."
Sen. Tim Scott, R.-S.C., who has been a lead Republican negotiator for police reform, said in a series of tweets last week that discussions about resurrecting the bill are "a nonstarter."
Biden will also urge action on his "Safer America" plan, which would fund 100,000 additional police officers with enhanced training, help clear court backlogs, pay for de-escalation training and invest in crime prevention programs.
He'll also again urge Congress to tackle gun violence. "The president is not going to stop until Congress requires background checks for all guns sales, requires safe storage of firearms, and bans assault weapons and high-capacity weapons — weapons of war that have no place in our communities," the White House release said.
Biden to urge Congress to expand insulin price cap
Biden will use his address to call on Congress to cap insulin prices at $35 a month for all Americans, the White House said Monday.
The president sought to impose a universal insulin price cap as part of last year's Inflation Reduction Act, but Republicans successfully scaled back the measure to affect only Medicare beneficiaries. That policy will go into effect this year. In tonight's address, Biden will pressure Congress to expand the measure to the more than 21 million people with diabetes who are not on Medicare.
"The president will call on Congress to extend this common-sense, life-saving protection to all Americans, not just people with Medicare," the White House said.
Democrats argue that the measure is broadly popular, though it faces a slim chance of passing a Republican-controlled House.
As White House presses 'unity' message, partisan bickering reigns
In the hours before Biden delivers his address, White House aides sought to drive home the message that he wants to work with Congress in a cooperative, bipartisan spirit.  
Trouble is, it may not exist.
Yes, from Capitol Hill to the White House, everyone wants to cure cancer, end opioid addiction, and help veterans — goals the presidents will describe in tonight's speech. But the temptation to demean the other party is so pronounced that lofty ambitions often are drowned out by the intramural bickering.
Consider the events of this morning. Even as Biden administration officials laid out what the president calls his "unity" agenda, disunity reigned. On Capitol Hill, Rep. James Comer, R-Ky., chairman of the House Oversight Committee, held a hearing devoted to illegal border crossings. 
"Make no mistake, the state of our border is in crisis," Comer said. He added, "Starting on his first day in office, President Biden signaled to the world our borders were open. Open to criminals, human traffickers and drug traffickers."
Anticipating the attack, the White House sought to discredit it in advance. As Biden administration aides opened a conference call to brief the press on pieces of the Biden agenda they hope will win bipartisan backing, other White House aides blasted out a memo attacking the Republican-run border hearing.
"It is clear that House Republicans are more interested in staging political stunts than on rolling up their sleeves to work with President Biden and Democrats in Congress on legislation to strengthen border security and fix our immigration system that has needed repair for decades," wrote Ian Sams, a special assistant to the president.
The ill will in Washington is one reason that some critics believe the State of the Union address has lost its relevance. It doesn't capture or reflect what's happening day to day either in the capital or the nation more broadly. "It has felt increasingly rote, often exceedingly empty and removed from the reality of our national and political life," said Jeff Shesol, a speechwriter in Bill Clinton's White House.
Biden to address growing mental health crisis in remarks
Biden will use his speech before Congress to announce increased funding for mental health programs and to urge lawmakers to ban online advertising targeting children and impose limits on data collection.
At last year's State of the Union, Biden debuted his four-pronged "unity agenda," which aimed in part to tackle the mental health crisis. Ahead of Tuesday's address, his administration touted its efforts to address rising rates of anxiety and depression, including expanding behavioral health clinics, investing in the 988 suicide prevention hotline and minimizing social media's harms to young people.
At this year's address, Biden will announce increased funding to recruit diverse mental health professionals and to expand the crisis care workforce. Additionally, he will preview an investment of more than $280 million in grants to increase the number of mental health professionals in schools.
This spring, the administration will propose new rules to ensure that mental health providers are being paid on par with other health professionals and that insurance plans are not imposing barriers to mental health care, the White House said Tuesday. The White House noted that the number of children and adolescents with anxiety and depression has risen around 30 percent since 2016. Forty percent of American adults report symptoms of anxiety and depression.
Biden will press Congress to reauthorize the National Cancer Act
The president tonight is set to highlight progress that's been made since he and first lady Jill Biden last year rebooted a federal cancer-fighting initiative known as the "Cancer Moonshot," which he first launched in 2016 as vice president following his son Beau's death from brain cancer.
The "Cancer Moonshot" has announced nearly 30 new federal programs, policies and resources over the past year, according to the White House.
In his State of the Union address, Biden will call on Congress to reauthorize the National Cancer Act that set up the National Cancer Institute 52 years ago. The reauthorization of the act aims to update the nation's cancer research and care systems. The president will also highlight his administration's plans to take steps to ensure patient navigation services are covered benefits for those with cancer, to take measures to prevent more people from smoking in the first place and provide support for Americans who want to quit.
White House outlines more work to support veterans ahead of SOTU
Ahead of the State of the Union, the White House touted the work it has accomplished so far for veterans while laying out plans to increase job training and mental health services.
In a release ahead of Tuesday's speech, the administration said the Department of Veterans Affairs had processed a record 1.7 million veteran claims in 2022 while delivering $128 billion in earned benefits to 6.1 million veterans and survivors.
The White House said both the VA and Defense Department reported suicide rates among veterans had declined in the past year, and said it plans to build on those decreases by expanding programs across the country, including one focusing on veterans who are at particular risk.
The administration is also planning to expand rent support for low-income veterans while strengthening job training programs, initiatives the president plans on addressing in his speech as part of his unity agenda, the White House said.
Biden will announce a 'forceful approach' to tackle opioid epidemic
President Biden will discuss how deaths from opioid overdoses in the country have decreased for five consecutive months. He's also expected to announce a "forceful approach" to tackle the opioid and overdose epidemic, Dr. Rahul Gupta, director of the Office of National Drug Control Policy, told reporters on a press call ahead of the State of the Union address.
The president is set to announce key actions by his administration to tackle illicit drug trade:
Providing more than 120 new large-scale scanners at land points of entry along the Southwest border by fiscal year 2026 for Customs and Border Protection to increase its inspection capacity
Working with commercial package delivery companies to stop more packages from being shipped into the U.S. with fentanyl and materials used to make it.
Working with international partners to disrupt global fentanyl production and the supply chain.
Calling on Congress to classify fentanyl and related substances as Schedule I drugs, making them subject to strict regulations and criminal penalties.
Sarah Huckabee Sanders to deliver Republican State of the Union response
Arkansas governor and former Trump White House press secretary Sarah Huckabee Sanders will deliver the Republican response to President Joe Biden's State of the Union speech on Tuesday, House Speaker Kevin McCarthy and Senate Minority Leader Mitch McConnell announced last week.
"I am grateful for this opportunity to address the nation and contrast the GOP's optimistic vision for the future against the failures of President Biden and the Democrats," Sanders said in a statement. Sanders will deliver her remarks following Biden's speech on Tuesday, set to begin at 9 p.m. ET.
Sanders in November became the first woman elected governor of the largely Republican state.
Read the full story here.
Biden's State of the Union address will make his case for re-election in 2024
WASHINGTON — At the start of his speech Tuesday night, President Joe Biden is apt to proclaim that the state of the union is strong.
And by the time he's done, he'll have laid out a case that he deserves an ample share of the credit.
The 2024 presidential race looms large over Biden's State of the Union address, even though he has yet to officially announce whether he's running for re-election. With a captive audience that traditionally assembles once a year, he isn't about to pass up the chance to explain why voters should give him a second term.
Read the full story here.
Share this @internewscast.com