Share this @internewscast.com
WASHINGTON — Walt Nauta, an aide to Donald Trump, has been indicted on federal criminal charges connected to the former president's alleged mishandling of classified documents, Trump said Friday.
In a post to his social media website Friday, Trump wrote that he'd "learned" that the Nauta would be indicted by the Department of Justice.
Nauta, Trump's butler and body man — whose legal bills are being paid by a Trump political organization — had come under scrutiny by investigators over his shifting accounts of whether he moved boxes of documents at the former president's Mar-a-Lago estate in Florida at his urging.
An attorney for Nauta declined to comment to NBC News about Trump's post.
Trump's claim that Nauta had been indicted was the latest in a flurry of developments cascading from the history-making news Thursday night that a federal grand jury had indicted the former president on seven criminal charges in connection with his mishandling of classified documents that were discovered last year at his Mar-a-Lago resort in Florida. The indictment remains secret.
The charges make the twice-impeached former commander-in-chief the first former president to ever face federal criminal charges.
Trump said Thursday night that his attorneys were informed that he has been indicted in the special counsel's investigation into his handling of classified documents. A source familiar with the matter said Trump had received a summons to appear in U.S. District Court on Tuesday.
Hours after that news broke, Trump, on Friday morning, shook up his legal team, shedding a pair of attorneys who'd so far represented the ex-commander-in-chief through the investigation.
In posts to his Truth Social platform, Trump continued to rail against the charges and announced that attorneys Jim Trusty and John Rowley were no longer representing him. Trusty appeared on NBC News on Friday morning to defend Trump. Both lawyers said they had tendered their resignations in a statement.
"For purposes of fighting the Greatest Witch Hunt of all time, now moving to the Florida Courts, I will be represented by Todd Blanche, Esq., and a firm to be named later," Trump wrote. "I want to thank Jim Trusty and John Rowley for their work, but they were up against a very dishonest, corrupt, evil, and sick' group of people."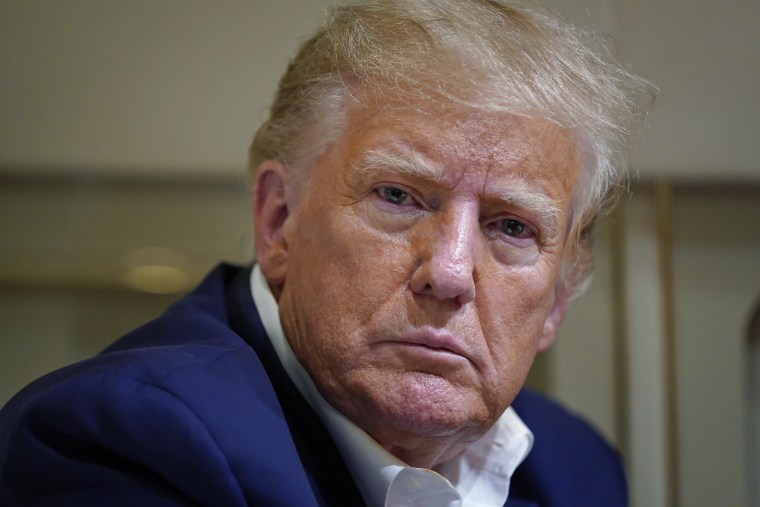 Trump added that he would be "announcing additional lawyers in the coming days."
That announcement came just after news emerged that the case against him would be overseen — initially — by a federal judge he appointed who'd come under criticism by a higher court over for ruling in his favor on a series of issues earlier in the investigation.
Trump's case was assigned Friday to U.S. District Judge Aileen Cannon, two sources familiar with the situation told NBC News.
Cannon, a federal judge in Florida who, last year, during the earliest stages of the federal investigation into the ex-president's handling of classified documents, granted his request to have a special master review all the evidence seized from his Mar-a-Lago estate.
Her September 2022 decision to appoint the special master temporarily blocked parts of the Justice Department's investigation into the trove of top secret and classified documents retrieved by federal agents from the former president's south-Florida residence.
The decision by Cannon, whom Trump appointed to the bench in 2020, sparked immediate criticism from legal experts and, three months later, was dismissed by a federal appeals court, which ruled that Cannon's decision had been incorrect and lifted the restrictions on the probe, allowing investigators to proceed more quickly.
Daniel Barnes contributed.
Share this @internewscast.com