Share this @internewscast.com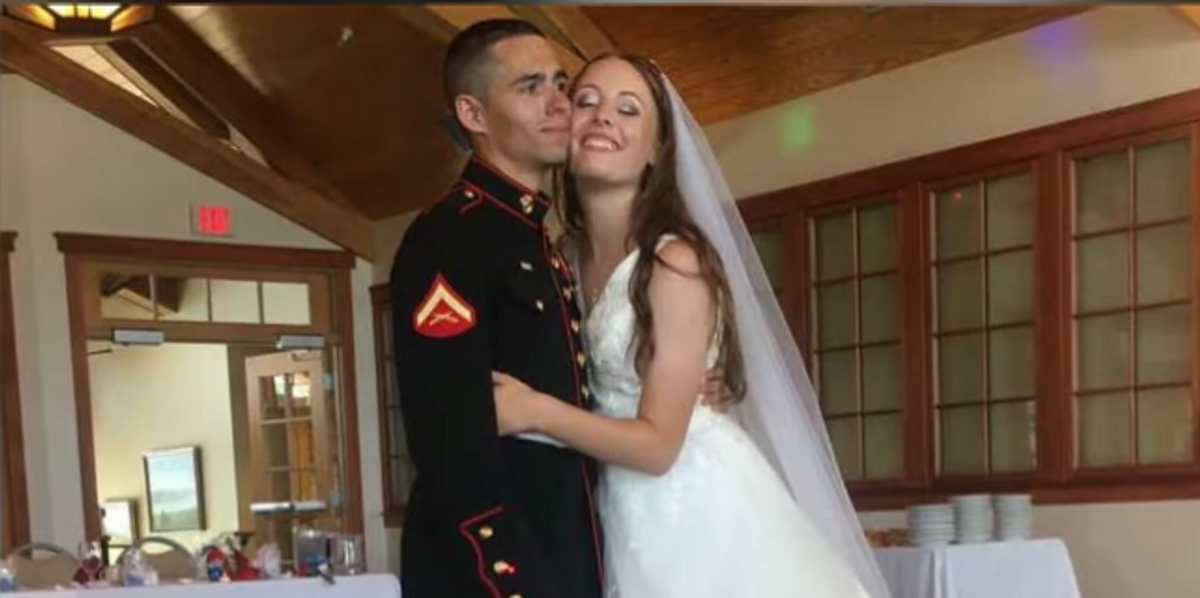 U.S. citizen Willy Joseph Cancel was killed in Ukraine on Monday while fighting alongside Ukrainian troops against invading Russian forces, family members confirm. "He appears to be the first U.S. citizen to die while fighting alongside Ukrainians in Ukraine," Fox News reported.
Cancel – a 22-year-old former U.S. Marine – leaves behind a wife and a 7-month-old baby.
"He went there wanting to help people, he had always felt that that was his main mission in life," Brittany Cancel – the widow of the American citizen who died in Ukraine – told Fox News.
"My husband was very brave and a hero," Cancel stated. "I did not expect to be a widow at 23 years old or for our son to be without a father."
Cancel's mother – Rebecca Cabrera – told CNN, "He wanted to go over because he believed in what Ukraine was fighting for, and he wanted to be a part of it to contain it there so it didn't come here, and that maybe our American soldiers wouldn't have to be involved in it."
"It was something that he believed in his heart, that was the right thing," Cabrera added. "He was the type of man who always stepped up when everybody else stepped back, and there were a lot of men who were like that that were with him."
Devin Tietze Jr. – Cancel's brother-in-law – told CNN, "He believed wholeheartedly this shouldn't have happened and he wanted to go help the people in Ukraine."
Cancel was a correctional officer before going to Ukraine to help fight against the Russian invasion.
"Prior to wanting to help the effort in Ukraine, he was a detention officer in Kentucky," the widow told Fox News. "He had dreams and aspirations of being a police officer or joining FDNY. Naturally, when he found out about what was happening in Ukraine he was eager to volunteer."
Cancel was hired by a private military contracting company to fight against Russians in Ukraine.
Cancel flew to Poland on March 12 and arrived in Ukraine the next day, according to Cabrera. His mother said Cancel was fighting alongside soldiers from "all different countries."
Cabrera said, "They haven't found his body. They are trying, the men that were with him, but it was either grab his body or get killed, but we would love for him to come back to us."
Cancel's widow pleaded, "All I want is for him to come home, and to give him the proper burial he deserves."
How Cancel was killed in Ukraine is not clear at this time.
An official with the U.S. Department of State told NBC News on Friday that officials "are aware of these reports and are closely monitoring the situation."
"Due to privacy considerations, we have no further comment," the official said. "We once again reiterate U.S. citizens should not travel to Ukraine due to the active armed conflict and the singling out of U.S. citizens in Ukraine by Russian government security officials, and that U.S. citizens in Ukraine should depart immediately if it is safe to do so, using any commercial or other privately available ground transportation options."
Cabrera said of her son, "He was just a really thoughtful person. He always put everybody ahead of himself even when situations were so stressful. He always kept everybody laughing and calm. He was the man that stood up when everybody else stood back."
The Ukrainian Defense Ministry created a special unit consisting of foreign fighters known as the "International Legion." Brig. Gen. Kyrylo Budanov – commander of the Main Intelligence Directorate of the Ministry – claimed that more than 20,000 volunteers and veterans from 52 countries have expressed interest in joining the unit, CNN reported on March 7.
In March, award-winning American filmmaker and media correspondent Brent Renaud was shot and killed in Ukraine, according to authorities in Kyiv.
[embedded content] Family of American killed in Ukraine confirm his death as Russia ignores U.N. calls for peace www.youtube.com
Source: TheBlaze
Share this @internewscast.com