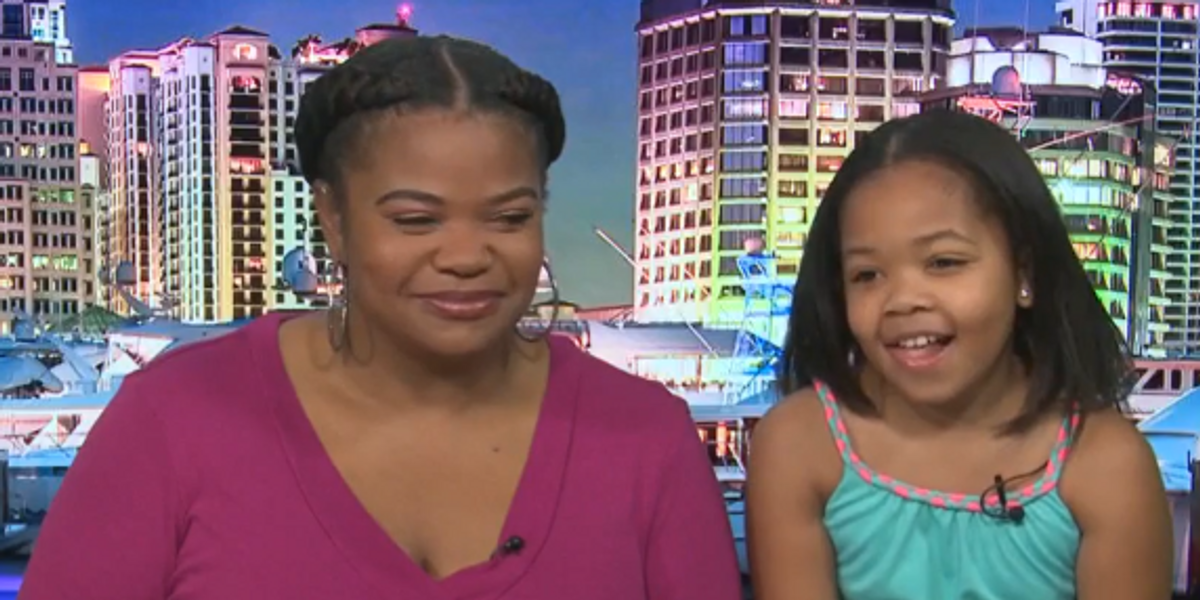 A 9-year-old girl was awarded by police for her heroic actions to protect her mother during a robbery in Florida.
Danielle Mobley and her daughter Journee Nelson were grocery shopping in West Palm Beach on Nov. 2. That's when surveillance video captured the moment that the mother was attacked by a thug trying to steal her purse.
"We struggled over the purse. He pushed me down to the ground," Danielle Mobley told WSVN-TV.
The suspect reportedly told Mobley to let go of her purse otherwise, "You're going to make me pop you," while reaching for his waistband.
Instead of being petrified by fear, the young girl ran to try to save her mother from the attack. Journee punched the violent robber.
"We walked out the store and then I took a little glance at him and then I looked back at the car and then I opened my door. And then, next thing I know, I saw him running towards my mom," Journee said during an appearance on "Fox & Friends Weekend."
"I fought back. I had to save my mom," Journee said.
Journee punched the thug in the face, and he pushed the girl to the ground.
He fled the crime scene, and the brave 9-year-old girl ran after the man for five blocks before he got away.
WOW. A 9-year-old girl ran to her mom's defense this month when a man attempted a daytime robbery along Broadway Ave. @WestPalmPD will recognize the child today for her bravery. A man was later charged with robbery and battery causing great bodily harm. \n@WPTV @FOX29WFLXpic.twitter.com/hOqQfbqr07

— Ashleigh Walters (@Ashleigh Walters) 1637237876
The thief stole Mobley's purse, which contained a cellphone, several bank cards, a Coach wallet, cash, and her concealed carry permit.
However, the suspect was identified as 29-year-old Demetrius Jackson and arrested two days after the robbery. He was charged with robbery and battery.
On Thursday, the West Palm Beach Police Department honored the pint-sized hero with a medal and certificate.
"I bet he was shocked when she kicked him right in the face because he definitely could tell on the video that he was not expecting that, and her actions were perfect timing in this particular situation, and I think she hit him pretty hard," said West Palm Beach Police Department Chief Frank Adderley.
The chief warned, "I wouldn't recommend that you confront an individual like that but in the heat of the moment things happen."
Chief Adderley honored a 9-year old child today for bravery as she ran to her mother\u2019s defense to fend off a brazen robber. An #arrest was swiftly made in this case. \n\nThe West Palm Beach Police Foundation presented the child with a token of appreciation.pic.twitter.com/r9tz8PoacW

— West Palm Beach PD (@West Palm Beach PD) 1637273889
The mother commended her daughter, "I'm very proud of her that was her initial reaction. I wish we, sometimes, things could be a little different because she is still dealing with this mentally."
Source: TheBlaze