Share this @internewscast.com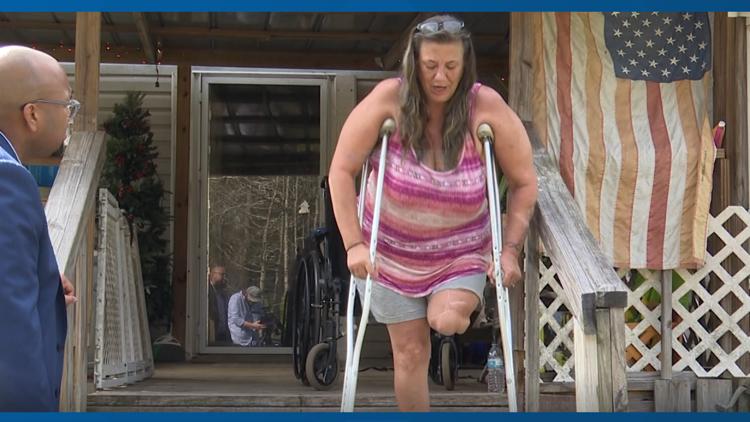 After Jennifer Bresnahan's story aired on First Coast News, many of you contacted the "Ask Anthony" team asking how you could help.
In February, we introduced you to Jennifer Bresnahan. She was in need of a wheelchair ramp for her home. 
After her story aired, so many of you contacted the "Ask Anthony" team willing to help out. We truly appreciate the generosity. We want to let you know that she's getting a wheelchair ramp installed at her home in less than two weeks. 
"I spend 90 percent of my time inside and when it starts to get nice like it is now…it's driving me crazy because I want to come out and work on my garden," Bresnahan explained. 
Eighteen years ago, she had her leg amputated. 
"We were riding a motorcycle, and we were hit by a drunk driver and I got smashed in between the truck and motorcycle and then thrown off the other side," Bresnahan said. 
She says she's asked for help for years with a ramp, even going through her insurance, but no one has stepped in to get it done. So, she contacted the "Ask Anthony" team. 
We reached out to Nicole Carroll, the executive director of the Landmark Foundation, about Jennifer's situation. She replied within minutes that they wanted to help. 
"A lot of people that we help out that need the ramps have not been out of their home for a couple of years. We're really out there changing lives," Nicole Carroll said. 
The Landmark Foundation is the charitable arm of Landmark Title Company. Carroll says $10 from every real estate closing goes to the foundation and back into the community.  
"In the last five years, since we created the foundation, we've raised about $300,000," Carroll added. 
The foundation relies on volunteers, who are real estate professionals, to come out and help build the wheelchair ramps. 
"A lot of the people we help…some of them are veterans. Some of them are seniors. Some of them are disabled children. We think it's important for people to have mobility," Carroll said. 
The Landmark Foundation builds about one to two ramps a month, and they're always looking to help people in need. 
Remember, if you have a problem you can't solve, you can email AskAnthony@firstcoastnews.com
Share this @internewscast.com