Share this @internewscast.com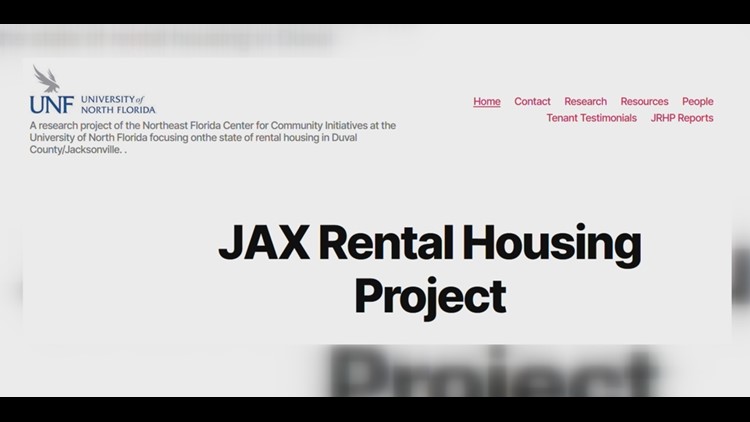 Sociology professor Dr. David Jaffee started the Jax Rental Housing Project last year to find out why rent is skyrocketing in Florida.
JACKSONVILLE, Fla. — Rental prices are rapidly increasing in Duval County, making it tough for renters to find affordable housing in Jacksonville. 
Professor of Sociology at the University of North Florida, Dr. David Jaffee, started the Jax Rental Housing Project last year. He said institutional investors are to blame for the rental housing crisis in Jacksonville. 
He calls it the "financialization of human shelter" by obscure LLCs. 
"They're buying up single family homes," Jaffee said. "They're bundling them together, putting them in a portfolio as an instrument for investment for wealthy clients."
A new report from the research project shows rent increased in Duval County by almost 39% over the last two years. Data collected from Harvard University in 2019 shows nearly 47% of Jacksonville renters are cost burdened, meaning more than 30% of their income goes to paying rent. 
Jaffe said costs have increased even more since then, so that number is grossly underestimating the percentage that's cost burdened in 2023.
"In order for them to get a return on their investment," Jaffee said. "That typically means that you have to raise rents, reduce costs and also collect additional fees. Any way to enhance the profit coming in."
According to Jaffee, there are four zip codes in Jacksonville these LLCS target.
"That's 32206, 32208, 32209, and 32254," Jaffee said. "This is the urban core neighborhoods. They are being most severely affected by this corporate landlord invasion."
He said the City of Jacksonville needs to increase tenant rights.
"A tenant's Bill of Rights has been passed in Miami, it's been passed in Orange County, it's been passed in Pinellas County," Jaffee said. "It's now time for Jacksonville City Council to pass a Jacksonville Tenants Bill of Rights."
Jaffee said Florida can start to fix the problem by requiring more transparency from the LLCs.
Share this @internewscast.com