5.9k Share this
The Warne children entered the stage to "Summer of '69" by Bryan Adams.
Summer Warne spoke first, recalling her last encounter with her father.
"That song, 'Summer of '69', played on Wednesday, March 2, two days before your passing and the last time I saw my dad," she said.
"You were coming to pick up your bag you needed for Thailand.
"And as I opened the door you came inside and had your car door wide open blaring that song.
"You started dancing and singing with true happiness all around you. With the smile that lit up the whole room.
"We both started dancing with not a care in the world, and couldn't stop laughing with each other.
"Looking back on that memory now, and it is so incredibly special as the year you were born was 1969 and a verse in that song is, 'When I look back now, that summer seemed to last forever. And if I had a choice I'd always want to be there. Those were the best days of my life.'
"You will always be with us, Dad, just not in the way we had hoped."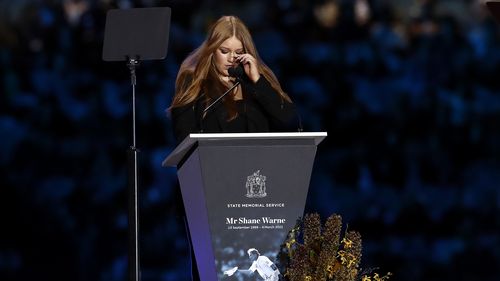 Source: 9News
5.9k Share this