Austria's first loosening of its coronavirus lockdown three weeks ago, in which thousands of shops reopened, has not led to a new spike in infections, though further vigilance is necessary, its health minister says
The Alpine republic acted early to tackle the viral pandemic, cutting the daily increase in infections to less than 1 per cent and keeping deaths relatively low – with just 606 reported so far. Buoyed by those numbers, on April 14 Austria became one of the first countries in Europe to loosen its lockdown.
"We have no indication of a noticeable increase in individual areas. The situation is very, very constant, very, very stable and that is a really very, very positive, good situation," Health Minister Rudolf Anschober told a news conference.
The daily increase in infections, he added, is 0.2 per cent.
Current data does not reflect the impact of a more recent loosening from May 1 when hairdressers, other service providers and shops of more than 400 square metres were allowed to reopen.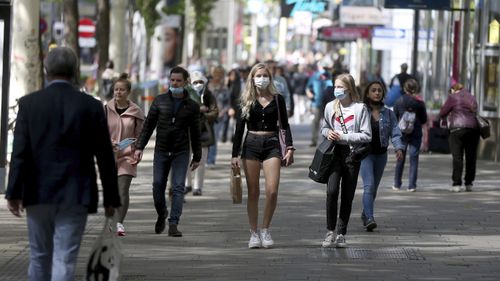 People in a street in Vienna on May 2, after certain shops and businesses were allowed to reopen. Source: Associated Press
Source: 9News