A statement from the Whistleblowers, Activists and Communities Alliance (WACA) said the occupation would continue until detainees are released into the community and provided with the medical care they were brought to Australia for under the now-repealed 'medivac laws'.
"Over the last two months of this pandemic the federal and state government message has been 'we are all in this together'. Clearly some of us of are more in this together than others. We are not truly together until all, including detained asylum seekers and refugees, have their freedom. This is a human rights issue and a public health issue," spokesperson Gaye Demanuele said.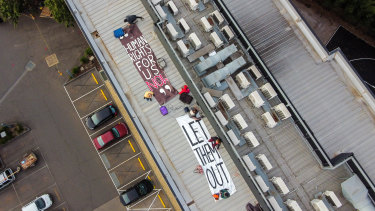 Last month, more than 1180 healthcare professionals signed a joint letter to the government calling for the men to be released.
"At the Mantra Hotel in Preston, an already high-risk environment is compounded by the fact that the hotel is used by airline crews, with personnel constantly coming and going from the hotel," said the letter, drafted by infectious diseases expert Professor David Isaacs.
Loading
"This poses dual risks of infected detainees infecting the airline crew or detainees being infected by the airline crew.
"Failure to take action to release people seeking asylum and refugees from detention will not only put them at greater risk of infection (and possibly death), it also risks placing a greater burden on wider Australian society and the health care system."
More than 60 men are confined to a secure floor of the motel, which is off limits to other guests and staffed by armed guards. While Australian Border Force, which operates the motel's secure wing, has cancelled all outside visits, guards come and go throughout the day.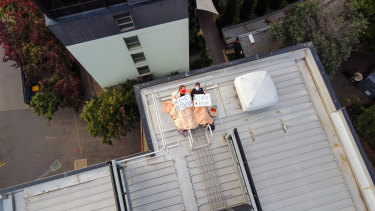 Farhad Bandesh was medically evacuated from Manus Island and then moved from the Mantra to the Melbourne Immigration and Transit Accommodation centre (MITA).
"This is so cruel, what the Australian government does to refugees; these refugees and asylum seekers are mentally sick and physically sick. These people should be released to the community immediately after all, over seven years of being detained for when we came only looking for safety and freedom; this is not a crime," the detainee said.
Activists have bypassed lockdown restrictions during the pandemic by walking past Mantra and the MITA centre in protest of the detention.
Walking is considered exercise and is allowable under Victoria's lockdown rules though protests themselves are a breach of the restrictions.
Last month, 30 people were also fined for protesting in support of refugees and asylum seekers outside the Preston hotel.
Rachel is a breaking news reporter for The Age.
Source: Sydney Morning Herald