Space history is set to be made this morning when
Elon Musk's SpaceX company
attempts to launch to launch two NASA astronauts to the International Space Station.
There have been rain and thunderstorms at the Kennedy Space Centre at Cape Canaveral in Florida for the past 24 hours, but it has just cleared and NASA and SpaceX say the launch will go ahead at 6.33am (AEST).
You can watch the launch from Cape Canaveral in Florida at 6.30am AEST on Thursday on Channel 9 and 9news.com.au.
President Donald Trump just arrived at Kennedy Space Center aboard Air Force One, and the plane took a quick detour over the launch pad to get a good view of the SpaceX rocket and Crew Dragon capsule.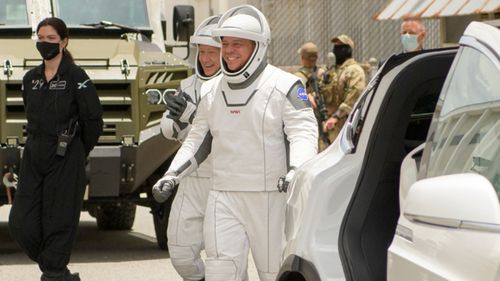 After taking a brief moment to keep an eye on the weather, the hatch was closed on the SpaceX Crew Dragon capsule holding astronauts Bob Behnken and Doug Hurley.
They'll stay locked inside the capsule, waiting for lift-off, while launch officials continue to monitor for storms and technical issues leading up the 6.33am launch.
SpaceX carried out a series of communications checks to make sure the astronauts have contact with mission controllers at NASA's Johnson Space Centre in Houston and SpaceX's mission control in Hawthorne, California.
Speaking on NASA's livestream, SpaceX CEO Elon Musk reflected on the launch.
"
This is a dream come true
, I think for me and everyone at SpaceX. This is not something I ever thought would happen. When starting SpaceX in 2002, I really did not think this day would occur."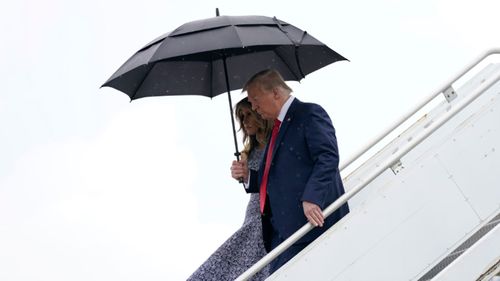 The mission will be the first time that a private aerospace company has carried humans into Earth's orbit.
The US hasn't launched its own astronauts into space since the Space Shuttle Program ended in 2011. Since then, NASA's astronauts have had to travel to Russia and train on the country's Soyuz spacecraft
Source: 9News