5.9k Share this
Is Jimmy Butler Michael Jordan's Illegitimate Child? Jimmy Butler, a fantastic basketball player, has surmounted all odds to become an NBA superstar. He didn't have the traditional loving family upbringing. At the tender age of 13, he was a homeless youth. Butler's father left the family when he was a child.
Despite his difficult upbringing, Jimmy Butler went on to become a five-time NBA All-Star and five-time NBA All-Defensive selection.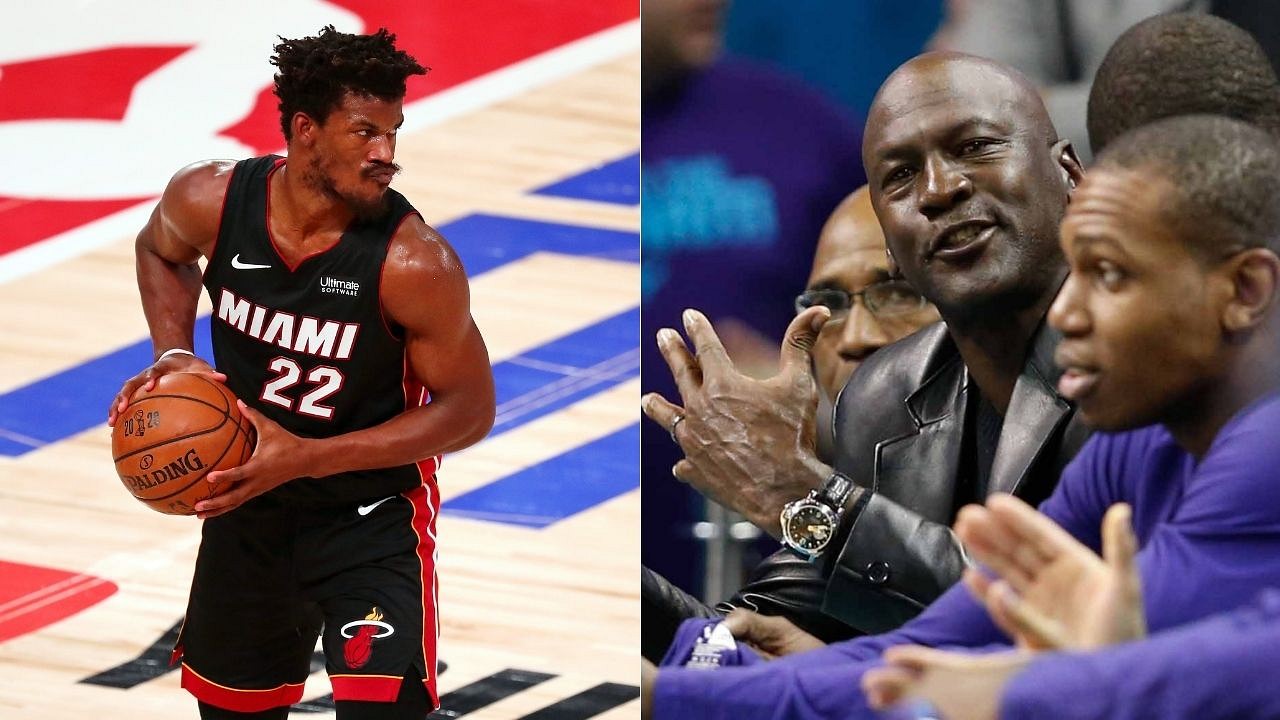 Michael Jordan was rumored to be Jimmy Butler's long-lost father, according to wild tales. Is it accurate to say so? To find out, keep reading.
Early Life of Jimmy Butler
Jimmy Butler was Born on September 14th, 1989. He was raised in Houston, Texas, by his mother, Lona Butler, until the age of 13. His mother threw him out, citing that she didn't like how he looked. Jimmy survived by crashing at his friends' homes until Michelle Lambert, one of his friends' mothers, took him in.
Butler went ahead and became a star basketball player in Highschool and college. His basketball career took off.
Despite his unusual upbringing, Jimmy Butler does not hold any grudges against his parents. He maintains a cordial relationship with them. He is grateful for what happened to him because it made him who he is today.
Rumors about Butler's Father: Who Is He?
There have been interesting stories on the internet that suggest Michael Jordan is Jimmy Butler's father. These speculations arise from claims that Michael Jordan abandoned a child back in 1988. He was married, but he stepped out of his married and sired a child.
RECOMMENDED: Who Is Londa Butler? Jimmy Butler Mother – Explore Her Age And Husband
In fear of sabotaging his family, he paid the mother's child to keep his secret and keep him out of their life. The rumor goes ahead to say that the mother kicked the child out of the house at the age of 13 when the payments stopped.
Is Jimmy Butler Michael Jordan's Illegitimate Child?
The fact is, Michael Jordan is not Jimmy Butler's father. Michael Jordan is said to have abandoned his child in 1988, a year before Jimmy Butler.
This eliminates the possibility of Jordan being his father. There is no evidence to link Jordan to Butler's mother.
This whole rumor lacks enough ground to make any conclusions.
The similarities between Butler and Jordan is that they both played for the Chicago Bulls. They also worked together in an endorsement deal'.
It is also said that Jordan once volunteered at Butler's basketball camp when he was still young. That is about it when it comes to the relationship between the two.
Final Thoughts
The conspiracy theory about Jimmy Butler being Michael Jordan's son is far-fetched. It is not established whether the claims that Jordan fathered an illegitimate child are valid. But that child is certainly not Butler.
The whereabouts of Bulter's father are not known, though Butler says that he still talks to both his parents and he loves them.
RECOMMENDED: Who Is Londa Butler? Jimmy Butler Mother – Explore Her Age And Husband
5.9k Share this