Share this @internewscast.com
Everyone seems to have an opinion about Kim Kardashian wearing Marilyn Monroe's "Happy Birthday, Mister President" dress to the recent gala at the Met. So far, we've found no evidence that anyone but Kardashian herself believes it was a good idea. In fact, designer Bob Mackie, who made the original sketches for the one-of-a-kind dress, said it was a "big mistake" that the publicity-hungry Kardashian was allowed access to the dress at all.
Who is Bob Mackie, and why does he care about Marilyn Monroe's dress?
Now 83 years old, Mackie was born on March 24, 1939, in Monterey Park, California. He spent a year studying fashion design and illustration at LA's Chouinard Art Institute but accepted a job at Paramount Studios in lieu of graduating from the school where many Disney animators learned their craft.
At age 23, Mackie was hired as an assistant to French-born Hollywood fashion designer, Jean Louis. In this capacity, Mackie made the first sketches of what would become one of the most iconic garments in history. In addition to the unique dress worn by Monroe at John F. Kennedy's 1962 birthday bash, Louis is known for creating Rita Hayworth's strapless black Gilda dress as well as the swirling confections worn by Loretta Young. Louis married Young in 1993 and remained with her until he died in 1997.
Over the course of Mackie's award-winning career, the designer — known as the "sultan of sequins" — was couturier to the stars. He created sensational outfits for numerous celebrities, including Carol Burnett, Mitzi Gaynor, Diana Ross, Whitney Houston, and Cher. The uber-talented designer also created clothes for Barbie dolls. His most famous creation, however, was the dress he helped design for the Some Like it Hot star.
Mackie voiced his expert opinion that letting Kardashian wear the distinguished dress "was a big mistake" to Entertainment Weekly. He added, "It was done for [Monroe]. It was designed for her. Nobody else should be seen in that dress."
Fashion experts and couture conservators weigh in on Kim Kardashian wearing Monroe's dress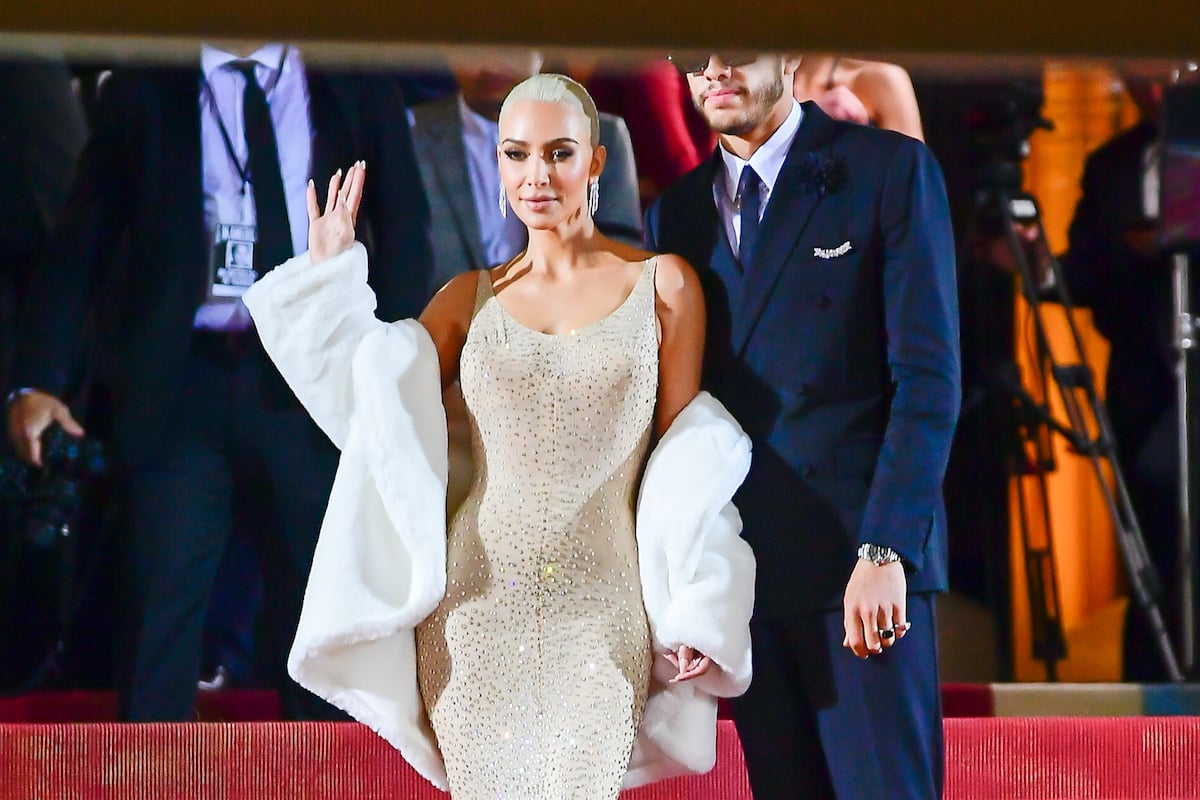 When Marilyn Monroe approached Louis about designing a dress only she could wear, the Gentlemen Prefer Blondes star requested "a truly historical dress, a dazzling dress that's one of a kind," reports People. That's exactly what she got. In fact, the shimmering soufflé gauze garment was sewn in place on her nude body with strategic layers that precluded the need for undergarments. The 5'6″ actor wore the Mackie-Louis creation only one time — to sing "Happy Birthday" to then-President Kennedy.
That the dress Ripley's Believe It or Not! Exhibits and Archives team called "the most famous item of clothing from twentieth-century culture" was loaned to Kardashian is "cause for concern," said Monroe historian Scott Fortner. He went on to state that due to different body measurements, "It's logically assumed the fabric and seams were stressed."
Fashion Institute of Technology professor Dr. Justine De Young described Kardashian's use of the Monroe dress as "irresponsible and unnecessary" and that the historical garment should never have been "put at risk of damage just for an ego-boost and photo-op."
To make matters more troubling, the dress didn't fit Kardashian. According to UK Daily Mail, the decidedly not-Marilyn celeb was unable to zip the dress over her hips. Kardashian covered the gaping zipper with a white faux-fur shawl before switching to a replicate dress in her own size. One does wonder why she did not simply wear the replica for the entire Met Gala.
Public opinion of Kim Kardashian co-opting Marilyn Monroe's most notable dress
Readers of a New York Times article about Kardashian's borrowed gown had plenty to say, posting comments such as "MM wore it better," and that allowing the 21st-century reality TV celeb to wear the intricate, 60-year-old dress "should be a crime." Another exclaimed that the Kardashian family has "single-handedly destroyed" celebrity culture.
Reddit did not welcome Kardashian's fashion choice either. Deuxmoi's Subreddit was rife with opinions. One user commented, "I hope this backlash has taught Ripley's not to loan out pieces like this again."
Another user commented, "As someone who works in art museums I will add that this is a big problem for current collections/curators. Private collections and for-profit orgs like Ripley's can pay more for these items than the public-facing museums that would do proper conservation work while still making the dress available for people to see."
RELATED: Why Frank Sinatra Was Banned From Marilyn Monroe's Funeral
Share this @internewscast.com