Share this @internewscast.com
Kylian Mbappe, a French footballer, considers his parents, Fayza Lamari and Wilfried Mbappe, to be the most important people in his life.
Kylian Mbappe Lottin, known simply as Kylian Mbappe, is a forward for Ligue 1 club Paris Saint-Germain and the France national team.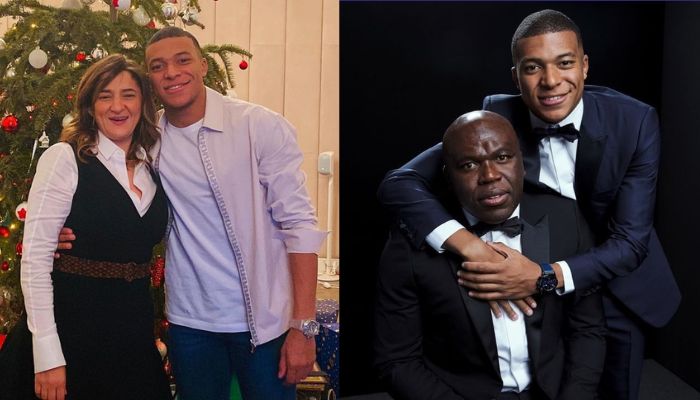 The athlete is noted for his speed, dribbling, and finishing and is considered one of the top players in the world. The footballer made his senior debut with Ligue 1 club Monaco in 2015, when he was 16 years old.
Mbappe won the Ligue 1 title, the Ligue 1 Young Player of the Year, and the Golden Boy Award during his time with the club.
Who Are Kylian Mbappe Parents: Fayza Lamari And Wilfried Mbappe
Footballer Kylian Mbappe was born to his loving parents Fayza Lamari and Wilfried Mbappe. He was born in Paris and was raised in Bondy, Seine-Saint-Denis, a commune 10.9 km from the center of Paris, by his parents.
His father, Wilfried, comes originally from Cameroon with Nigerian family roots and is also known for being the agent of his son Mbappe. Besides being an agent of Mbappe, he is also a football coach.
Mbappe ailesi Allianz Arena'da #FRA

Fayza Lamari – Wilfried Mbappe#EURO2020 pic.twitter.com/Imx7TTWQsn

— Fanatik (@fanatikcomtr) June 15, 2021
Once a refuge, Wilfried migrated to Northern France in search of greener pastures, while Mbappe's mother Fayza is Algerian of Kabyle origin. Fayza had a successful career as a handball player.
Wilfried spent many years as a football coach, the head of the household. From the start, Kylian's parents always ensured that every family member took up sports as their profession.
While Kylian was only six, in 2004, his father joined him at AS Bondy under his coaching care, as it was the place he worked. From that very moment, the total focus on football development started.
The French footballer Kylian Mbappe comes from an athletic middle-class family who centers their lifestyle around sports. Simply, his family comes from the sizeable working-class community of Bondy.
Now, Bondy can be known as a repentant town that pays homage to its treated football star. There also exists a poster of the footballer on the building where he spent his childhood years.
Mbappe was enrolled at the Conservatory music school from age 6 to 11. There he learned to read music and study the flute. Mbappe always credits his teacher, Celine Bognini, for teaching him his second-best hobby after football.
Back in the days, Kylian would join his music tutor while he led the choir, and together, they would perform at Bondy's town hall park. The repertoire of songs was very varied, although it was primarily French songs.
Does Kylian Mbappe Has Siblings? 
Footballer Kylian Mbappe came to the world as the first child of his parents, Wilfried Mbappe and Fayza Lamari. He has a younger brother named Ethan Mbappe Lottin.
Ethan competed for Paris Saint-Germain's under-12 squad in 2018. The Frech footballer, Ethan, currently plays for Paris Saint-German as a midfielder. Kylian's brother Jires Kembo-Ekoko is the adopted child of Wilfried.
Kylian's adoptive brother, Jires, is also a professional football player. Moreover, the rest of Kylian's half-siblings have also followed in his footsteps.
Growing up, Kylian's football idols were Zinedine Zidane and Cristiano Ronaldo. As a child, Kylian attended a private Catholic school in Bondy, where he was always referred to as academically gifter but unruly.
Share this @internewscast.com