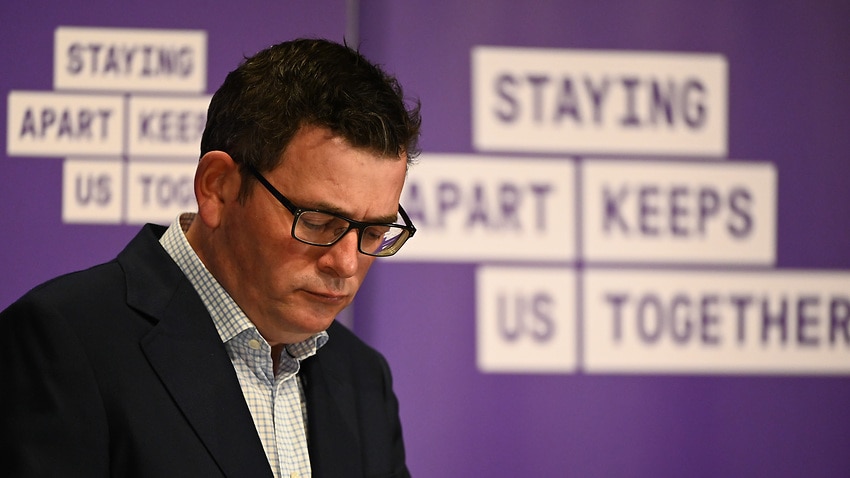 Victoria has recorded 15 deaths and 725 new coronavirus infections on the state's worst day of the pandemic to date.
Premier Daniel Andrews on Wednesday said 538 people remained in hospital, with 42 of those battling the infection in intensive care.
Of the 15 new deaths recorded on Wednesday, one was a man in his 30s and twelve were linked to the state's aged-care sector.
According to figures from the federal health department, the man in his 30s is the youngest person to die from coronavirus in Australia to date.
"Can I send my heartfelt condolences and sympathies to each of those families," Mr Andrews said.
"This will be a terrible time and any and all support we can provide to you we will and we are with you in this very difficult time."
Mr Andrews said elective surgery would be postponed in regional Victoria, except for category one patients and the most urgent category two patients.
The same measures have already been applied to elective surgeries in the metropolitan Melbourne region.
"We can't have a situation where we are making the sickest patients wait longer because we are treating wholly worthy and important conditions, but not necessarily time-critical conditions," he told reporters.
"We can't put those ahead of people who need that urgent care."
Mr Andrews on Sunday declared a State of Disaster in Victoria as well as the adoption of Stage 4 restrictions for metropolitan Melbourne.
The rest of Victoria is moving into Stage 3 restrictions.
Metropolitan Melbourne residents are subject to Stage 4 restrictions and must comply with a curfew between the hours of 8pm and 5am. During the curfew, people in Melbourne can only leave their house for work, and essential health, care or safety reasons.
Between 5am and 8pm, people in Melbourne can leave the home for exercise, to shop for necessary goods and services, for work, for health care, or to care for a sick or elderly relative. The full list of restrictions can be found here.
All Victorians must wear a face covering when they leave home, no matter where they live.
People in Australia must stay at least 1.5 metres away from others. Check your state's restrictions on gathering limits. If you are experiencing cold or flu symptoms, stay home and arrange a test by calling your doctor or contact the Coronavirus Health Information Hotline on 1800 020 080.