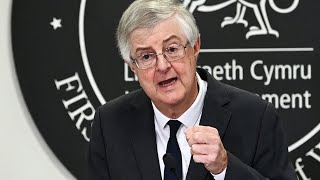 First Minister Mark Drakeford has confirmed that the regulations which came into force following the end of the 17-day fire-break lockdown on November 9 will remain in place for at least another two weeks.
However, the leaders of all four home nations have now agreed a UK-wide plan to allow up to four households to mix for five days over Christmas.
The five day break will apply in every part of the country between Christmas Eve to December 28.
Although no final decision has been made on how many households will be able to get together, sources have indicated it will be either three or four households, meaning families will be able to have both sets of grandparents to stay.
In a statement, the Cabinet Office said the leaders of England, Wales, Scotland and Northern Ireland had "endorsed a shared objective of facilitating some limited additional household bubbling for a small number of days".
However, they also "emphasised that the public will be advised to remain cautious, and that wherever possible people should avoid travelling and minimise social contact".
Families must decide on their extended bubbles in advance and will not be able to mix with anyone from outside that bubble during the festive break.
Health Minister Vaughan Gething announced last week that Covid mass testing would be rolled out in Methyr Tydfil on November 22, in a new drive to get the virus under control.
"Early signs" of a drop in Welsh infection rates were reported by Mr Gething on November 13.
But Merthyr Tydfil is still one of the worst affected areas in Wales, after having the highest number of daily cases in the UK at the start of early November.
At a briefing on Friday, Nov 13, the Welsh Government asked people to maintain social distancing and to stop booking multiple tables in pubs and then pushing the chairs together.
A second national lockdown is in force for England from November 5 to December 2, so with Scotland, Northern Ireland and Wales also under similar restrictions, the whole of the UK is now pretty much aligned in its message: non-essential travel is off the cards.
What are the latest restrictions?
Travel will be permitted anywhere within Wales, but people will not be able to leave the country unless it is for essential purposes, such as work, during England's lockdown.
The First Minister Mr Drakeford has said non-essential travel between Wales and England will be "prohibited" while the English lockdown is in place.
Mr Drakeford was clear that he "will also place travel restrictions on people leaving or entering Wales, until those rates come down."
The latest rules allow up to two households to form a support bubble and meet indoors or in gardens.
The requirement to work from home "wherever possible" remains in place.
Non-essential businesses, such as pubs, bars, gyms and other businesses, have been open since Monday 9 November.
The First Minister announced that groups of up to four people will be allowed to meet up in cafes, pubs and restaurants in Wales.
But Mr Drakeford told the Welsh Parliament that the 10pm curfew on alcohol sales will remain in place when hospitality businesses reopen.
Speaking remotely at the Senedd on November 3, the Welsh Labour leader said people should visit such places "in as small a group as possible", such as people from the same household in many cases.
But this will be subject to strict protections discussed with the hospitality sector, including advanced booking, time-limited slots and verified identification.
He added: "This is a permission, not something we are encouraging people to do.
"It is the most challenging change from a public health perspective and will be kept under continuous review.
"Its success depends on the actions of the sector and each of us to use this permission responsibly and sparingly."
The need for people booking ahead and providing verification to pubs was "driven by the new border issue" created by the four-week lockdown in England.
"We have to find ways to support our English colleagues in preventing large numbers of people trying to cross the border in order to be able to get a drink when that is against the law in England," Mr Drakeford said.
People in a group of four can be from four separate households, and the limit does not include children.
The rule of four will also apply for meeting up outside in public places.
But a Welsh Government spokesman said people would be encouraged to stick within smaller groups and to the same household or extended household.
In homes and gardens, people will only be able to meet those in their extended household – formed of two households joining together – while house parties, larger events and gatherings indoors will all be unlawful.
Groups of up to 15 people will be able to take part in organised activities indoors, while up to 30 people will be allowed to take part in activities outdoors.
Wales' GCSE, AS and A-level exams due to take place in summer 2021 have been cancelled, Education Minister Kirsty Williams announced on 10 November.
Mrs Williams said it was impossible to guarantee a level playing field because of the impact of coronavirus, so grades will be based on externally set classroom assessments under teacher supervision.
Following the half-term holiday, primary schools and special schools are allowed to reopen.
Secondary schools will also reopen after half-term for children in years seven and eight, as well as the most vulnerable students.
All schools will remain open until the end of term.
Pupils will be able to go in to take exams but others will learn from home for an additional week, Mr Drakeford said.
"Other children taking examinations will be able to attend, but all other students will continue their learning from home," he said.
Universities will continue to offer both in person and online classes, but students must stay home in their university accommodation under the new rules.
They must stay at home, except for limited purposes such as exercise, and must work from home wherever possible.
Will businesses receive support?
The Welsh Government has also announced a new £300 million package of support for businesses affected by the shut down, on top of the £80million announced last week.
It includes £1,000 payments for small businesses and a payment of up to £5,000 for medium-sized retail, leisure and hospitality businesses.
Source: The Telegraph Travels