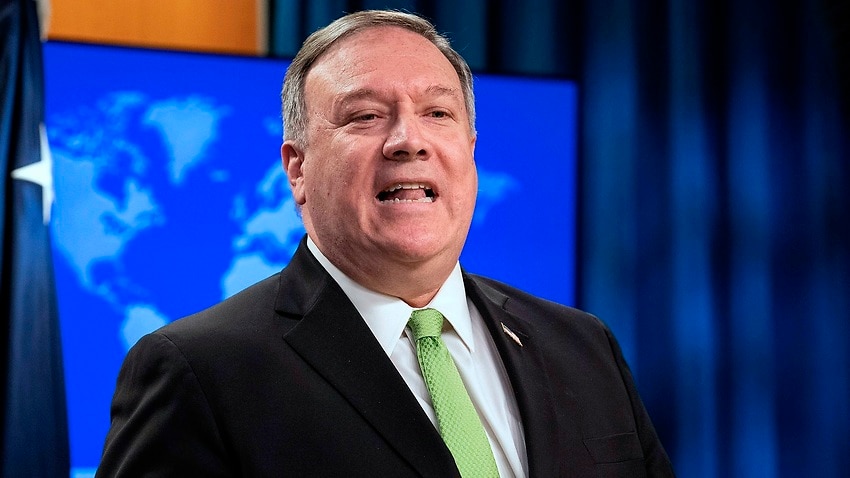 The US ambassador to Australia has sought to clarify remarks by US Secretary of State Mike Pompeo after he warned of potential damage to bilateral relations over Victoria's involvement in China's Belt and Road project.
In an interview with Sky News Australia, US Secretary of State Mike Pompeo said he believed the security of his country's telecommunications network could be put at risk through the channels it shares with Australia, if Victoria pursues its involvement in an infrastructure trade deal with China.
China's trillion-dollar Belt and Road initiative has attracted criticism from those concerned about the influence of China in Australia.
The non-legally binding agreement was signed in October 2019 and allows Victoria's infrastructure experts to access hundreds of billions of dollars of projects under China's initiative.
Chinese infrastructure firms would also be allowed to bid for major projects in Victoria, although the state government has ruled out telecommunication projects.
No projects have yet been agreed to under the scheme.
In 2018, the Australian government banned the Chinese-owned Huawei and ZTE from Australia's 5G network based on security advice – a source of continuing tension between the two nations.
Mr Pompeo said although governments had the sovereign right to make their own decisions, but he urged the Victorian government to tread carefully in its dealings with China.
He said any involvement of China in Australia's telecommunication network could lead the US to sever any exposure.
"We're going to protect and preserve the security of those institutions, so I don't know the nature of those projects precisely, but to the extent they have an adverse impact on our ability to protect telecommunications from our private citizens, or security networks for our defence and intelligence communities, we will simply disconnect, we will simply separate."
A statement later issued by the US ambassador to Australia, Arthur B. Culvahouse Jr., sought to clarify Mr Pompeo's remarks, saying it did not signal a lack of trust in the security of Australia's telecommunication network.
"The United States has absolute confidence in the Australian government's ability to protect the security of its telecommunications networks and those of its Five Eyes partners," he said.
"The Secretary was asked to address a hypothetical, and he carefully noted he was not familiar with the State of Victoria's BRI discussions."
Source: SBS