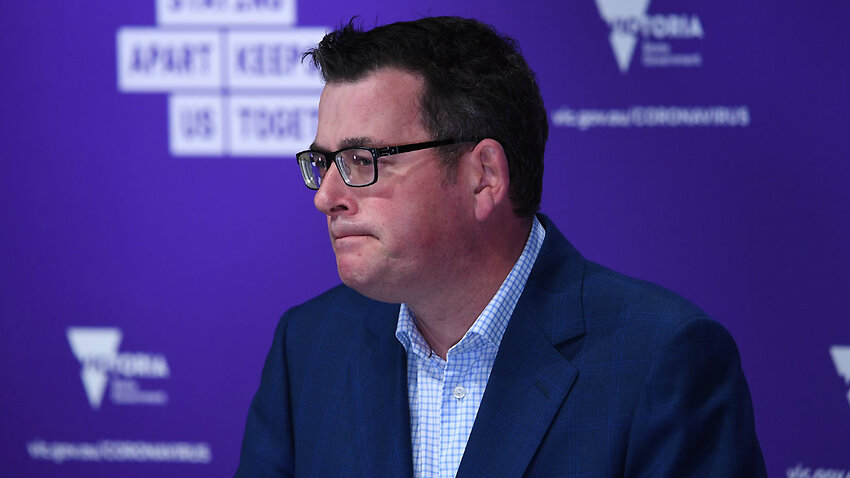 Another 19 people have died of coronavirus in Victoria, marking Australia's deadliest day since the pandemic began.
On Monday morning, health authorities revealed 322 new coronavirus cases had been confirmed in the state over the past 24 hours. Usually, the case numbers would be announced by Victorian Premier Daniel Andrews during his daily coronavirus media conference.
Monday's deaths follow another deadly day on Sunday, with 17 new fatalities previously the highest number of coronavirus deaths recorded in a day in Australia. The ages and identities of the new victims have not yet been released.
Ninety-three Victorians have died of the virus over the past week, taking the state's total to 229.
The number of new cases being detected, however, appears to be decreasing after hitting a high of more than 700 cases on Wednesday last week. Over the weekend, 394 new cases were reported on Sunday and 466 a day earlier.
Melbourne has been under strict Stage 4 restrictions for more than a week, but health authorities have warned the impact of the lockdown would not be seen for at least another seven days.
Residents are unable to leave their home between 8pm and 5am, can only purchase essential supplies from their nearest supermarket once a day and must not travel beyond a five-kilometre radius of their home.
Deputy Chief Medical Officer Nick Coatsworth told ABC News on Monday that it was clear the lockdown measures had led to a "plateau" in new cases.
"There is every expectation that the Stage restrictions have restricted movement enough that the basic reproductive number is going to fall substantially below one and we're going to start to see the numbers come down," he said.
"But what we can't have at the disappointment or the rollercoaster ride of them going from 390 to 450 and up and down again."
Metropolitan Melbourne residents are subject to Stage 4 restrictions and must comply with a curfew between the hours of 8pm and 5am.
During the curfew, people in Melbourne can only leave their house for work, and essential health, care or safety reasons. Between 5am and 8pm, people in Melbourne can leave the home for exercise, to shop for necessary goods and services, for work, for health care, or to care for a sick or elderly relative.
All Victorians must wear a face covering when they leave home, no matter where they live.
People in Australia must stay at least 1.5 metres away from others. Check your state's restrictions on gathering limits. If you are experiencing cold or flu symptoms, stay home and arrange a test by calling your doctor or contact the Coronavirus Health Information Hotline on 1800 020 080. News and information is available in 63 languages at sbs.com.au/coronavirus.