"There's no electricity, there's glass everywhere – it's absolutely devastating."
Ms Zaitouni, said her apartment building windows were shattered in the blast despite living 10km away from the port.
"I heard a whistling and then a massive blast," she said.
Another Australian Adam Malouf, who is holidaying in Beirut from his home in Dubai, was walking near his apartment building 30km north of the blast area when he heard what he described as a "sonic boom" just after 6pm on Tuesday local time.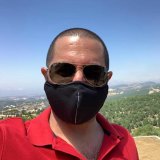 Mr Malouf said he initially thought the noise was from an aircraft.
"For that split second looking around I could see other people going, 'what is this?'," he said.
"Then we looked over to the city skyline and saw this massive plume of smoke and we knew it was something a lot worse than that.
"Then I realised, this is not a sonic boom this is an explosion". While the investment manager, originally from Sydney, is safe and unscathed north of the city, he said the densely-populated city centre had been 'decimated'.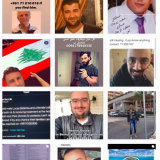 "I've been talking to people who are down there and they said it's just complete chaos and carnage," he said.
In a desperate search to find loved ones, local residents have begun posting pictures of missing people to a dedicated Instagram page.

Footage circulating on social media shows widespread destruction across the city, including at the Australian embassy where a number of staff received glass injuries when the blast took out most of the building's windows.
President Michel Aoun said that 2750 tonnes of ammonium nitrate, used in fertilisers and bombs, had been stored for six years at the port without safety measures.
It was "unacceptable", said President Aoun.
He called for an emergency cabinet meeting on Wednesday and said a two-week state of emergency should be declared.
"What we are witnessing is a huge catastrophe," the head of Lebanon's Red Cross George Kettani told broadcaster Mayadeen. "There are victims and casualties everywhere."
Hours after the blast fire still blazed in the port district, casting an orange glow across the night sky as helicopters hovered and ambulance sirens sounded across the capital.
A security source told Reuters that victims were taken for treatment outside the city because Beirut hospitals were overwhelmed with wounded. Ambulances other parts of the country were called in to help.
One medic said 200 to 300 people had been admitted to a single emergency department. "I've never seen this. It was horrible," the medic, who gave her name as Rouba, told Reuters.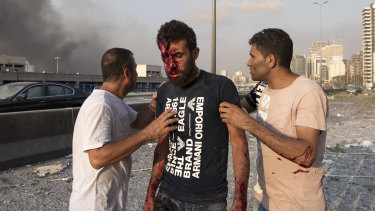 "The blast blew me off metres away. I was in a daze and was all covered in blood. It brought back the vision of another explosion I witnessed against the US embassy in 1983," said Huda Baroudi, a Beirut designer.
Hans Bederski, Lebanon director of charity World Vision, said the tragedy couldn't come at a worse time for the country.
"It's time when we're also seeing a sharp increase in COIVD-19 infections and the hospitals are already at stretched capacity," he said.
"The port is the only port of entry for fuel or other goods: we are surrounded by Syria which is at war, and Israel which is in conflict with Lebanon," he said.
Officials within the Department of Foreign Affairs and Trade are now trying to track down the whereabouts of the thousands of Australians who could be in Lebanon.
There are usually around 20,000 Australians – including dual citizens – in Lebanon at one time, but this number may have been affected by the coronavirus pandemic.
With Anthony Galloway, Reuters
Rachael Dexter is a breaking news reporter at The Age.