Victorian Premier Daniel Andrews will give the daily COVID-19 update at 11am AEST.
NSW Premier Gladys Berejiklian and a host of officials will brief media on plans for fire season at 11am AEST.
The Queensland Government is due to give a press conference at 11am AEST.
Victoria's active cases have fallen to 743 active cases, down from 834 yesterday.
117 of those active cases are healthcare workers and only 26 are in regional Victoria.
The Victorian Premier Daniel Andrew has stepped up for his daily press conference.
As reported earlier, there are 14 new cases of COVID-19 in the state today.
Mr Andrews said nine of the 14 were linked to known outbreaks, with the other five under investigation.
Sadly, five deaths have been recorded over the past 24 hours – all linked to aged care.
Those deaths include two males and two females in their 80s, one female in their 90s.
There are now 94 Victorians in hospital with coronavirus, eight in intensive care and five of those in ICU on a ventilator. 12,461 test results were processed yesterday.
"Can I thank each and every one of those almost 12,500 Victorians," the Premier said.
"Again, if I can urge and ask all Victorians – don't put it off until tomorrow. Don't wait at all. If you've got symptoms, however mild, please come forward and get tested."
Anti-lockdown protesters are preparing to launch a surprise protest in Melbourne in about two hours time, after a similar protest yesterday.
16 people were arrested and 21 fines were issued to protesters who gathered at Elsternwick Park in the city's south-east after their plans to rally in the city failed on Saturday morning.
Police chased about 100 anti-lockdown protesters in the suburban park as the crowd fled towards Elwood.
Police, including several on horses, followed them and arrested a number.
Organisers are keeping the location of today's protest secret until just before the starting time to try evade police.
Last Sunday around 250 protestors gathered at Queen Victoria Market resulting confrontational clashes with police amidst fruit and vegetable stalls.
74 People were arrested and over half a million dollars worth of fines were handed out to hundreds of people.
This weekend marks the third in a row of organised anti-lockdown protests around the CBD.
"We are frustrated that these people continue to put the lives of Victorians at risk," a Victoria Police spokeswoman said.
"Police are playing an important role by enforcing the directions of the Chief Health Officer so we can limit the spread of coronavirus."
"While we know the majority of the community are doing the right thing, the behaviour of these selfish few who choose to blatantly ignore the directions will not be tolerated.
"We will continue to take the same swift and firm action against those who choose to blatantly ignore the directions, and our investigations will continue."
I thought our state governments had got their houses in order when it comes to booking press conferences on top of each other but it seems that has all gone out the window today!
Victoria, New South Wales and Queensland will all have press conferences at 11am. We are doing our best to setup live streams for all three of them.
Victoria is giving its daily COVID-19 update, NSW is briefing media on its plans for fire season and the Queensland Government is making an announcement at a construction site.
Please stay tuned. Hopefully we can bring all three of them to you.
Nicole Johnston usually avoids sharing anything political online.
But a few weeks ago, the 37-year-old restaurateur posted a fiery video on Facebook of Victorian Liberal MP Matthew Guy slamming the state government over its mishandling of the coronavirus pandemic.
All hell broke loose.
A close friend called the owner of Panda Blairgowrie an idiot and the pair are no longer speaking.
The experience was so toxic Ms Johnston deleted the Facebook app from her phone.
"It has really turned people against each other," she says.
"I understand that people will react differently. I have a business and a young child and this is going to affect me differently to someone with an elderly mother. The whole state is so divided."
Victorians with severe mental illness are spending days in emergency departments waiting for a bed as doctors warn rising numbers of mental health cases are surpassing every other hospital presentation.
"The biggest thing for us in emergency is access to mental health beds," Footscray Hospital's emergency department director, Dr Ainslie Senz, said.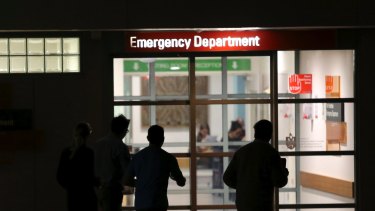 "There has also been a real increase in the severity of patients coming in. It has been incredibly challenging. We are seeing patients stay in emergency departments for a long time because we just don't have the beds for them to go to. At the worst, that can be multi-day stays in emergency."
Emergency physicians have also observed a troubling spike in drug use and self harm incidents.
"We've had some very serious overdoses recently," Dr Senz said. "Often, the overdoses we see can be generally fairly mild to moderate and usually more a cry for help. But we have seen several cases recently, where there has obviously been some serious intent with people being quite unwell and even dying from their overdoses."
SafeWork NSW inspectors have fined 23 restaurants, hotels and clubs during a blitz on COVID-19 breaches, including a Korean BBQ restaurant in Sydney's Inner West.
Butchers Buffet in Strathfield copped a $5000 fine after inspectors visited last Friday and found patrons sharing food, cutlery and crockery at a buffet.
The restaurant did not have a safety marshal and there were no advertised limits on the number of patrons allowed inside at a time.
"Self-serve buffets and pandemics simply don't mix, creating a source of potentially contaminated items," SafeWork NSW health and safety director Sarina Wise said.
A total of 23 venues were fined in the past week including the Albion Hotel and Crown Hotel in Parramatta, Ashfield Bowling Club, Zushi Barangaroo, Lotus Barangaroo, and Mohr Fish in St Ives.
Authorities have so far issued NSW hospitality businesses 150 fines worth $658,000.
During months of gloomy news, one bright spot for many has been learning how many wonderful people in the Victorian community are offering quiet acts of kindness, often to strangers.
Whether it be cooking free meals for front-line workers, sewing and selling face masks to raise money for charity or organising children's drawings to cheer people in aged care, stories of selfless generosity have reassured us that in a crisis, the best in us emerges.
Here we honour just a few of those who have made the long weeks of lockdown more bearable for others, from the kindness of their hearts.
Hand-written letters to support year 12 students
What started as a simple Facebook group for the Eltham community to join forces to create "hero packages" for essential workers has, during stage four lockdown, evolved into a vibrant social movement.
UPDATED: Prime Minister Scott Morrison says the unexpected fall in the jobless rate was this week a "pleasant encouragement".
"We are just over half of the way back," he told ABC's Insiders of the return of 400,000 people to work.
He was particularly encouraged by the effective unemployment rate dropping to 9.3 per cent, down from about 14 per cent at the peak of the pandemic crisis.
"Those who had been reduced to zero hours are starting to get the hours back. There's still a long way to go," he said.
Mr Morrison said the October 6 budget would extended existing programs and add new measures to set the economy up for "a decade of prosperity".
But asked whether Treasury had modelled the economic impact of reducing the JobKeeper wage subsidies and top-up on the JobSeeker unemployment payment, the Prime Minister said only that you couldn't hold on to every measure forever.