We have simultaneous updates in Victoria, New South Wales and South Australia, there are livestreams of the Victoria and SA press conferences in this post. Due to a technical hitch we don't have NSW live unfortunately.
Victorian Premier Daniel Andrews and Health Minister Martin Foley have announced eased restrictions on the state's 23rd consecutive day of no new coronavirus cases or deaths. Watch the press conference back here:
South Australian Premier Steven Marshall is also addressing the media this morning. You can watch that below:
In the 20 weeks since NSW snapped its southern border shut, the people of Echuca-Moama have been living what hotelier Mindi Abel can only describe as "a multifaceted debacle".
Traffic banks up from the bridge checkpoint through the breadth of the Echuca CBD. Resorts on the Moama side, in long-open NSW, sit empty and idle.
Separation within a citizenry fond of the informal motto "two towns, one community" has sowed anxiety and, in some cases, mistrust.
For a time, even the whistles from the famous paddlesteamers fell silent.
To the endless relief of Echuca-Moama's 22,000 residents, it all ends at 12.01am on Monday.
"I'm very pleased to say when the border opens on Monday we're going to be frantically busy," says Ms Abel, owner of Moama's Perricoota Vines Retreat.
"It looks like we're going to get our happy ending, but by geez it's been tough."
The closed border, softened by various iterations of confusing border bubble travel zones and permits, has been devastating for interconnected twin-town economies the length of the border, but nowhere more than Echuca-Moama.
Unlike Albury-Wodonga, for example, which has distinct shopping and business districts on either side of the river, Moama doesn't have a CBD, library, hospital or even a bank.
Many of its 6000 residents rely on Echuca for work, shopping or school and have no choice but to cross the border every day.
At its busiest, the checkpoint at the community's only bridge (a second is in construction after decades of campaigning) blows commute times from two minutes to two hours.
Let us know what you think of the announced restriction easing today in Victoria.
For a full point by point breakdown of the changes, check out the list here.
Lord Mayor of Melbourne Sally Capp says she is excited for officer workers who have "been stuck on zoom meetings at home and missing their favourite coffee shops" after the announcement that workers can begin returning to the CBD.
From November 30, workplaces currently working from home (such as CBD offices) can return up to 25 per cent of their workforce per site, Premier Daniel Andrews announced this morning.
"Today's announcement is the first step towards welcoming our workforce back to the city and I want commend the Victorian Government," Cr Capp said in a statement.
"More workers in the city means cash registers ringing and more Melburnians staying in jobs.
"This announcement means workers be able to come into the city to enjoy their end of year celebrations."
Cr Capp said she was confident that it was safe to bring workers back into the city to work in highrises.
"I've been meeting with major city employers for many months and I'm confident that we can safely bring workers back with a phased approach," she said.
"I want to congratulate everyone for working together and following the advice of the health experts. It's been a long and hard road but we're starting to reap the benefits."
Two of the planet's biggest tennis stars are at odds over the Victorian government's cautious approach to the pandemic-affected summer of tennis in Melbourne, which could see the Australian Open delayed.
World number two Rafael Nadal said on Sunday that tennis players were in no position to dictate to the state government on any of the restrictions it places on players or tournaments in Victoria, days after world number one Novak Djokovic asked the government for "understanding" and to allow players to compete in the second week of their quarantine.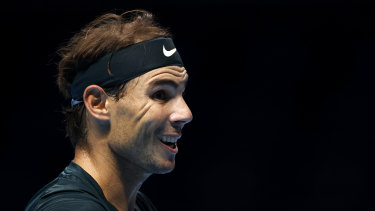 One of the options is to delay the Australian Open, with the government not willing to allow tennis players into the state before January to begin their two week quarantine, rather than December which would make lead up tournaments, like the ATP Cup, easier.
Nadal – who did not go to New York for the US Open but did play and win the French Open – was asked after losing to Daniil Medvedev at the ATP World Tour Finals in London on Sunday if there were any circumstances under which he would not play in the Australian Open.
"I don't know what's the situation going to be yet," Nadal said. "We need to wait about what the government there in Victoria says.
"We just need to be patient and accept the situation that we are facing. That is difficult for everyone. We need to be flexible to understand the situation and to find a way to play as many tournaments as possible next year."
Nadal's comments are the opposite of world number one Novak Djokovic, who this week urged Australia to give tennis players special allowances in quarantine.
"I hope that there is going to be support and understanding from the Victorian and Australian Government for the players and for Tennis Australia and that they will allow players to compete in the second week of quarantine," Djokovic told reporters at the ATP Finals on Wednesday.
"You will be able to have at least a tournament or two prior to the Australian Open, which for majority of the players is important.
"Having no official match before the Australian Open, before a grand slam, is a huge thing."Victorian Premier Daniel Andrews said on Sunday discussions about the tennis were ongoing.
"We're working closely with Tennis Australia and they in turn are speaking with their global partners, media partner, sponsors, and when we have a announcement to make we'll make it," he said.
NSW Premier Gladys Berejiklian has responded to a report in the Sun-Herald in which she said she wanted to use a third of the state's hotel quarantine slots to bring in international students and skilled migrants.
The position puts her at odds with Prime Minister Scott Morrison and a national cabinet agreement, which said hotel quarantine should be reserved for returning Australians.
"Of course until Christmas and the new year period is over that should absolutely be the case… but NSW welcomes back [3000 Australians] every week. More Australians than all the other states combined."
Ms Berejiklian said once Victoria was "back on board" and other states began accepting more travellers, it would be time to consider allowing a proportion of international students to return to NSW.
"Because a lot of our universities will have to actually axe jobs if we don't, especially regional universities, I don't want to see that happen."
NSW again recorded no new cases of locally acquired COVID-19 overnight, while 11 cases were reported in overseas travellers in hotel quarantine.
NSW Premier Gladys Berejiklian said she is feeling more confident than the day she first made the decision to reopen the border with Victoria.
The Premier was at Albury-Wodonga border crossing on Sunday morning ahead of its opening from midnight, as the state recorded 15 days without a case of community transmission.
"I'm confident that certainly the risk that was there when we closed the borders doesn't exist," she said.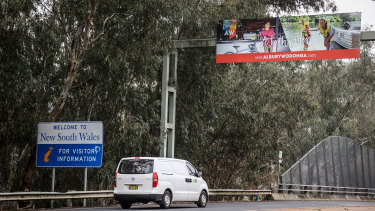 "I feel more confident today than I did when I actually made the decision because we've seen both in Victoria and NSW a number of days without community transmission."
Ms Berejiklian estimated the border closure operation had cost several million dollars, but said "you can't put a price on keeping the community safe."
"We never want to see this ever again, we hope this is the last time that in our lifetime this border is closed," she said.
More than 650 NSW Police officers were involved in the border operation, as well as around 500 Australian Defence Force personnel at any given time.
NSW Police Commissioner Mick Fuller said the three-month operation had been one of the biggest in police history, pulled together in around 36 hours.
"We've had more than 5 million cars cross through the border checkpoints, nearly 500,000 heavy vehicles, and nearly one million permits handed out," he said.
Police also made more than 1000 arrests during the operation.
It seems Victorian Premier Daniel Andrews' social media team are really enjoying this Bunnings analogy to explain the new mask rules:
Victoria has achieved the milestone of no community transmission, Chief Health Officer Brett Sutton has said.
"[Virus] elimination may or may not be the right word, I think we're talking about no community transmission [and] I'm confident we are there now," he said.
"We have not got into the epidemiological threshold of 28 days yet but I'm confident we will get to that."
Professor Sutton couched his comments in a warning that 'incursions' could happen that knock the state off that trajectory to community transmission elimination.
"We have seen a big outbreak in South Australia that could have been much bigger if it hadn't been picked up at the early stage that it has been," he said.
"That will be an ongoing risk until there is really substantial rollout of vaccine across the world and that is some months away, at least six months.
"And we're not going to get full coverage of vaccination for all of our international arrivals for an even longer period of time so we just have to be mindful of these things that we're going to have in place for distancing, use of masks, hand hygiene, cough etiquette.
"They are insurance policies for any incursion that may happen into the future."
Another returned overseas traveller in hotel quarantine in Queensland has tested positive for coronavirus, taking the state's active case figure to 13 on Sunday.
There were 1819 COVID-19 tests conducted in the past 24 hours and in total, the state has tested more than 1.3 million people.
More than 7000 tests were conducted during a 24-hour period on Tuesday, so testing rates have dropped during the course of the week.
It has been 68 days since the state last recorded a case of community transmission and last Tuesday, restrictions on dancing were eased.
Dancing was once again allowed at Queensland's outdoor venues, including music festivals, and social distancing was no longer mandatory.
"Remember, outside is much, much, much safer than inside, we know that and we have got the evidence for that," Chief Health Officer Dr Jeannette Young said previously.
"That is why at this stage I have advised that I think outdoor dancing is something we should try and see how it goes and then decide what we do about indoor dancing."
Here's a few more changes that come into effect in Victoria tonight:
Accommodation providers will be able to cater to groups of one household plus up to 15 people, with density requirements in communal areas;
Up to 150 people can now attend indoor and outdoor funerals as long as people are spaced adequately. Only 15 people will be allowed in private residences for wakes etc;
For Karaoke, arcades, escape rooms and bingo centres – 150 people at a time can attend with one person per four square metres;
There are no longer any restrictions on visitors within hospitals;
For real estate inspections and auctions, 20 people are now allowed inside and 50 outdoors;
Strip clubs can now operate with up to 150 people for seated service only and group limits of 20 with social distancing requirements; and
50 people can now attend brothels.