We have simultaneous updates in Victoria, New South Wales and South Australia. There are livestreams of the Victoria and SA press conferences in this post. Due to a technical hitch, we don't have NSW live.
Victorian Premier Daniel Andrews and Health Minister Martin Foley have announced eased restrictions on the state's 23rd consecutive day of no new coronavirus cases or deaths. Watch the press conference here:
South Australian Premier Steven Marshall is also addressing the media this morning. You can watch that below:
They've gone through more ups and downs than many engaged couples, but Tennille McNamara and Elliott Richardson are thrilled their wedding can go ahead this Friday with all 60 of their guests.
At one stage during the COVID lockdown, the number permitted to be present at a wedding fell to just five.
That would have resulted in the "heartbreaking" decision to exclude Ms McNamara's children Harper, 13, and Jackson.
During the pandemic, the maximum number of wedding guests varied from 10 to 50 and finally on Sunday came the happy news from Premier Daniel Andrews that up to 150 would be allowed at weddings.
Ms McNamara, of Chirnside Park, said her wedding was booked for November 27 at a winery at Wandin North, in the Yarra Valley, before COVID-19 emerged.
"But we decided to keep it there and try and wing it, and hope it would still go ahead," she said.
"There have been so many ups and downs. Just the constant changes and not knowing what's happening.
"Everything's been really last minute. There have been some emotional days. I feel like it has been a lot more stressful than it normally would be, for sure."
Guests will still have to wear masks – unless they are socially distanced outside.
"But we're just excited to be able to go ahead with the wedding at all," Ms McNamara said.
Ms McNamara, who runs a hairdressing business, said the pandemic had taught her to focus on the positives and be patient.
She said the wedding would be "a day to remember because nobody's really been able to do anything until now. So it'll be special. Extra special."
You can find a run down of the new-look lockdown rules here.
Federal Health Minister Greg Hunt says no cases of community transmission were recorded across the country today.
In a tweet, Mr Hunt said the achievement reflected "continued national progress" in driving down coronavirus numbers and urged Australians to continue getting tested.
"We are always watching out for additional cases and there's still a long way to go – but important continued national progress," he said.
The last time there were no cases of community transmission recorded across the country was last Thursday, November 19.
On November 1, Australia recorded its first day without community transmission cases since June 9.
Western Australia has recorded two new cases of coronavirus.
The Department of Health said the two men aged in their 50s and 60s had returned to Perth from overseas and were both in hotel quarantine.
Western Australia has recorded a total of 799 cases.
There are 18 active cases and 772 confirmed cases have recovered.
A total of 453 people were tested in the state yesterday.
On Friday, WA Premier Mark McGowan said the recent coronavirus outbreak in Adelaide and Victoria's second wave had shown the biggest risk to the virus seeping back into the West Australian community is through hotel quarantine.
The WA government is quickly picking up on lessons from the outbreaks, with mandatory testing of hotel quarantine frontline staff, such as security guards and cleaners, to start as soon as Friday.
Apologies we couldn't bring you NSW Premier Gladys Berejiklian's press conference earlier due to a technical hitch. Here's a snippet from her briefing at the Albury-Wodonga border:
Brazil's six-time world player of the year Marta has tested positive for COVID-19, the country's soccer governing body said on Saturday.
Marta, 34, has been withdrawn from the national team that is set to face Ecuador in two friendly matches at home on November 27 and December 1.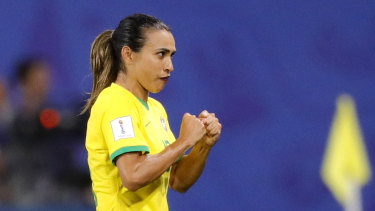 The Brazilian Football Confederation did not give any details about the forward's condition, but did inform her club, Orlando Pride, in the National Women's Soccer League, and offered to provide any assistance necessary.
Marta was the first player, male or female, to score in five World Cups with 17 strikes in total – also a record.
Her place in the squad will be taken by 19-year-old defender Camila Silva.
Opposition Leader Michael O'Brien has welcomed the latest easing of restrictions, but says more rules could have been safely wound back.
"I think a lot of Victorians will be breathing a sigh of relief today," Mr O'Brien said.
"Early July we were promised that it was going to be a six-week lockdown, and now we're getting towards the end of November and looks like the lockdown is finally coming to an end.
"That's great news for Victorians, and it's a testament to the hard work and the sacrifice that so many Victorians have made since July.
"It's been such a long road. It's been a tough winter, it's been a tough spring. Victorians deserve the announcements that were made today."
Mr O'Brien said the government should immediately scrap the "arbitrary" caps on the number of patrons at venues, and instead apply density limits.
"We see today that 1000 people can now go to the casino, but only 150 people can attend a church, or a synagogue or a mosque," he said.
"I think there are some questions for the Premier to answer about why the casino is so much more important in terms of numbers coming in than places of faith and religious worship."
The Victorian Coalition for a numbers of weeks has been a vocal opponent of the requirement for people to wear masks while alone outdoors, so Mr O'Brien said he welcomed the government's decision to relax mask-wearing rules.
He also urged the Premier to allow public servants to return to offices, saying CBD traders relied on them.
"The longer the Premier makes it harder for hospitality to get back, the longer he makes it for the CBD to get back, the harder it's going to be to address that massive gap we have in female unemployment at the moment," Mr O'Brien said.
South Australia's Labor opposition has called on the SA government to ban international arrivals and immediately halt hotel quarantine after an outbreak plunged the state into lockdown.
The opposition feared a repeat of the fatal mistakes in Victoria's bungled hotel quarantine program that led to a deadly second wave of the coronavirus. Workers at Adelaide's Pepper's Hotel and their close contacts contracted COVID-19 last week.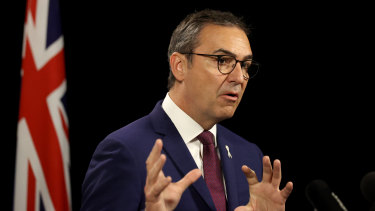 But the call was slammed by SA Premier Steven Marshall, who said it "makes no sense whatsoever".
SA Opposition Leader Peter Malinauskas has written to Premier Marshall, urging him to ask Prime Minister Scott Morrison to begin "immediate Commonwealth-led exploration of alternative solutions for the repatriation of Australian citizens".
In a statement on social media on Sunday morning, he said that although his party had given bipartisan support to many of the state's coronavirus measures, he could no longer "stand by and support the continued acceptance of international arrivals into South Australian medi-hotels".
"Furthermore, until an alternative solution is found, the international student trial via South Australian medi-hotels should also not go ahead," Mr Malinauskas said.
"Given the experience of medi-hotel failure in Melbourne and now Adelaide, we definitively know that placing international arrivals (infected with COVID-19) in CBD accommodation with subcontracted private security simply does not work."
South Australia's recent Parafield cluster, in Adelaide's north, was seeded from a hotel for quarantining travellers where a security guard became infected and spread the virus into the community.
Mr Marshall and the state's Chief Public Health Officer, Professor Nicola Spurrier, strongly rejected Mr Malinauskas' demand.
"It makes no sense whatsoever. We don't have 1200 rooms in Woomera or Christmas Island to pop up with a quarantine hotel, let alone the staff, let alone building the hospital alongside it," the Premier said.
"I think this is just a blatant attempt, quite frankly, at pushing fear and division. I, quite frankly, find it disgusting that Peter Malinauskas thinks South Australians returning from overseas, or those returning from Victoria to do their quarantine, should be put in a detention-style quarantine centre on Christmas Island or Woomera."
Professor Spurrier defended the performance of the hotels, and said moving a quarantine facility into the outback was extremely difficult logistically and posed risks to vulnerable Indigenous communities.
In the 20 weeks since NSW clossed its southern border, the people of Echuca-Moama have been living what hotelier Mindi Abel can only describe as "a multifaceted debacle".
Traffic banks up from the bridge checkpoint through the breadth of the Echuca CBD. Resorts on the Moama side, in long-open NSW, sit empty and idle.
Separation within a citizenry fond of the informal motto "two towns, one community" has sowed anxiety and, in some cases, mistrust.
For a time, even the whistles from the famous paddlesteamers fell silent.
To the endless relief of Echuca-Moama's 22,000 residents, it all ends at 12.01am on Monday.
"I'm very pleased to say when the border opens on Monday we're going to be frantically busy," says Ms Abel, owner of Moama's Perricoota Vines Retreat.
"It looks like we're going to get our happy ending, but by geez it's been tough."
The closed border, softened by various iterations of confusing border bubble travel zones and permits, has been devastating for interconnected twin-town economies the length of the border, but nowhere more than Echuca-Moama.
Unlike Albury-Wodonga, for example, which has distinct shopping and business districts on either side of the river, Moama doesn't have a CBD, library, hospital or even a bank.
Many of its 6000 residents rely on Echuca for work, shopping or school and have no choice but to cross the border every day.
At its busiest, the checkpoint at the community's only bridge (a second is in construction after decades of campaigning) blows commute times from two minutes to two hours.
Let us know what you think of the announced restrictions easing today in Victoria.
For a full point by point breakdown of the changes, check out the list here.
Melbourne lord mayor Sally Capp says she is excited for officer workers who have "been stuck on zoom meetings at home and missing their favourite coffee shops" after the announcement that workers can begin returning to the CBD.
From November 30, workplaces operating remotely can bring up to 25 per cent of their staff back into the office, Premier Daniel Andrews announced this morning.
"Today's announcement is the first step towards welcoming our workforce back to the city and I want commend the Victorian government," Cr Capp said in a statement.
"More workers in the city means cash registers ringing and more Melburnians staying in jobs.
"This announcement means workers be able to come into the city to enjoy their end of year celebrations."
Cr Capp said she was confident that it was safe to bring workers back into the city to work in office towers.
"I've been meeting with major city employers for many months and I'm confident that we can safely bring workers back with a phased approach," she said.
"I want to congratulate everyone for working together and following the advice of the health experts. It's been a long and hard road but we're starting to reap the benefits."