Share this @internewscast.com
Former Minneapolis police officer Derek Chauvin on Thursday invoked his Fifth Amendment right against self-incrimination, choosing not to testify in his murder trial centered on the May 2020 death of George Floyd.
Chauvin's attorney, Eric Nelson, announced the defense was resting its case at the start of Thursday's proceedings and asked his client whether he had decided to testify.
"I will invoke my Fifth Amendment privilege today," Chauvin told the court. He confirmed to Hennepin County District Judge Peter Cahill, who is presiding over the high-profile trial, that he made the decision alone.
Chauvin has been charged with second- and third-degree murder as well as second-degree manslaughter in Floyd's death.
Thursday marked the 14th day of testimony in the trial. The prosecution, the state of Minnesota, called nearly 40 witnesses, including eyewitnesses and medical experts, over 12 days of testimony. The defense took just Tuesday and Wednesday to call all six of its witnesses.
On Wednesday, Dr. David Fowler, the former chief medical examiner for the state of Maryland and an expert witness retained by the defense, testified that he believed Floyd's cause of death was "sudden cardiac arrhythmia" caused by underlying heart disease during his restraint by police.
Fowler's assessment conflicted with the Hennepin County Medical Examiner Office's autopsy, which determined Floyd died due to "cardiopulmonary arrest complicating law enforcement subdual, restraint and neck compression."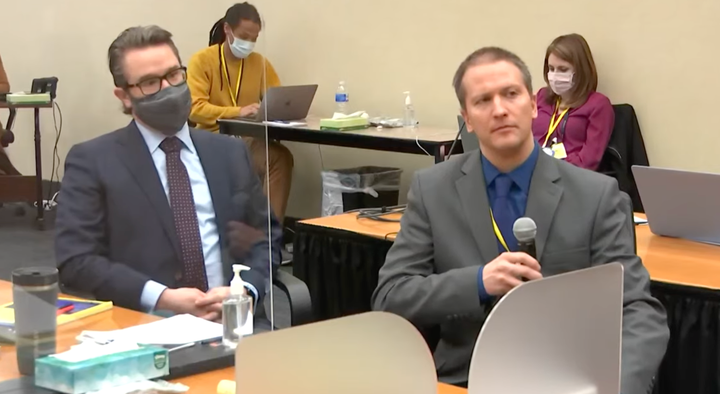 Fowler listed several contributing factors that he believed played a role in Floyd's death, including fentanyl and methamphetamine. Another factor, Fowler suggested, was a potential carbon monoxide poisoning brought on by Floyd's proximity to a squad car's tailpipe as he was being restrained.
Prior to the jury taking their seats on Thursday, the prosecution revealed that Dr. Andrew Baker, the Hennepin County medical examiner who performed Floyd's official autopsy, reached out to them after Fowler's testimony.
Baker said his office had lab results that showed Floyd's carbon monoxide levels were within the normal range the night he died, undermining Fowler's theory, according to the prosecution.
But Cahill ruled that the prosecution had been given sufficient time to prepare for Fowler's testimony, and therefore he would not allow the lab results stating Floyd's carbon monoxide levels to be admitted as evidence.
The prosecution was able to sidestep this hurdle by calling back to the stand Dr. Martin Tobin, a pulmonary expert. Cahill had warned that he would declare a mistrial if Tobin even hinted at the existence of the carbon monoxide lab results in front of the jury. But Tobin didn't need to reference those particular lab results to make his point.
Instead, Tobin explained to the jury that Floyd's blood oxygen level was 98% ― a fact already submitted as evidence ― and, therefore, there's no way Floyd's carbon monoxide could have been more than 2%, or beyond the normal range.
After Nelson briefly cross-examined Tobin, Cahill told the jury that the evidentiary portion of the trial had concluded. Following closing arguments on Monday, the jury will sequester for deliberation, he said.
"If I were you, I would plan for long and hope for short," Cahill told the jurors.
Minneapolis is on edge as the city awaits the verdict in Chauvin's trial. The police killing of 20-year-old Daunte Wright, a Black man, on Sunday in a Minneapolis suburb magnified tensions and reignited protests across the region.
Calling all HuffPost superfans!
Sign up for membership to become a founding member and help shape HuffPost's next chapter
Source: huffpost
Share this @internewscast.com