5.9k Share this
Redemptor by Jordan Ifueko
Ifueko's Raybearer was one of the 2020 reads I adored, so I had very high expectations for this sequel—which fulfilled every one of them. Redemptor picks up the story of Redemptor Empress Tarisai, who pledged to end a treaty that sacrifices children to the underworld to appease demons. Now those sacrificed children, the ojiji who appear as desiccated corpses, torment Tarisai, demanding that she do more, be more, and insisting that she is unworthy. To fulfill her promise Tarisai must bind the vassal royals of the empire's nations to her magic; to do so, she must make them love her. Because she spent so long viewing herself as unlovable, as a monster, and because the ojiji are more than happy to reaffirm all her self doubts, navigating a path to the love of others is even more challenging. Meanwhile, she begins to realize just how much wealth the rulers of the Empire have been hoarding, and how many children have been sacrificed to the altar of their wealth, with no treaty to blame.
As she began with Raybearer, Ifueko continues her exploration of justice, deepening it into the cost of broken systems. Tarisai's quest to use her power for the betterment of others inspires, and her constant doubts that she is ever doing enough resonate. Ifueko's expansive cast is well managed, with clear frontrunners shining in the narrative's spotlight without ever undermining Tarisai's story. For much of the novel, Tarisai feels alone (an emotion all too easy to empathize with this year), and her triumph over those critical voices in her head (evil spirit or otherwise) hits exactly the right note. This is a perfect pick for anyone who has ever worried that they aren't enough; Tarisai's story will feel achingly, inspiringly familiar. – AJA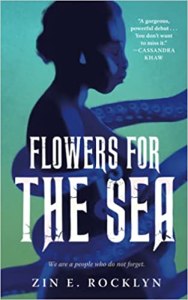 Flowers for the Sea by Zin E. Rocklyn
I love Zin E. Rocklyn's short fiction, and I looked forward to her novella for months before it was released. I was absolutely not disappointed. In the story, Iraxi is pregnant, one of the few successful pregnancies of a people who live aboard an ark, fleeing the flooding of their homeland. But Iraxi doesn't fit in among the refugees; her own people were reviled long before the flooding, and now Iraxi is treated with both contempt and hope, because she might bear a future for the people. Iraxi is no glowing pregnant woman. Everything about her condition makes her miserable, and everything about her current life, living in a decaying boat among a dying people who hate her, remind her of the life and family she lost. When Iraxi begins to see visions of sea monsters, it's easy to question whether she's a reliable narrator—and that uncertainty about Iraxi's perspective is unsettling in all the right ways.
The book is a short 112 pages, but each page is packed with glorious description in gorgeous prose. Rocklyn's poetic language doesn't distance the reader from the horrors, both realistic and magical, that she describes, and the story is not for the faint of heart. But this story of anger is also one of transformation, and of survival, made haunting by its dreamlike telling. – AJA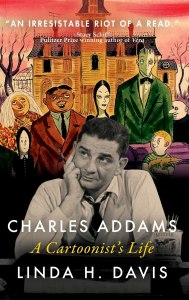 Charles Addams: A Cartoonist's Life by Linda H. Davis
Creepy? No. Kooky? Maybe. Linda H. Davis sees cartoonist Charles Addams as far more mischievous than mysterious. Charles Addams: A Cartoonist's Life is the only biography written about the creator of the perennially ooky The Addams Family, and does a wonderful job dispelling his personal mythology. Or does she? People think Chas Addams slept in a coffin, kept eyeballs in martini glasses, and showed up in a full suit in armor at non-costume parties. But these were isolated incidents blown way out of proportion. Addams hung out with Hollywood stars. He loved fast cars and beautiful women. He dated A-list actresses like Joan Fontaine, and President Kennedy's newly widowed wife Jackie, but all three of his wives looked like Morticia Addams. Addams was the only The New Yorker magazine cartoonist whose mental facilities were questioned, and he did have vast eccentricities, but they were a delight, not a horror, and Davis brings it out in every page. – Tony Sokol
Immortal Axes: Guitars That Rock by Lisa S. Johnson
Guitar geeks get their gear on in this coffee table photography book about celebrity axes. Famous guitars played by The Beatles, Jimi Hendrix, Eric Clapton, Keith Richards, B.B. King, Jimmy Page, Tom Petty, Kurt Cobain, Dave Grohl, St. Vincent, Lita Ford, Susanna Hoffs, Nancy Wilson, Metallica, and Black Sabbath are ready for their closeups, and photographer Lisa S. Johnson snaps them in amazing detail. With a foreword by Peter Frampton, and an afterword by Suzi Quatro, every fret is beautifully rendered.
Immortal Axes: Guitars That Rock frames the guitars from over 150 rock icons with the stories of those whose fingers have picked, stummed, and shredded over them. Johnson manages to capture the instruments both in their natural settings, and their surreal appeal. Whether they are weathered instruments, with scrapes and gashes as big as an F-hole, or well-preserved works of sonic art, Johnson finds the sexy. Once you get your hands on this book, you will want to get your fingers on these strings. – TS
Source: Den of Geek
5.9k Share this