Share this @internewscast.com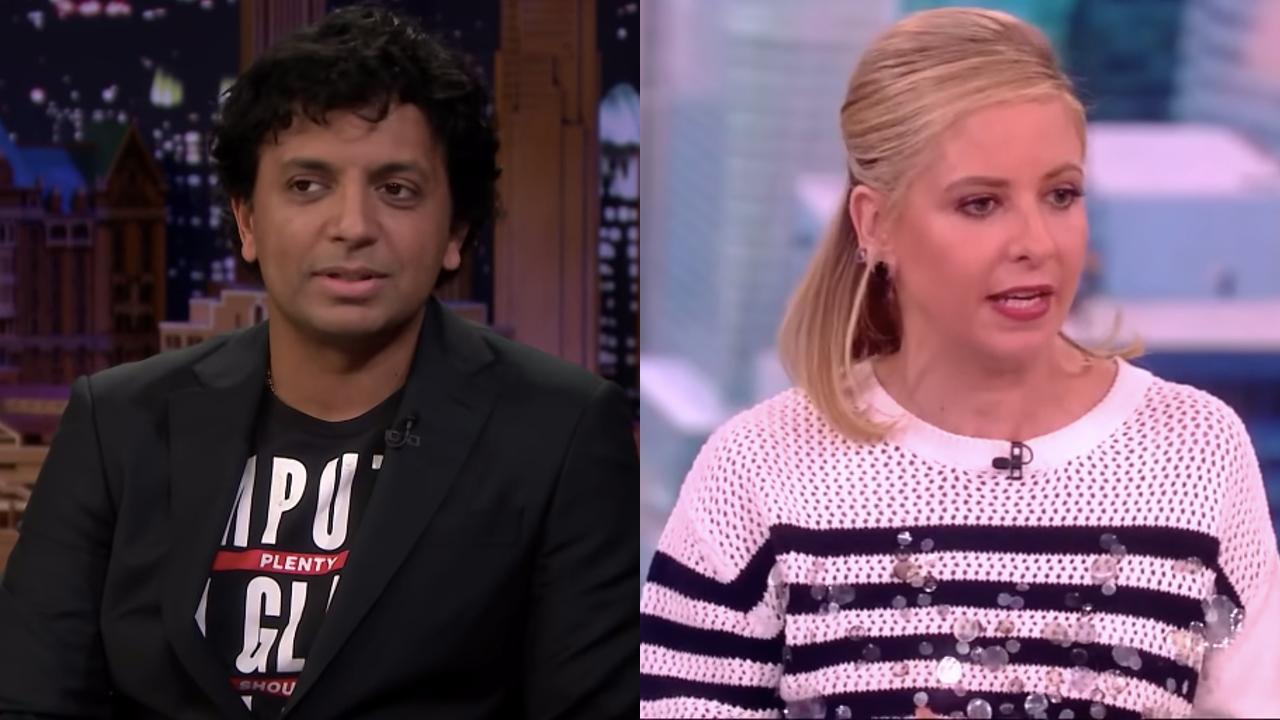 M. Night Shyamalan's The Sixth Sense has got one of the wildest movie endings in the history of cinema. Not to mention, it's also one of those conclusions that people love to spoil for others like wildfire. And Buffy the Vampire Slayer's Sarah Michelle Gellar is apparently one of those people, as she admitted to spoiling film for her husband, Freddie Prinze Jr., years ago. Shyamalan is now aware of that very fact, and he has something to say about it..
The Sixth Sense's ending is honestly one of the reasons why audiences have been so drawn to it over the past 23 years. Even today, it's still regarded as one of the best best movie twists M. Night Shyamalan has ever crafted, and you'd never see it coming… unless a certain someone spoiled it for you. While Shyamalan and Sarah Michelle Gellar both appeared on The Graham Norton Show, Gellar spoke about "the most embarrassing story ever," which saw her and hubby Freddie Prinze Jr. watching the acclaimed thriller:
Twenty minutes in, and Freddie Prinze Jr. gets one of the best cinematic reveals of all time spoiled for him. I can relate to Prinze Jr., as The Sixth Sense's ending was revealed to me too by way of one of the best romantic comedies of all time, 50 First Dates. (I guess you'd probably never think that such a reveal would come from an Adam Sandler classic, right?) There are a few people who actually don't mind being spoiled when it comes to movies or TV shows. But I'd argue that the bulk of us would prefer to be surprised when it comes to whatever we're watching.
M. Night Shyamalan is clearly one of those people who would prefer that moviegoers be left in the dark when it comes to his work. When reacting to Sarah Michelle Gellar's funny story and Freddie Prinze Jr.'s decision not to watch a movie with her again, the filmmaker provided a humorously blunt reply:
With that, the director was also relieved that she didn't spoil the ending for his new movie, Knock at the Cabin. The marketing for the upcoming release has seemingly not spoiled any potential twists. All we know about it so far is that it employs an an apocalyptic twist while telling the story of strangers who break into the remote cabin of a family and tell them one of them has to be sacrificed to prevent the entire world from coming to an end. M. Night Shyamalan's newest movie has been praised as a fitting entry in the horror genre. We'll have to see if that praise is given by general audiences when it hits theaters as well.
If Sarah Michelle Gellar and Freddie Prinze Jr. decide to see Knock at the Cabin, let's cross our fingers that the upcoming horror movie won't be spoiled for either of them. Make sure that you also dodge spoilers after the film opens in theaters on February 3rd as part of the 2023 new movie release schedule.
Share this @internewscast.com