Share this @internewscast.com
Filming in an actual slice of paradise, writer-director Mike White amusingly avoids travelogue images for most of the series, instead focusing on the petty slights and intimate manipulations of his characters. Some of the guests seem well-intentioned or sweet-meaning, others are in a perpetual state of calling for the manager. However, they all take and take, and take, and give nothing back, except a reason for Murray Bartlett's Armond to give a sure-to-be legendary demonstration of a concierge in meltdown. There are rumors there'll be a second season in a new location, but it's hard to think we'll ever forget our stay at the White Lotus. – David Crow
14. Only Murders in the Building
In a year of turbulent times and appointment viewing, comedy has had a much bigger chance to shine, but Only Murders in the Building still seemed like an outside prospect despite its intriguing cast of veteran heavyweights like Steve Martin, Martin Short, Nathan Lane, Tina Fey, and Jane Lynch. It's hard to launch an original show that isn't based on an already-popular bit of IP these days, y'know? The premise for Only Murders is at least fairly simple to wrap your head around: there's been a murder in an affluent Upper West Side apartment building, and several of its residents get wrapped up in solving said murder while channelling their findings into a true crime podcast.
What really makes the show work is its effortless balance of silliness and insight when it comes to its characters, with Selena Gomez's standout performance as the mysterious "straight man" the cherry on top. Over 10 episodes, the series spun a good old fashioned murder mystery around the kind of hilarious physical comedy that so few actors are truly able to achieve, with Martin and Short still seemingly at the top of their game after all these years. Plus, not only did Murders stick its landing, we came to really care about those we met during its run – a magnificent achievement considering how little buzz there was surrounding the show before it began. – Kirsten Howard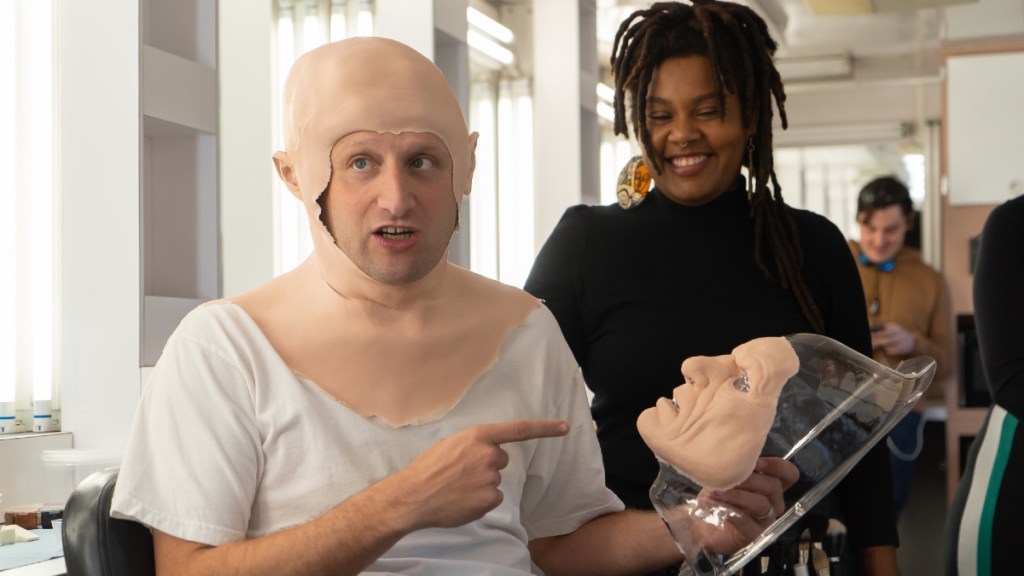 13. I Think You Should Leave
Two seasons in, Tim Robinson's I Think You Should Leave has already cemented itself as the most important sketch comedy series of the streaming age. The show is a meme factory that could single-handedly sustain Twitter for years. As most sketch series are, I Think You Should Leave can be hit or miss, but Tim and Co. seem to hit more often than not, and when they really connect, you'll be left convulsing in laughter.
Season 2 brought us Dan Flashes, Coffin Flop, Jamie Taco, and Karl Havoc, among many other singular, brilliant bits of bizzarro comedy. The driving concept of the show's humor is the same as ever — an eccentric person overcommits to some idea, refusing to acknowledge the reactions of those around them — but the execution is always fiercely unique and explosively funny. The show also manages to take weirdly poignant turns that take you off balance, just so the next joke can topple you over even harder. Hopefully Netflix and Robinson continue until the well runs dry. – NH
12. Dickinson
Autumn 2021 belonged to Hailee Steinfeld, who turned in stellar performances across three of the year's best shows: Hawkeye, Arcane, and Dickinson. It's that final one that deserves particular attention, though. As the passionate and determined Emily Dicksinon, Steinfeld has anchored the Apple TV+ series for three vibrant, clever seasons that follow Emily as she comes of age in 19th century Amherst, Massachusetts. Intentionally anachronistic in its dialogue, music, and occasional time travel while historically faithful in fashion and representations of real-life figures and events, Dickinson makes the period feel modern and the modern feel timeless in Alena Smith's poem of a show that is never afraid to let sentiment lead structure.
Source: Den of Geek
Share this @internewscast.com