Bacteria In Your Mouth Can Block Your Heart Arteries, Cause Severe Lung Infection: Doctor Explains How
Share this @internewscast.com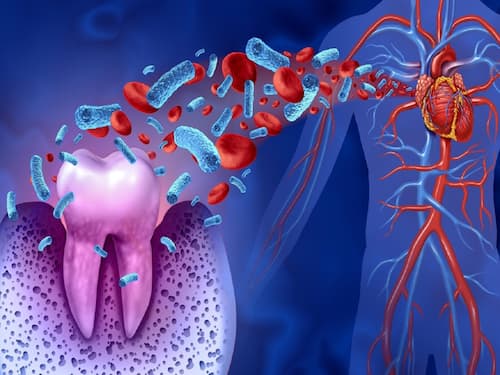 Oral health is not distinct from our physical health, as the mouth serves as a gateway for harmful bacteria. Read on to know what poorly managed oral health can do to your overall health.
Oral health is an integral part of our overall well-being, and its relevance cannot be overstated. The mouth is the gateway to the body, and any disease or infection that originates in the oral cavity can have serious consequences on the rest of the body. Research has shown that there is a strong correlation between oral and general health. Therefore, it is imperative to maintain good oral hygiene in daily life and take up dental check-ups regularly. We spoke to Dr Mahesh Lanka, BDS Implantologist, New Delhi, to understand more about the health consequences associated with poorly managed oral health.
Poor Oral Health Can Impact Your Overall Health: Here's How
The connection between oral health and general health is not just theoretical but backed by scientific evidence. Poor oral health has been linked to a range of health conditions, including heart disease, diabetes, respiratory problems, and pregnancy complications. As 'World Oral Health Day' approaches on March 20th, it is a perfect opportunity to realize the benefits of taking care of oral hygiene daily which will result in the improvement of overall health. Despite common misconceptions, oral health is not distinct from our physical health, as the mouth serves as a gateway for harmful bacteria. We dentists, often encounter individuals who underestimate the role that oral health plays in their overall well-being.
Importance of a Healthy Smile
Outlined below are some of the potential consequences of poor oral health:
Endocarditis is a rare but life-threatening inflammation of the heart muscle. It can result from poor oral hygiene. For instance, when bacteria found in tooth plaque multiply, it can lead to gingivitis (A type of gum disease that results in inflamed gums). If left untreated, gingivitis may increase manifolds. When this happens, gums become inflamed, hence Inflamed and bleeding gums during dental procedures can allow bacteria to enter the body, potentially leading to the growth of bacteria pockets in the heart and endocarditis. Cardiovascular conditions including atherosclerosis (clogged arteries) and stroke may arise due to inflammation caused by oral bacteria.
Among women, pregnancy increases the risks of oral health problems. Left unchecked, these problems can lead to premature birth and preterm birth.
Poor oral health can also lead to pneumonia. According to some studies, people who never get dental check-ups have an 86% higher chance of getting pneumonia. That's because pneumonia-causing bacteria may be inhaled.
How To Keep Your Gums Healthy?
To prevent these issues, it is recommended to take the following measures:
It is recommended to floss daily and brush at least twice a day for two minutes each. Post this process, one should always use mouthwash to remove any excess food particles that might be left in the mouth.
A toothbrush plays a very important role in one's oral health. It should be replaced every three to four months or even sooner if the bristles are splayed or worn. It is also advisable to use a soft-bristled brush and fluoride toothpaste to avoid damaging the gums.
Oral health is also impacted by our diet. It is recommended to have a healthy diet as it positively impacts oral health along with our body. Also, while sugary foods and drinks are tasty, their consumption should be limited to maintain a good oral health
Tobacco can have serious negative effects on our bodies and oral hygiene. Tobacco use, in any form, is a leading cause of oral cancer, which can affect the mouth, lips, tongue, and throat.
Schedule regular dental check-ups and clean-ups with your dentist. Doing so is the best way to ensure good oral health as the dentist will recommend the right course of action required to keep your mouth healthy.
Last but not the least, contact your dentist as soon as you face any oral health issues such as toothache, gum disease, dry mouth, tooth decay etc. Ignoring it may worsen the condition. Hence any issue related to teeth or gums should be brought to the immediate attention of your doctor for timely action.
About Dr Mahesh Lanka
Dr Mahesh Lanka is BDS and MBA graduate who owns a specialized private implant practice in New Delhi, India. Apart from that Dr Lanka has also completed his Master's Certificate in Implant Dentistry from UCLA, USA & CUFD Thailand. He has also been awarded the Albert Einstein award for research and academic features in the top 100 leaders of India for 2023. To read more articles on such interesting health topics, follow TheHealthSite.com.
Total Wellness is now just a click away.
Follow us on
Share this @internewscast.com