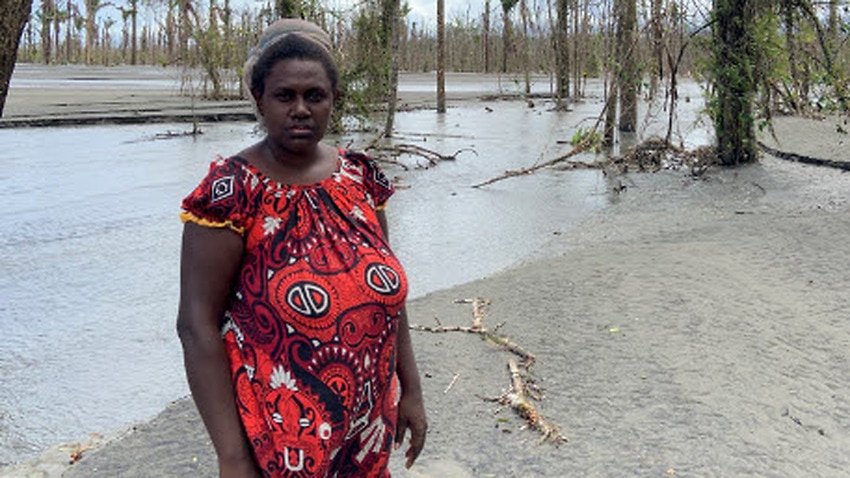 Each morning, Theonila Roka Matbob walks down to the river that flows near her village, and looks at the water and sand.
It's a hue of grey-blue, the result of copper pollution and mining tailings from a long-abandoned copper mine upstream.
"We live with the impacts of Panguna every day. Our rivers are poisoned with copper…our kids get sick from the pollution," Ms Matlob said.
"Every time it rains more waste washes into the rivers…some communities spend two hours a day walking just to get clean drinking water because their nearby creeks are clogged up with mine waste."
For nearly two decades during the 1970s and 80s, the Panguna mine in Bougainville was one of the world's largest copper and gold mines, generating an estimated $US2 billion.
Developed and majority-owned by Rio Tinto, disputes over the distribution of profits led to a decade-long civil war that claimed the lives of nearly 15,000 people.
Rio Tinto retained majority ownership of the mine until 2016, when it divested from the operation and allegedly left Bougainville without cleaning up a considerable amount of mining waste.
While the civil war is long over, some residents of Bougainville say the problem of pollution is becoming worse.
Makosi village, where Ms Matlob lives, is one of several villages that are downstream of the mine.
She said surrounding communities were being inundated with large amounts of tailings waste washed into the rivers, causing a range of health, cultural and economic impacts for locals.
"These are not problems we can fix with our bare hands. We urgently need Rio Tinto to do what's right and deal with the disaster they left," Ms Matlob said.
Human rights complaint
On Tuesday, 156 residents of these villages filed a human rights complaint against Rio Tinto with the Australian government.
Raised by the Australian Human Rights Law Centre, the complaint alleges that the massive volume of mine waste pollution left behind at Panguna mine is putting communities' lives and livelihoods at risk.
"This is a company that holds itself out as a global leader on human rights, and yet as we saw at Juukan Gorge in Australia and we see here in Bougainville, there is a total disconnect between Rio Tinto's rhetoric and the reality experienced by Indigenous communities impacted by the company's operations," the Human Rights Law Centre's legal director Keren Adams said.
The complaint will be filed with the Department of Treasury's Australian OECD National Contact Point, which has the power to investigate complaints made against Australian companies operating overseas.
The complaint alleges that, through failing to address these ongoing impacts of its operations, Rio Tinto is responsible for significant breaches of its human rights and environmental obligations under Chapters II, IV and VI of OECD guidelines.
Rio Tinto has been contacted for comment.
The group of Bougainville residents have asked Rio Tinto to fund an independent environmental and human rights impact assessment of the mine and support a program to help address any issues and assist long-term rehabilitation efforts.
"If Rio Tinto is serious about learning lessons, it needs to listen to communities and take responsibility for the human impacts of its activities," Ms Adams said.