Later, Cr Frances Gilley told The Age that after the first sexual harassment allegations against Mr Doyle were made public, he was surprised by how much it affected him on a personal level.
"We were in this whole period of trying to work it out, and that's when I suddenly saw the cost to these women, and I then really started to get into a hole."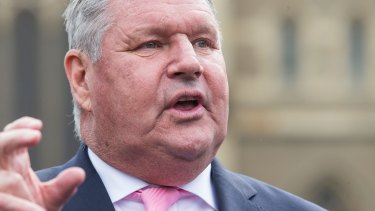 Cr Frances Gilley was elected to Melbourne City Council in a countback in 2017 after his running mate – the woman elected as the City of Melbourne's first Aboriginal councillor, Brooke Wandin – was found to be ineligible because she did not live in the municipality.
Entering an already established council as a self-described "accidental politician", Cr Frances Gilley said he was shocked by some of Mr Doyle's behaviour.
Cr Frances Gilley said that on Tuesday nights, councillors would meet to have dinner. "And [Mr Doyle] would drink a bottle of wine," he said.
He described another occasion on which he introduced Mr Doyle to two women at a function.
"And he literally body checks both of them. He starts at their eyes, he goes down their body – up one and down the other. We speak for a bit, and as he goes to turn away one of these women goes, 'you f—ing sleazebag'."
Asked whether other councillors were aware of Mr Doyle's behaviour, Cr Frances Gilley said only they could answer that question.
"I think with Robert, and I met him a few times over the years, it was almost – people would smile benignly like, 'that's just him'," he said.
"And he was inappropriate when drunk with women. It was transparently clear."
Loading
An independent report written by Ian Freckelton, QC, and released by the City of Melbourne in July, concluded Mr Doyle behaved in a "sexually inappropriate" and "sleazy" manner towards guest Kharla Williams, after drinking substantial amounts of red wine at a black-tie dinner in 2016.
A separate investigation by Dr Freckelton in 2018 found Mr Doyle had groped or fondled two colleagues.
One of those women, former councillor Tessa Sullivan, told The Age she was not prepared to comment, but noted Mr Doyle was found to have acted inappropriately in two independent investigations.
Ms Williams welcomed Cr Frances Gilley's comments.
"I, like many, would extend gratitude for him speaking up," she said. "I think it's really important for his colleagues as well as society to understand there is this residual impact. It permeates through the workplace, through families.
"All I can say is, I thank him … it creates an environment where it'll engender change."
Mr Doyle did not respond to a request for comment. Police this year dropped a two-year investigation into him. No charges were laid.
Bianca Hall is City Editor for The Age. She has previously worked as a senior reporter, and in the Canberra federal politics bureau.