Share this @internewscast.com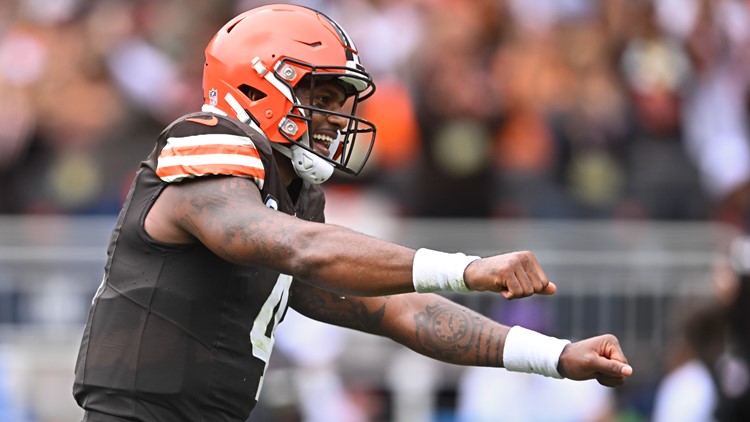 Jerome Ford also had a pair of touchdowns in place of the injured Nick Chubb, Amari Cooper had 116 yards and a score, and Myles Garrett tallied 3 1/2 sacks.
CLEVELAND — It may not completely heal the sting of last week's loss in Pittsburgh, but it certainly helps.
Following six days of dealing with Nick Chubb's injury and questions about the quarterback, the Browns rebounded in a big way Sunday by crushing the Tennessee Titans 27-3. Cleveland's elite defense once again led the way, but this time the offense also got its share of time in the spotlight.
Deshaun Watson was the target of much ire this week after a three-turnover performance against Pittsburgh. Today, he finally started to look more like the elite QB the Browns traded for, as he completed 27 of 33 throws for 289 yards and two touchdowns. His first 19-yard scoring pass to Jerome Ford in the second quarter gave the Browns a 10-3 lead they would not relinquish.
Filling in for the injured Chubb, Ford averaged only 1.8 yards per carry but did notch a 3-yard TD run in the third. Kareem Hunt returned to get 13 yards on five touches, but Amari Cooper stole the show with seven catches for 116 yards and a 43-yard fourth-quarter score that delivered the final blow (he also had a potential first-half touchdown called back by a botched officiating call).
The improvement of the offense almost overshadowed another stellar effort by Jim Schwartz's defense, but that's hard to do with a "game wrecker" like Myles Garrett. The All-Pro was just one shy of his Browns single-game record with 3 1/2 sacks, including one at the end of the first half that ruined the Titans' chances of cutting into Cleveland's then 13-3 advantage (Tennessee was out of timeouts).
The mishap just before halftime was one of several for the Titans, who also committed eight penalties for 80 yards. The managed just 94 yards of offense, including a mere 20 yards for Derrick Henry on 11 rushes.
With the victory, the Browns are now 2-1 for the fourth consecutive season, the first time that's happened since 1973. They'll host the Baltimore Ravens next Sunday with first place in the AFC North potentially on the line.
This story will be updated; The Ultimate Cleveland Sports Show is live now with your instant reaction:
Share this @internewscast.com