Share this @internewscast.com
The huge amount of leads from the public has led Lancashire Police to investigate an "unprecedented" number of lines of inquiry, but Superintendent Sally Riley has said police still believe Nicola Bulley fell into the river in unsuspicious circumstances.
Speaking at a local press conference on Tuesday evening, Supt Riley said the 40 detectives working on the case have established the 45-year-old most likely did not leave the area by the river off Garstang Road in Lancashire.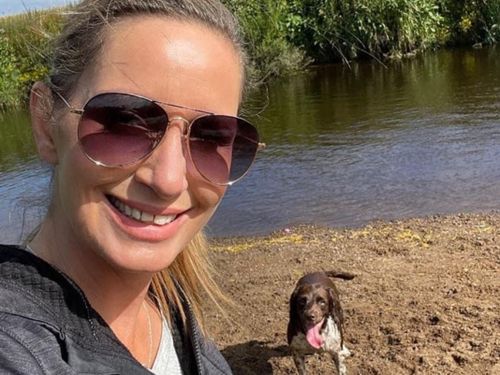 "We can say with confidence that we believe Nicola remained in the riverside area," she said.
"It does remain our belief that Nicola sadly fell into the river.
"I can understand that this is frustrating for those observing the investigation when the river has been search and Nicola has not been found. That does not mean however, that Nicola was not in the river as some point, due to the tidal flow."
Supt Riley said the fast-moving river made it very complex to search, with investigators recombing sections and extended the search out to where the river meets the sea.
But she said police were still remaining "fully open" to further credible information about what could have happened to Nicola, and were continuing to investigate about 500 active lines of inquiry.
Supt Riley said police had identified about 700 vehicles that passed through the village on the morning Bulley went missing and had gone from house to house in the area as part of their search.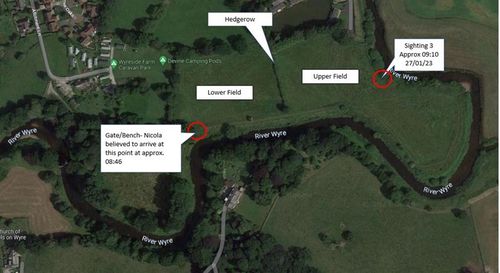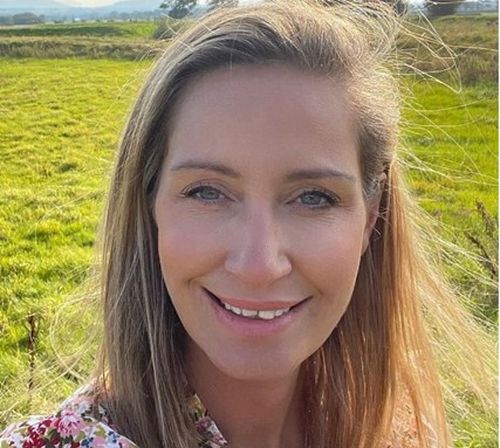 Bulley was last seen taking her dog for a walkabout 9.20am on January 27 on the upper field by the river off Garstang Road in Lancashire after she had dropped her children at school.
The mortgage broker was silently logged onto a work Teams call while she walked.
The call ended at 9.30am, but Bulley remained logged on.
About three minutes later, a dog-walker found her phone and her dog at a bench by the river.
Police have said the 10-minute window between 9.20am and 9.30am is the only timeframe which they cannot account for the mother-of-two's movements.
Bulley's disappearance has drawn a lot of attention from people across the world and social media and a lot of theories about what could have happened to her.
Supt Riley reiterated on Tuesday that people should not share theories about Bulley's disappearance, as they were only hurtful to her family and friends.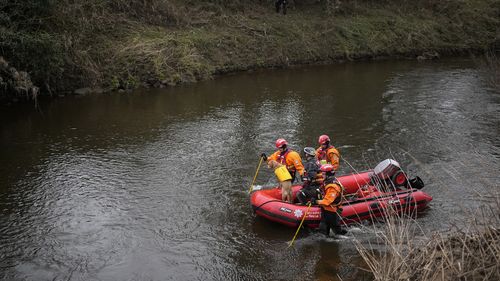 Timeline of her movements before disappearance
Lancashire Police have released a timeline of Bulley's actions before her disappearance:
8.26am: Nicola leaves her home address with her children

8.40am: Nicola drops the children off at school and has a brief conversation with another parent

8.43am: Nicola walked along the path by the River Wyre towards the gate/bench into the lower field

8:47am (approximately): A dog-walker, somebody who knows Nicola, saw her walking around the lower field with her dog. Their two dogs interacted briefly before the witness left the field via the river path

8.53am: Nicola sent an email to her boss
8.59am: She sent message to a friend

9.01am: She logged into a Teams call

9.10am (approximately): A witness, somebody who knows Nicola, saw her on the upper field walking her dog, Willow

9.20am: Her phone was back in the area of the bench

9.30am: The Teams call ended but Nicola stayed logged on

9.33am (approximately): Nicola's mobile phone and Willow were found at a bench by the river by another dog-walker
Sign up here
to receive our daily newsletters and breaking news alerts, sent straight to your inbox.
Share this @internewscast.com