Share this @internewscast.com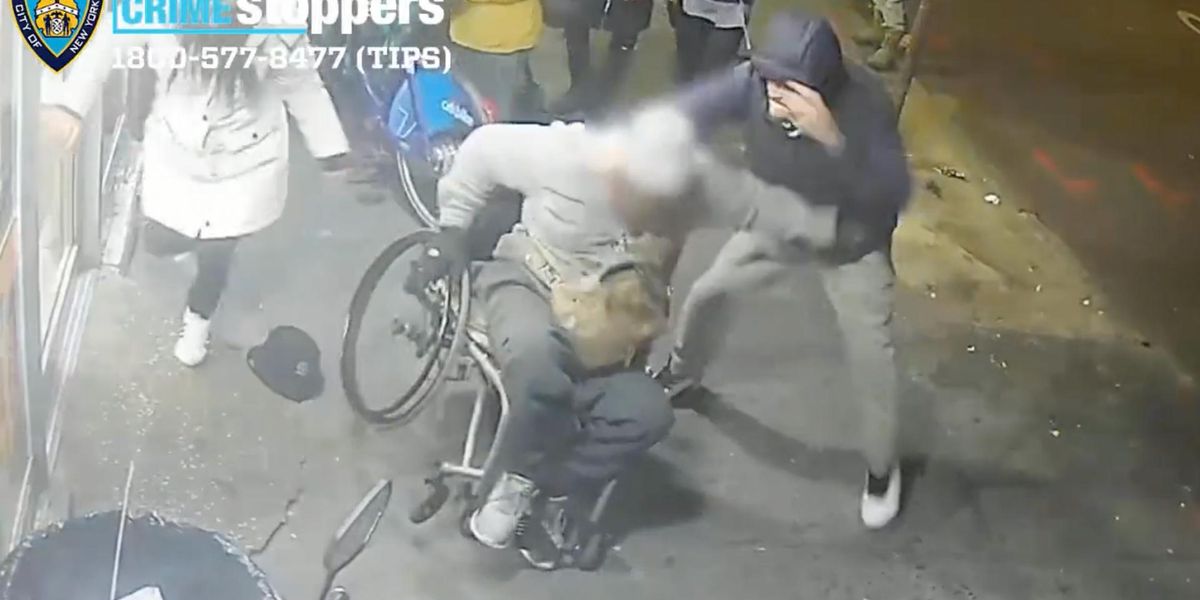 Authorities in New York City are looking for a group of suspects who were caught on camera assaulting a wheelchair-bound man in the Bronx, the New York Daily News reported Tuesday.
What are the details?
The incident took place on Nov. 8 in the early hours of the morning after the 39-year-old male victim engaged in a verbal dispute with an unidentified female.
The woman, according to authorities, stormed off after the argument and then returned with a group of at least three men.
Surveillance video from outside a Bronx bodega captured the moment the group approached the victim — whose fists were raised in defense — and began punching him in the head.
The group eventually dragged him out of his wheelchair, and while he was on the ground, the group — including the woman — continued to punch, stomp, and kick the man.
Authorities said that the group fled with the man's backpack, which contained $800 in cash and an iPhone 13.
Despite suffering bruises related to the incident, the man refused medical attention.
The man's attackers have yet to be captured at the time of this reporting, and anyone with information on the attack is asked to call Crime Stoppers at (800) 577-TIPS.
Content warning: disturbing footage:
WANTED for ROBBERY: Do you know them? On 11/8/21 at approx 2:25 AM, in front of 267 Tremont Ave in the Bronx, three men and one woman assaulted a 39-year-old male in a wheelchair, then removed his property. Any info? DM @NYPDTips, or anonymously call them at 800-577-TIPS.pic.twitter.com/bImnUcef6v

— NYPD NEWS (@NYPD NEWS) 1637672550
Anything else to know about this?
A similar incident took place in August when a group approached another wheelchair-bound man and assaulted him outside of another storefront.
This crime was also caught on camera.
According to reports, a pair of robbery suspects approached the man in the evening hours outside a local business.
Footage of the attack showed the two suspects pulling the victim's chair onto he sidewalk and forcing him to turn over his cell phone and $100.
Video showed at least one of the men grabbing the victim by his wrists and dragging him out of the wheelchair as the victim attempted to fight back.
The victim was struck several times during the incident before the suspects ran off.
No arrests were made in connection to the attack.
Source: TheBlaze
Share this @internewscast.com