Queensland
has recorded 11,174 new COVID-19 cases and one new death overnight.
Additionally, the previously reported death of a man in his 30s at his home in the Gold Coast earlier this month has been confirmed by the coroner to be a COVID-19 case, bringing Queensland's total number of fatalities to 10 during the pandemic.
The new death reported today, of another man in his 30s from Brisbane, was also attributed to COVID-19.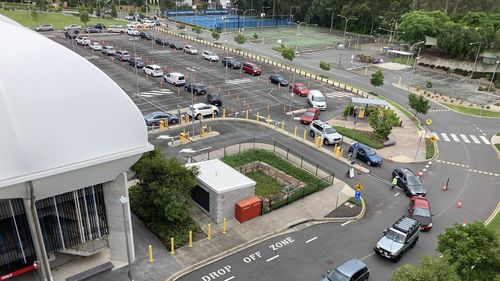 There are 349 people in hospital, with 17 in intensive care and three on ventilation.
Health Minister Yvette D'Ath has also said Queensland's public hospitals will suspend non-urgent elective surgery until March 1.
That will be reviewed at the end of January, and Ms D'Ath said "hopefully" its end date could be brought forward.
Queensland also today launched its online registry for positive rapid antigen test results.
People who test positive at home can now visit the government's COVID-19 website and register their positive RAT result.
"I suspect we're going to see many more numbers tomorrow and beyond," Ms D'Ath said.
She urged anybody who had tested positive with a RAT in the past 14 days to register their result.
Addressing the deaths of the two men, Chief Health Officer Dr John Gerrard said deaths of young people due to COVID-19 were exceedingly rare.
He said it was most likely due to COVID-19 infecting the heart, causing myocarditis.
Doubts around school return
Parents are on tenterhooks awaiting the state government's decision on whether classrooms will open as scheduled for Term One.
Premier Annastacia Palaszczuk yesterday warned that it was possible a return to school could be delayed due to the spread of
COVID-19
across the state.
She said a decision had not been made yet, but more would be known in coming days.
Children aged five to 12 have not yet had the chance to be vaccinated in Queensland, while the state has recorded more than 20,000 COVID-19 cases in the past two days.
The vaccination program for primary-school aged children is set to open next week.
Health authorities have said the current wave is expected to be short and sharp, but that the next few weeks will be a bruising time for hospitals.
To minimise the risk of spread, and the pressure on the health system, Ms Palaszczuk has urged Queenslanders to stay home whenever possible for at least the next six weeks.
Queensland recorded 10,953 cases of the virus yesterday, though Ms Palasczuk said the real number was "absolutely" higher, due to people testing and self-managing the virus at home.
"We are not going to stop this wave," Ms Palaszczuk said.
"But we will make sure that we are keeping as many people safe as possible."
Source: 9News