Share this @internewscast.com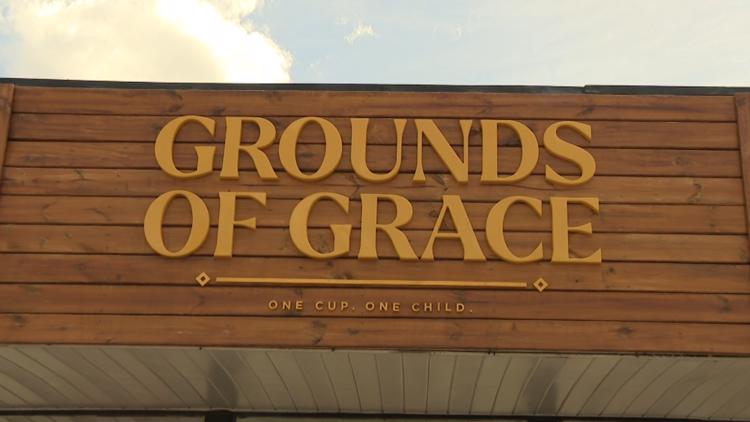 Grounds of Grace will celebrate its grand opening on Saturday in the heart of Arlington.
JACKSONVILLE, Fla. — This Saturday will mark the grand opening of Grounds of Grace, a new coffee shop in the heart of Arlington.
Owner Ron Armstrong says it serves up much more than just a cup of coffee. It started with an old school bus that he helped turn into a mobile coffee shop two years ago.
"We started because we saw a need for our kids and our community members on the Northside of Jacksonville really just eager to find different employment. And so, we created the bus, and it did very well in two years. And then from there, people just started really believing in the mission behind not just having another coffee shop coffee for a cause. And so, then we had a really big donation come in to help us really start this adventure."
The new brick and mortar coffee shop is located at 1633 University Boulevard North, and Armstrong hopes it helps revitalize the area.
"This building was an old church," he explains. "Originally, it was the first 7- Eleven headquarters. So, it's got a lot of meaning. But we came in over the last year and a half and really dreamed about having something like this for the community. And so here we are. We employ our young kids from the community, but then also we give opportunities for the adults."
Armstrong is grateful for all the donors who have helped make Grounds of Grace a reality. On Friday, they gathered for the ribbon cutting.
"One-hundred percent of it has been donation led from big companies to small donors, to families to friends, and so it's really just about the community, celebrating the community today," Armstrong said. "We're excited that we get to do this together with the community, and we're excited for what's to come for Arlington."
The grand opening celebration will take place April 1 from 10 a.m. until 2 p.m. The family friendly event will include music, food trucks, activities for children and local vendors.
"We are thrilled to be opening the doors to the community and to join hands together in serving through city transformation, with the efforts of giving hope through a coffee shop," Armstrong said.
For more information visit www.groundsofgracejax.com
RELATED: Grounds of Grace: Local Coffee for a Great Cause
Share this @internewscast.com