Share this @internewscast.com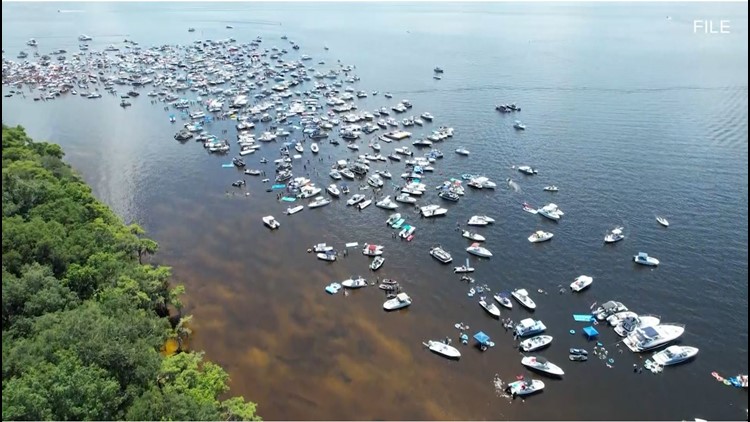 Event planners say Boater Skip Day in Green Cove Springs is the largest boating event in Northeast Florida.
GREEN COVE SPRINGS, Fla — On Friday, it's not a joke to say "Happy Holidays" to First Coast boaters.
Friday is Boater Skip Day, when boaters don't go to work and instead hit the water. Event planners say it's the largest boating event in Northeast Florida and this year, they are expecting up to 900 boats.

Each year, boaters converge on Bayard Point in Green Cove Springs, just south of the Shands Bridge. The event begins at 9 a.m.
The Shands Boat Ramp will be closed for official use only, according to Clay County Fire Rescue. Find a boat ramp by using the "Florida Boat Ramp Finder" tool on Florida Fish and Wildlife Conservation Commission's website.
The Clay County Sheriff's Office reminds you to only park in the designated areas and not on the shoulder or in the median of Highway 17.
Chris Verderane, who is the man behind social media for Boater Skip Day, says safety is key and encourages everyone to go over the U.S. Coast Guard website's boater safety checklist.
Verderane says this is the ninth Boater Skip Day since they officially adopted that name.
"When I come under the Shands Bridge and see the boats every single year it's like, 'Wow I can't believe that this many people took off on a Friday to come out for this,'" Verderane said. "I've seen some people coming as far as South Carolina, Georgia to come down for the event so that's pretty exciting."
Boater Skip Day is coming off the back of National Safe Boating Week last week. Review what you need to know to stay safe and follow the law here.
Share this @internewscast.com